Remember the
first issue of GLOW magazine by Watsons
where some of you won some fantastic goodies just by purchasing the magazine at various shopping malls across the island? Well, issue 2 has been launch!
I have just picked up my copy from Ang Mo Kio central earlier today!
For S$2, its a little thicker than the first issue and comes with a free cosmetic pouch! There are 3 designs and I chose the birdies!
*cosmetic pouch put to the test to find out how many cosmetics can it fit towards the end of the post!
Here are some teasers of the 2nd issue that you can look forward to:
I admit, I'm always attracted to the beauty section!
I have been asked many a time, how to determine one's skin type and this article reveals it all!
Are you doing the right thing or doing things right in your skin care regime?
If you enjoy attending beauty workshops, there are 2 workshops to lookout for in the 2nd issue!
Remember the
first GLOW Workshop
? I definitely had fun and looking forward to the 2nd workshop!
I'm sure it'll be as fun and even better than the 1st workshop so for those who missed the 1st workshop, do not miss this!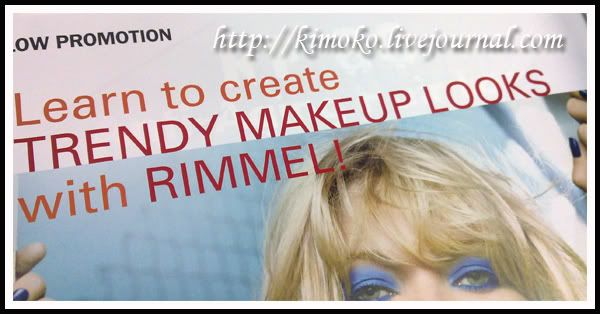 And the 2nd workshop you can look forward to, a beauty workshop with Rimmel!
Peter Angel is the Principal of School of Makeup and I have attended a free makeup seminar at School of Makeup by Peter with
tiffanyx
2 years ago! He's really fun and he made the seminar really really interesting!
And the great giveaways! Did any of you win yourself anything from the previous issue? My bestie won! She won herself a bottle of the CURE Natural Gel just by submitting her details and why she love GLOW. Though I did not manage to win anything BUT I'm gonna try my luck again in this 2nd issue! I'll have 10 chances to win fantastic prizes!
There are tons of other great articles that I personally have not completed reading the entire magazine! I'll do so over the weekend over a nice cuppa tea! It'll keep me entertained for at least 2 hours!
Finally, the free cosmetic pouch put to the test! How much makup can it contain?
1) A packet of my favourite makeup cleansing sheet, Acnes Medicated Oil Control Cleansing Sheets
2) Dejavu Fibrewig Mascara
3) Majolica Majorca Jewelling Eyeliner Pencil in Black
4) Majolica Majollok Luminostic in BR788
5) ZA Concealer Perfection in shade #1
6) Majolica Majorca Honey Plump Gloss in PK122
7) ZA 2-way Foundation
8) Gransenbon Blush in #11
9) ZA Pore Smoother
10) Majolica Majorca Neo Automatic Liquid Eye Liner in Black
11) Carmex
12) MAC Lipstick
By the way, #1 - #10 is availlable at all Watsons islandwide (Singapore) except for #11 and #12.
*The Watsons purchasing team should look into bringing Carmex into Singapore as its been available in Taiwan and Hong Kong for quite some time now. Its my HG lip moisturizer that I can't live without! Save me the trouble of having to order online please!
I conveniently forgot my eyebrow pencil which there's definitely sufficient space for. And also a mini eyelash curler
(the flat one that is purse friendly)
that I must scout for.
The cosmetic pouch is definitely bigger than what I initially think it was. Its of a PVC vinyl finish that makes it waterproof! Its perfect for short stay overs, short trips or even a makeup pouch in the office! I really love it! Best part, its free with the magazine that costs only S$2! I'm thinking of buying more copies of the magazine JUST for the cosmetic pouch!
Go grab yourself a copy of the latest issue of GLOW Magazine today!

*ps: I'm amazed how some of you have gotten your copy of the 2nd issue of GLOW and have spotted me in one of the articles. For those who have not, grab a copy today!
And NOW, something special for all my readers! I have been wanting to do this for the longest time and all thanks to the lovely people at Watsons and the Team behind GLOW Magazine, I'm conducting my
First ever Giveaway
to all my readers!
For the next 8 weeks starting from today, I'll be having a WEEKLY giveaway to 8 lucky readers! HUAT AH!
How do you participate in the giveaway?
Every Friday, you'll be required to do something for me
online
, submit your entry as a comment in the giveaway post and the winner will receive a really nice & cool product
(full retail size)
sponsored by Watsons and some extras from me just to Thank my lovely readers!
It gets trickier
(but definitely manageable)
as each week progresses but I assure you that the prizes
(ranging from cosmetics to skin care to body care)
will get more attractive as each week passes too! The highest value of the prize is over S$100!
So lets begin the First Giveaway shall we?
This week's prize:
A Brand New
K-Palette Eyebrow 1-Day 24h Tattoo
.
To stand a chance to win the above item, all you have to do is:
1) Join
GLOW's facebook
2) Do a shout out in your own facebook account that you have just joined GLOW
(with the link of GLOW's facebook in the shout out).

3) Leave me a comment in this entry with your facebook account name and your email address for me to contact you if you are the winner.
*the above 3 conditions have to be fulfilled or your entry will be void.
Extremely simple!
Get more goodies from me by:
1) Adding me into your friends' list of your livejournal / link me in your blog
(furnish the link in the entry)
.
2) Follow me on
Twitter
(furnish your twitter user name in the entry)
.
3) Add me in your facebook (
bubblegum_kimoko@yahoo.com
)
4) Subscribe to my
Youtube Channel
(furnish your youtube user name in the entry)
.
Terms & Conditions:
1) All entries are to be submitted in this entry, no email entries will be accepted.
2) All entries must be posted in this entry
before 2nd July 2009, 11.59pm
GMT +8. Afterwhich, all comments in this entry will be disabled.
3) One entry per reader per week.
4) This giveaway is only exclusive to residents in Singapore.
5) You
need not
be a livejournal account holder. You just need a valid email address for me to contact you.
6) Winners will be notified by email.
7) Prize(s) are not transferable or exchangeable for cash.
8) All winners will be selected randomly by random.org and the decision is final.
9) All prizes will be mailed through registered mail to avoid any misunderstandings. No self-collection.
10) Any unclaimed prize(s) will be donated away.