Lots of requests for the review of this cream liner and here it is!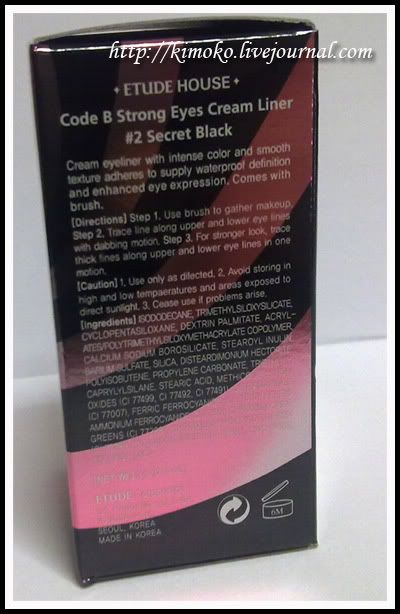 You girls know my love for cream / gel liners over pencil / liquid so when it was first launched, I did lem for it but waited in hope some reviews might surface and it did. It was quite highly raved and I started to scout for it online and found out that
Ling
carried this product!
*yes, for all my Etude House products, I've not bought it at our local stores as
Ling
offers them at a cheaper price.

The container is plastic thus it isn't as heavy as the MAC fluidline.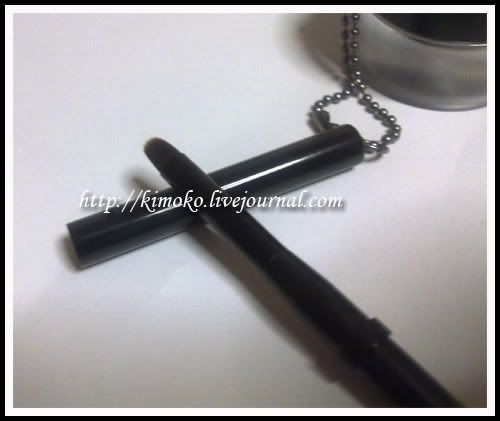 The cream liner does come with a mini eyeliner brush which is attached to the cover with a detachable silver chain. While I like the idea of having an attached brush but it is annoying when you are trying to unscrew the cover as the chain often gets tangled during the process. Fortunately, it is detachable and you can attach it when you're travelling or in your bottomless-pit makeup pouch.
Another thing I don't quite like about the brush is that its a little too stiff and tend to hurt my eye lid when I use it to line my upper lash line. Lower lash line, I can't even describe how it makes me tear. But some might adore the stiffness as it gives you more control during application. I still prefer my ELF Studio Small Angled Brush for cream / gel liner application.
Put the brush aside, the liner isn't that bad a product! It really live up to its raves! Its sooooooooooo creamy that application is such a breeze. Do control the strength when you try to get the cream product onto your brush or you'll find your brush sinking into the pot of liner just like how you place a really hot knife on a piece of butter. Its that creamy!
Initially when I first witness how creamy it is, I was skeptical that it'll remain smudgeproof on my lids but I do want to try it without a primer and so I first tested it on a weekend. True enough, it was smudgeproof and so I went on to try it on a weekday without a primer. Amazingly, my eyeshadow faded
(because I wasn't wearing a primer)
but the eyeliner was still visible, without smudging!
But it kinda smudges on my waterline though. I have no idea why but lately, all my eyeliner does not seem to stay on my waterline. Gel / cream liners used to stay on my waterline but lately nothing stays. I'm not sure if its just me or it simply can't last on the waterline.
To sum it up, for its price, I totally recommend this cream liner. Its definitely better than the Maybelline Gel liner! If you've always wanted an affordable smudeproof liner, this is it!
*I'm not comparing to counter brands like MAC / Bobbi Brown as they belong to a totally different price category. You can't compare an apple with a durian can you?