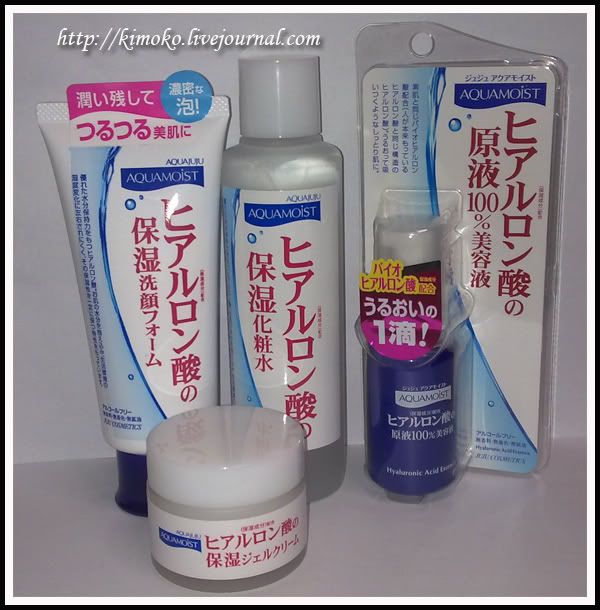 Approximately 4 weeks ago, I met up Grace who is the Marketing Manager behind Beauty Carousel. She gave me a set of Aquajuju AquaMoist skin care for review purposes. Prior to the meet up, I have seen this range in Watsons in Singapore and Malaysia. I remembered very clearly seeing this range of skin care products in Malaysia in May when lunaface and myself visited midnight_plue in Kuala Lumpur. Why was my impression of this range so strong? Well, we were looking for Hada Labo in Malaysia as we heard that its cheaper there but the Watsons in Malaysia did not carry Hada Labo (only Guardian Pharmacy has the distribution rights for Hada Labo).

I almost mistaken this Aquajuju AquaMoist range for Hada Labo as the packaging looks really similar and they are all Super Hyaluronic Acid products!

Aquajuju has been in the market longer than Hada Labo so, having tried the Hada Labo slightly mroe than 5 weeks ago, I was really excited to try this set of skin care products in comparison to Hada Labo.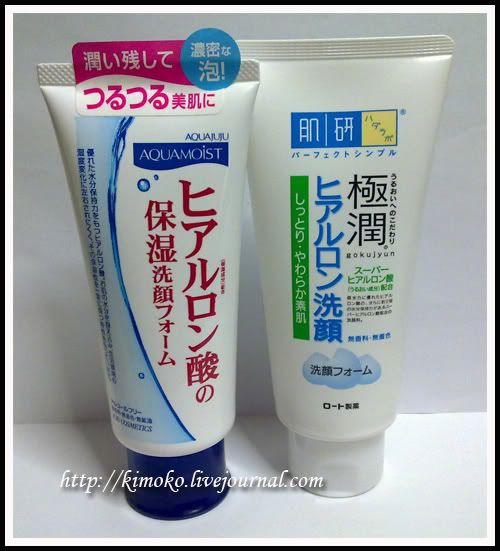 First up, the Juju AquaMoist Moisturizing Washing Foam (tube) which is next to the Hada Labo SHA Cleanser. Don't you think they are really similar?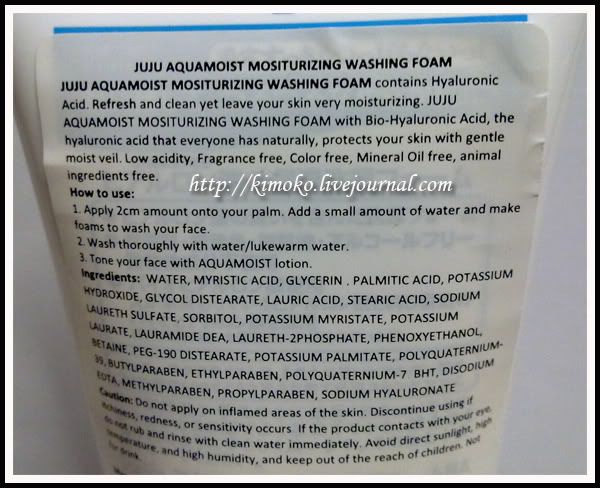 If you remembered my review of the Hada Labo SHA Cleanser, I wasn't quite WOW by it and though it is said to be fragrance free, the chemical scent to the cleanser kinda turned me off.

But comparing to this Juju AquaMoist Moisturizing Washing Foam, I defintiely prefer AquaJuju's version! AquaJuju's cleanser is creamy when you lather with water and it cleanses your face cleaner than Hada Labo SHA Cleanser which is a little too mild for my liking.

This cleanser is priced at S$15 which is S$2.10 more than the Hada Labo SHA CLeanser. Its totally worth it! If you have a copy of the latest Watson's GLOW Magazine, on page 14, it is mentioned that the AquaJuju AquaMoist Washing Foam is the best seller in Japan and I totally agree with it!

If the Hada Labo SHA Cleanser did nothing for you, you HAVE to try this AquaJuju AquaMoist Washing Foam.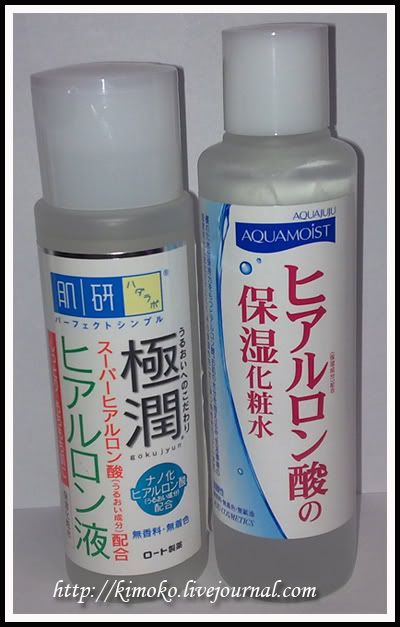 Next up, the Juju AquaMoist Moisturizing Lotion which is on the right. I'm not kidding when I say its very similar to Hada Labo is it?

There isn't an English description on this bottle but from the website, it is described as:

JUJU AQUAMOIST MOISTURIZING LOTION is one of the most popular toners with Bio-Hyaluronic acid (HA) in Japan. This toner gives refreshing texture yet well moisturizing that can last for all day (night) long.

It holds the moist and makes your skin well hydrated and elastic. Well hydrated skin has better resistance against freckles and wrinkles created by the UV rays. Moisturize" is the most important key to keep your skin younger!

Low acidity, Fragrance free, Color free, Mineral Oil free, animal ingredients free.

Well, comparing to Hada Labo's Hydrating Lotion, this Juju AquaMoist Moisturizing Lotion was a little disappointing. It is a very liquified lotion comparing to Hada Labo and in a frosted glass bottle, I don't quite like how its heavy when dispensing the product. Though its liquified, I have to use approximately 5 drops to be able to cover my entire face, unlike Hada Labo which I only require 1 drop.

In fact, it is so liquified that I am able to use a cotton pad to use the product as a normal toner after cleansing my face in the evening to help remove makeup residue after the makeup removal process. In the morning, I'll just pat it on after cleansing my face.

Hada Labo Hydrating Lotion costs 90cents more (the Juju AquaMoist Moisturizing Lotion costs S$22) and I totally recommend Hada Labo Hydrating Lotion over this Juju AquaMoist Moisturizing Lotion. No wonder Hada Labo Hydrating Lotion is their star product.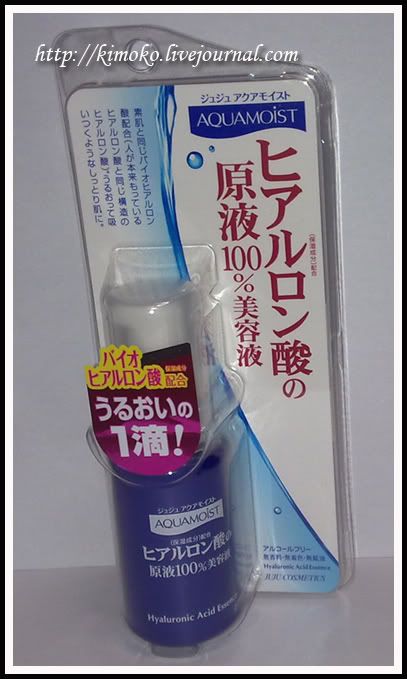 Next, the Juju AquaMoist Pure Hyaluronic Acid 100% Essence. This is AquaJuju's BEST SELLING product!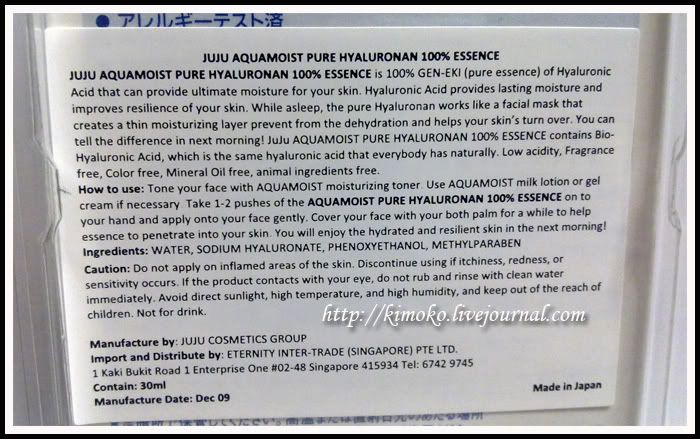 Description off the website:

This is one of the most popular items of JUJU AQUAMOIST series.

JUJU AQUAMOIST PURE HYALURONIC 100% ESSENCE uses GEN-EKI (pure essence) of Hyaluronic Acid that can provide ultimate moisture to your skin. Bio-Hyaluronic Acid captures moisture and improves elasticity of your skin greatly.

Natural Hyaluronic Acid levels in the body decrease with time, so good hydration with Aquajaja 100% Hyaluronic Acid essence is the key to keeping your skin young and healthy. Hyaluronic acid essence seals moisture in your skin and your skin is deeply nourished for all night long.

While asleep, the pure Hyaluronan works like a facial mask that creates a thin moisturizing layer to your skin to prevent from the dehydration and helps your skin's healthy turnover. A little goes long way!

Low acidity, Fragrance free, Color free, Mineral Oil free, animal ingredients free.

How to Use On your clean face, apply moisturizing toner. Take 1-2 pushes of the AQUAMOIST PURE HYALURONIC ACID 100% ESSENCE on the palm of your hand and apply it to your face gently. It is rich texture but spreads well (we recommended to use the moisturizing toner first).

This essence can be mixed with other moisturizing products such as gel or cream, too. We do not recommended customers to use just this essence without any toner before hand. Because the texture is rich, consumers might feel too thick and sometime feel dryness if their face is too dry.

After applying it, cover your face with your both palm for a while to help essence to penetrate into your skin. You will enjoy well hydrated and softer skin in the next morning!

It is up to the customers if they use it for "day use", however the maker's recommendation is for the "night use", as the essence is rich, there might be a possibility of making your makeup difficult to stick on the face. But decision is solely up to the individuals!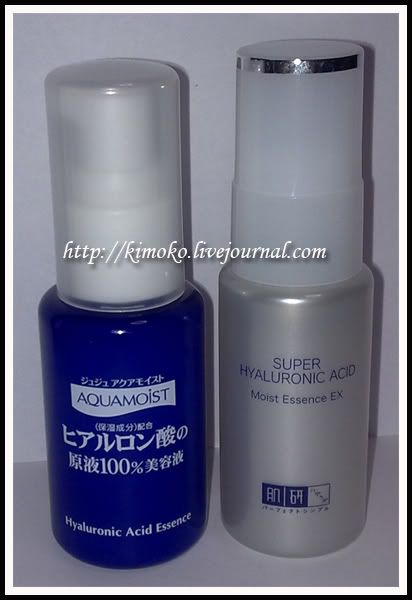 Hada Labo's version on the right is priced a S$30.90 which is almost S$9 cheaper than the AquaMoist's best selling version which is going for S$39.80.

Comparing Hada Labo's version, upon trying the AquaJuju's version, I totally understand why it is the best selling product! Juju AquaMoist Pure Hyaluronic Acid 100% Essence when dispensed through the pump bottle is a clear gel that is not sticky when you apply on your skin and it gets absorbs by the skin really easily! It gets absorbed so quickly that your face feels really matte upon a couple of seconds! I REALLY REALLY like this essence!

Hada Labo's version is a semi opaque gel-like which is a little sticky upon application and takes a while for the skin to absorb the essence fully.



This essence has won the Best Moisture Serum in Watsons Malaysia too! Babes in Malaysia, the essence is currently on sale for only RM79.12! Its really worth getting it!



Finally, the Juju AquaMoist Moisturizing Gel Cream which is retailing for S$S$28.80.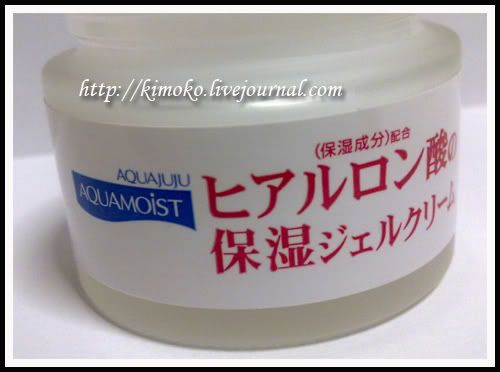 I have tried Hada Labo's version - the hydrating milk, thus I can't make a comparison.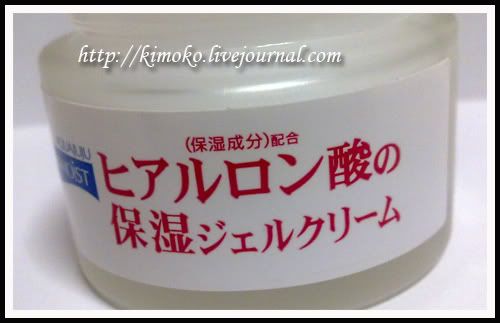 Again, I do not have the english description but from its website:

JUJU AQUAMOIST MOISTURIZING GEL CREAM is a gel type facial cream that provides ultimate moisture to your skin. Your skin moisturized but there is no greasy texture.

Bio-Hyaluronan captures moisture and keeps it, while Glycerin smoothen your skin. JUJU AQUAMOIST MOISTURIZING GEL CREAM creates the moisture veil on your skin to protect from dehydration.

Low acidity, Fragrance free, Color free, Mineral Oil free, animal ingredients free.

Well, I'm a little on the fence for this product. As much as its hydrating property is really good but I find that its a little moisturizing for my oily skin especially during the day. I do like the light weight-ness of this gel-creme which does keeps my skin really hydrated but for those with oily skin might want to apply a really light layer during the day. During the night, I tend to apply a thicker layer instead, especially last week when I was in Kuala Lumpur and was sleeping in an air-conditioned room. At home, I do not sleep with the air conditioner due to my sinusitius.

Overall, my skin has been very well-behaved and supple since I started using Super Hyaluronic Acid products! It has definitely improved my skin's condition!



For those who have yet to see this range of skin care products in Watons, they can be found at the Kawaii Corner.



The prices are similar to that online on Beauty Carousel but Beauty Carousel offers free local shipping so if you wish to shop conveniently online, do so on Beauty Carousel!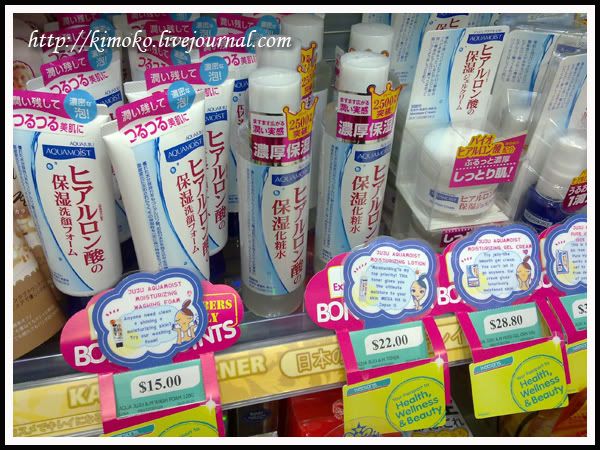 Has anyone tried any of the AquaJuju AquaMoist skin care products? Do share your reviews with me!

I am lemming to try the AquaJuju AquaMoist Moisturizing Makeup Base next! FuzKittie on Youtube recently bought it and I can't wait for her to review on the makeup base before I purchase it!