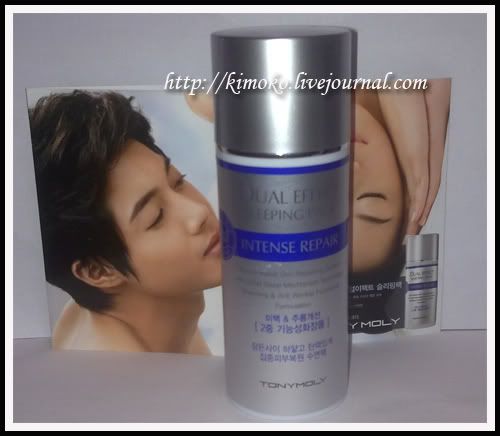 Remember the Tony Moly Media Preview I attended last month? In the goodie bag that I received was this Tony Moly Intense Repair Dual Effect Sleeping Pack.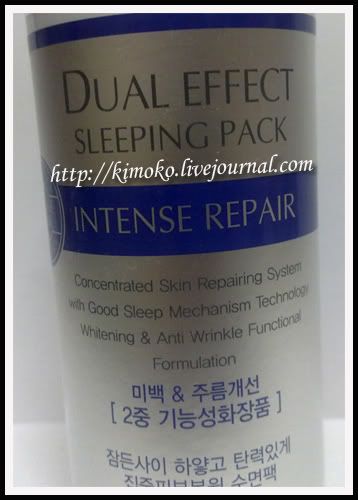 It did not come with its original packaging so this was the only English description on the bottle.

But I did get the following description from its site:

Intensive dual effect sleeping mask with skin whitening and anti-aging effect. Arbutin, an effective whitening ingredient, provides intensive brightening and whitening effect. Adenosine, an effective anti-aging ingredient, boost the skin's natural Collagen production. Pomegranate extract revitalize the skin, provides antioxidant and locks in essential nutrients and moisture. Experience the difference and see the result the next morning.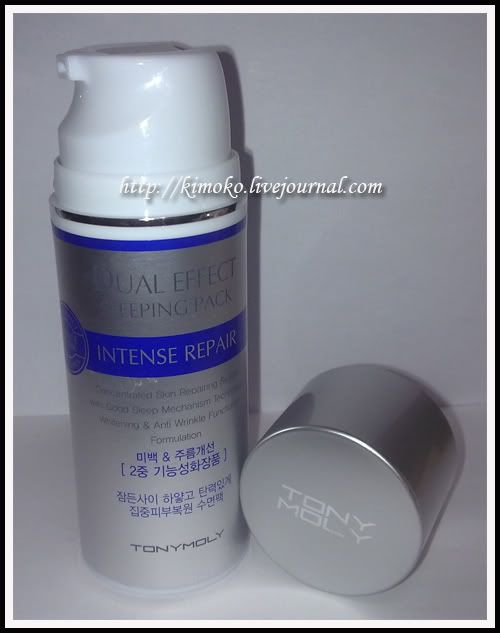 Direction
After applying toner, gently spread an appropriate amount onto the entire face, avoiding the eyes and lip area. Rinse off with lukewarm water the next morning. Recommeded to use 1~2 times a week at night only.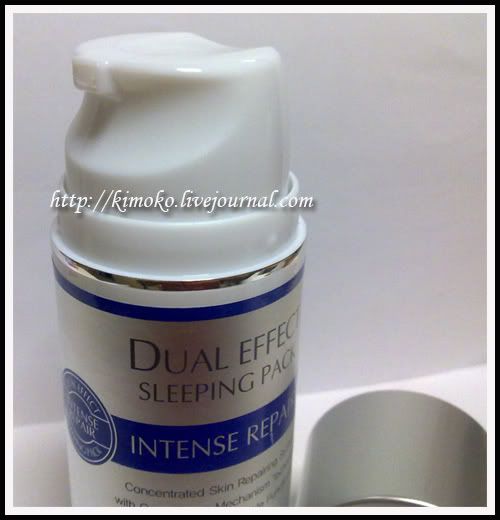 Comes with a pump dispenser to dispense the product hygenically.
The product is a semi opaque viscous semi-cream like with a faint cosmetic scent! The picture is pretty inaccurate in terms of its consistency. It is very much thicker, unlike the runny consistency in this picture. I reckon it is because this picture was taken when I first dispense the product outta the container but having used more than 5-6 times, it is of a pretty viscous semi-cream like consistency.
I have used it for more than 3 weeks now and I must say it is a really moisture rich sleeping mask! I often use a sleeping mask after my last step of my skin care regime which is a moisturizer and serum but this sleeping mask is so rich and hydrating that you can skip your moisturizer! Immediately after your toner application, slap this sleeping mask on and you're ready for bed. This
Tony Moly Intense Repair Dual Effect Sleeping Pack
is one of Tony Moly's star product and I totally understand why!
Don't you love multi-tasking skin care products? I know I do!
Oh yes, I received more goodies from Tony Moly last week! Here's a
sneak peek of what I've received
! I can't wait to review them for you lovelies!
I had initially planned to bring the Etude House Pore Tightening Sleeping Pack for my relocation but I
think
I should replace it with this Tony Moly Intense Repair Dual Effect Sleeping Pack instead huh?