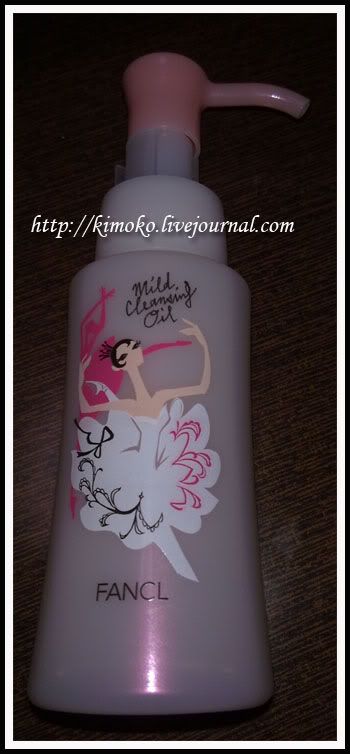 Back in March when I wrote about the Kracie Navie Cleansing Lotion and Cleansing Oil review, some of you wanted me to try the DHC Cleansing Oil, Fancl Mild Cleansing Oil and even the Muji Cleansing Oil but I have at least 5-6 brand new makeup removers in my stash and I really want to complete them before trying other brands but I have been blessed with angels like
enon_enen who gave me a sample of the DHC Cleansing Oil and another reader, Li Jia who sent me this bottle of Fancl Mild Cleansing Oil since it reacted adversely on her skin.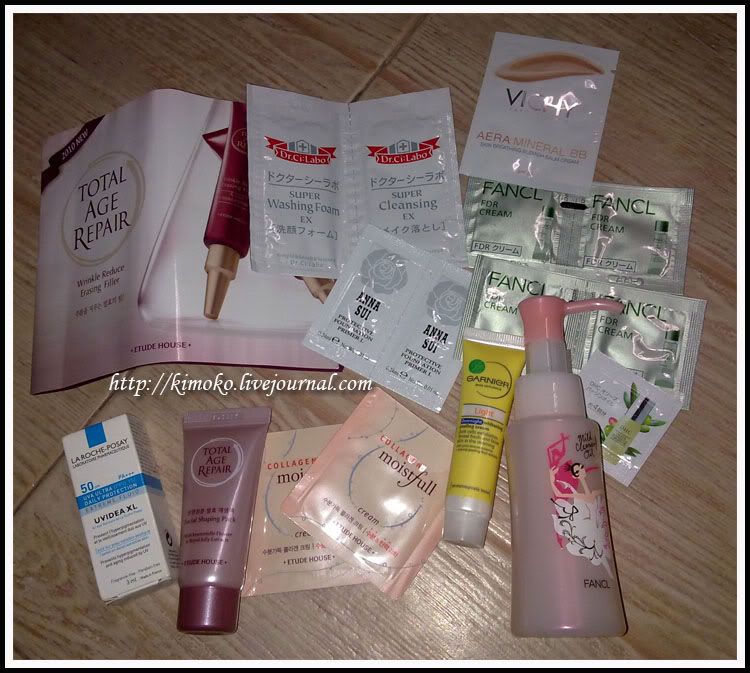 Li Jia said she used it less than 5 times and that her skin just could not take this cleansing oil so instead of tossing it away, she asked if I would like to try it. She sent it to me and I was surprized to receive the 60ml Limited Edition Promo Pink Bottle (so sweet so cute! I'm keeping the bottle to use it with other products when I travel! does Fancl sells their Mild Cleansing Oil in such a small packaging? I really like the size!) with some other goodies. Mommy has taken the Total Age Repair and Collagen Moistfull Cream samples and loved the Collagen Moistfull Cream that she has requested for me to get the retail product for her! It is time to go shopping at www.koreabb.com.sg since it has been quite a while since I last visited Ling's site!

I did send her a package too to Thank her! Babe, I hope the stuff I sent to you are useful to you. The 2 Elizabeth Arden Mascaras are my personal favourite! They are a little pricey but they are totally worth the price! Try them and let me know how they work for you!

Anyway, I have been using the Fancl Mild Cleansing Oil since I returned from Taiwan and I must say, I really know what the hype is all about with this cleansing oil. It is an extremely heavy duty cleansing oil that dissolves all traces of makeup, including stubborn waterproof ones without leaving the greasy, oil on your face. The texture of the cleansing oil isn't your typical cleansing oils like Shu Uemura or Biore. It is a slightly mirlky liquified solution that is not scented and extremely mild on the skin. And the pump of this bottle is so rave-able! Other cleansing oil requires me to pump out 2 pumps but with this pump, one pump dispenses sufficient product for my entire face!

BUT, having tried DHC Cleansing Oil, I actually prefer DHC over Fancl as I heard Fancl has other ingredients in the formulation while DHC is pure olive oil. I am guessing that is the reason why my face feels so soft and smooth after removing my makeup with DHC Cleansing Oil and I really like that feeling! If I have not tried DHC, I dare say that Fancl is definitely a product I will invest in. As for now, not unless they have an insane sale or have really adorable cute packaging like this bottle I have, it is definitely DHC over Fancl.

The next on my 'To Try' list? Muji Cleansing Oil. I heard they do have trial bottles that is going for S$5.90. I ought to hunt for it and try it. Are there fans of the Muji Cleansing Oil?