I have not done an online haul in quite a while. Well, it's because I have not exactly done one in ages. And it happened that the past week, I have received the above items that I have bought online, I've decided to do a haul entry.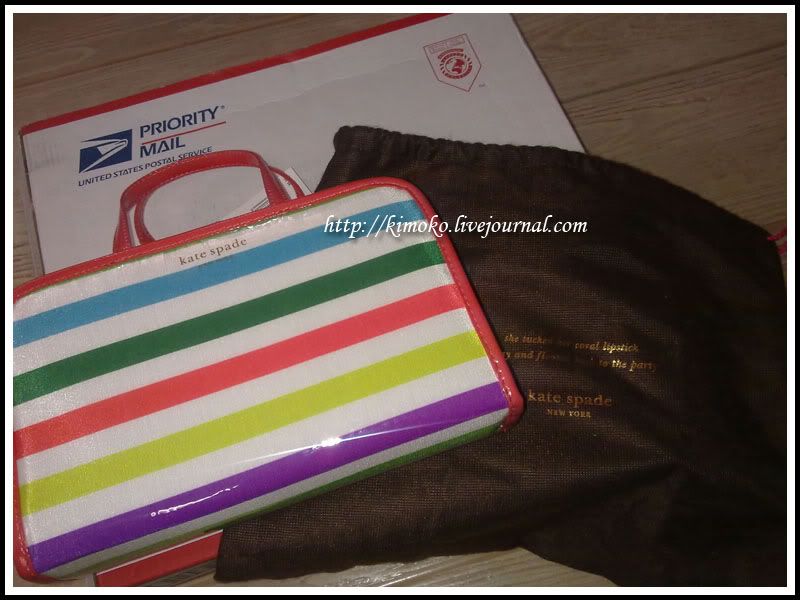 First up, this baby just arrived in the mail yesterday! I bought the Kate Spade Sant Elmo Street Small Manuela to 'accompany' my Sant Elmo Street Large Colin I bought last year. I love the colorful stripes of this series and I am now desperately looking for the Medium or Large Heddy to complete the set!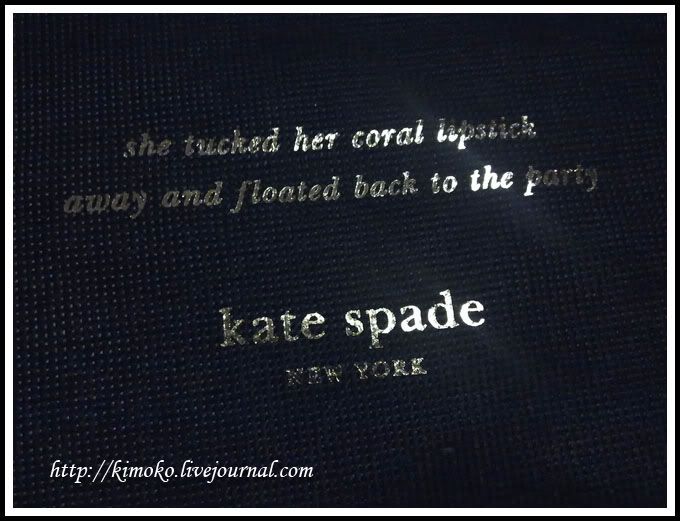 Don't you love the dustbag?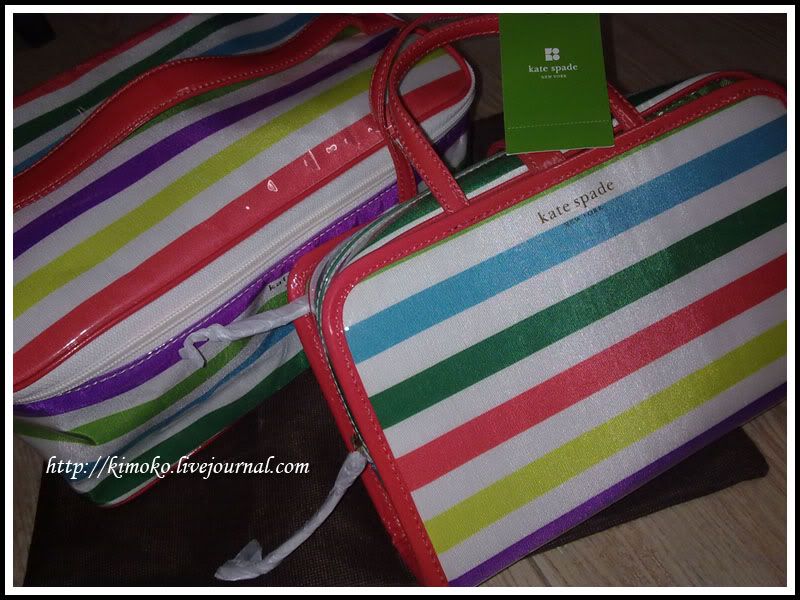 For those who forgot about my Large Colin, here is is next to my new Small Manuela. The longer case from the Large Colin is in my office where I store a full set of makeup in my cabinet.
I gotta hunt for the Large or Medium Heddy in the Sant Elmo series to complete this set!
Before you leave a comment asking where I bought it from, the Large Colin was bought from Kate Spade's website before they stopped accepting International Credit Cards during a 25% OFF Sale Items Sale. And the Small Manuela was bought from ebay. There are great bargains on ebay if you are hardworking enough. I paid approximately US60+ for the small manuela.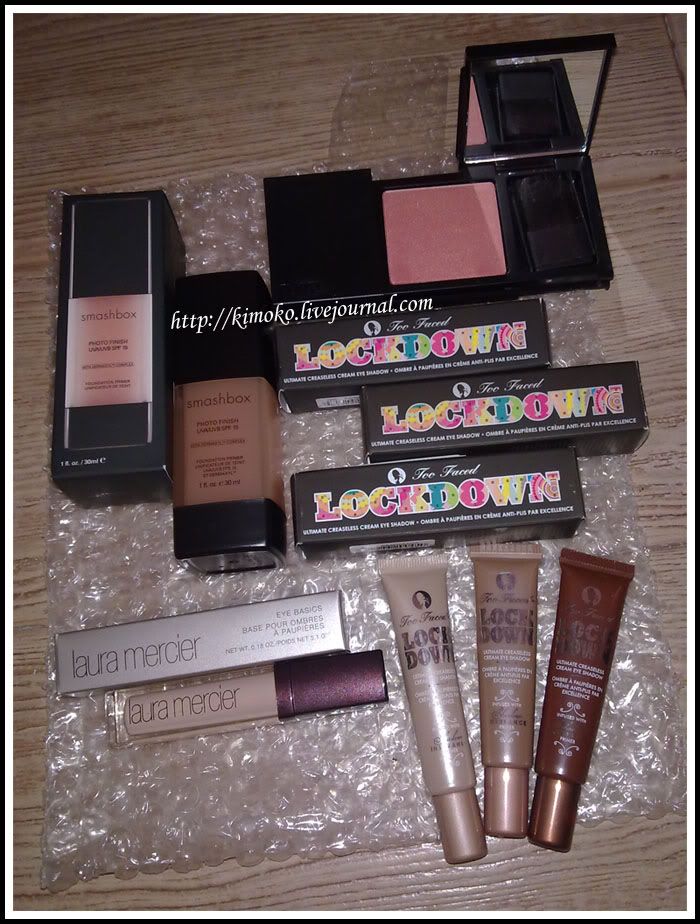 Next, a haul from AllCosmeticsWholesale.com during their 10% sitewide sale quite a while back.
lunaface
was placing an order with her colleagues and I rode on her order since I did not want to organize a spree.
*I have not met
lunaface in monthssssss therefore I did not collect my babies till I saw her last week when
midnight_plue was in Singapore.
1) The
Smashbox Photo Finish UVA/UVB SPF 15 with Demaxyl Complex Foundation Primer
is my all-time favourite primer and I have completed a bottle quite some time ago when the packaging was still the heavy, frosted glass bottle. It was rather pricey, retails for US42 (retails wayyyyyyy more here in Singapore) and therefore I did not quite repurchase back then. During the sale on the website, it was US25.99 + 10%, could I not get it? Of course not!
2)
Laura Mercier Eye Basics in Linen
- I actually own one in Wheat and quite like it. But it was pretty pricey thus, I held back till the 10% sale and could not resist getting it from the website for US12.99 + 10%. It is a pretty decent eye primer for me though there are mixed reviews online. But hey, it does works for me!
3)
Flirt! Peek-A-Blush Sheer Powder Cheek Color in 03 Heartthrob
- I have always been intrigued by this Flirt! blush especially with its unique packaging and for US8.99 + 10%, it is quite worth a try. Though I have yet to try it but looking at it in it's pan, it does remind me of The Balm Hot Mama blush.
4)
Too Faced Lockdown Ultimate Creaseless Cream Eyeshadow in Bondage, Bedroom Eyes & Dramarama
- I love my Too Faced Shadow Insurance and when I read that these creaseless cream eyeshadow is infused with the Shadow Insurance, for US8.99 + 10%, I HAD to get them. Will let you lovelies know how they fare once I have tried them.
AllCosmeticsWholesale.com does have quite a huge variety of discounted cosmetics and skincare and this isn't the first time I have bought from them. Without the sale, the price is already quite affordable but with the additional 10%, it just makes the deal even sweeter!
The last haul I paid for. The Philosophy 3-in-1 Shampoo, Shower Gel & Bubble Bath. Quite a while back, Philosophy had a 3 for US33 sale for their 3-in-1 Shampoo, Shower Gel & Bubble Bath. lunaface was placing an order with her colleagues and I rode on their order since Philosophy offered a flat fee for International Shipping. I think the order was for 15 or 18 bottles which quite made the shipping well-worth it.
It was my virgin trial on Philosophy products and I was extremely spoilt for choice since they had a gazillion variety of scents to select from! I could not stop at 3 and so, I ended up with 6 bottles. 6 x 480ml bottles! I have only collected these from lunaface last week so I have yet to try them all. I have only tried the Double Chocolate Chip Mint Cookies and Strawberry Milkshake. The Double Chocolate Chip Mint Cookies smells so yummy I almost licked myself in the shower! The Strawberry Milkshake was disappointing though. It smells like really cheap artifically strawberry scented air-fresheners.
The scent to these 3-in-1 product does not last the entire day though. It lasts probably an hour and that's it. Oh! I have tried it as a shampoo and it does make my hair smell like scent for quite a while but because I use a heat defense hair spray that has a fruitty scent, the moment I spritz the hair spray on, the scent of the double chocolate chip mint cookie or el-cheapo strawberry will be masked by the fruitty hair spray. And they can get a little drying as a shampoo so the 2 times I used it as a shampoo, I used the 3-minutes hair treatment as a conditioner to prevent my hair from being frizzy from this product.
An overall nice bath product to treat myself in the shower and I really do not mind getting more should there be another 3 for US33 sale!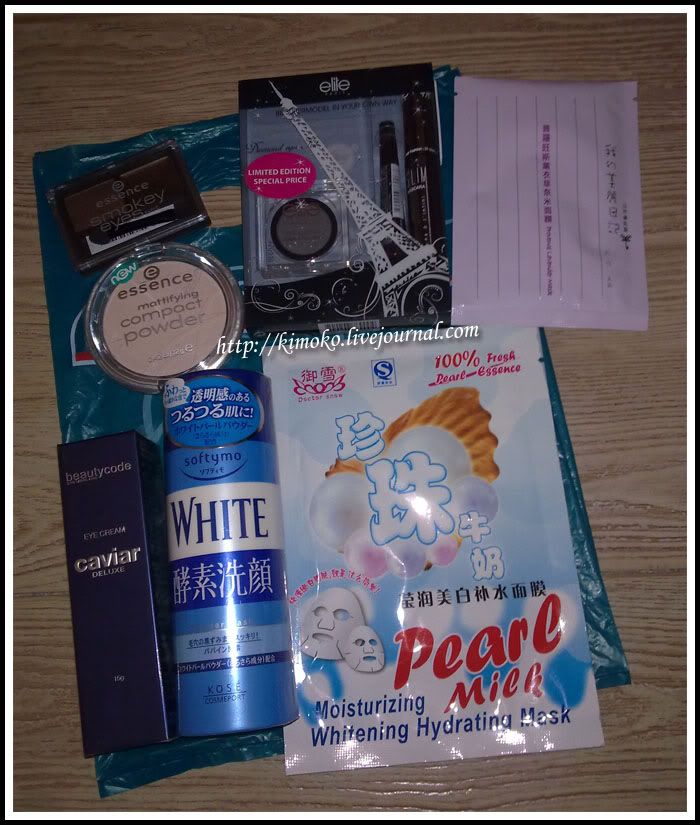 My
Twitter
follwers would have read my tweet and even seen a twitpic of
midnight_plue
's visit to Singapore last week during the Hari Raya holiday. She made her virgin trip to Singapore 2 years ago and I tour-guide
d
her during her short visit with her SO. And last year,
lunaface
(who met
midnight_plue
for the first time)
and myself visited her in Kuala Lumpur during the Vesak Day holiday where she and her SO hosted us. We stayed at her SO's place and we even drove up to Penang!
After that trip, I made 2 separate trips to Kuala Lumpur for work last year and met the couple twice. Since they came over this year,
lunaface
and myself have planned to make a trip up to Kuala Lumpur next year. The 4 of us are also planning to drive up to Cameron Highlands! Though I have been there but that was eons ago. It is really heart warming how those 2 ladies were actually readers of this journal and we actually ended up being close friends, even travel buddies in reality!
Anyway, whenever we meet, we will prepare a small package for each other and the above was
midnight_plue
's package to me! Something small to remind us of our treasured friendship.
Oh! I did not know that Essence Cosmetics is available in Malaysia! When she asked if Essence Cosmetics was available in Singapore, I thought that she wanted to try Essence Cosmetics and told her no. What I did not know is that she actually wanted to know if it is available and if not, she's is gonna get me items from that brand! I have always know that Essence Cosmetics is available at Ulta / Ulta.com but I did not know they are available in Malaysia! I am going to try those 2 items especially the mattifying compact and if they are good, my next trip to Kuala Lumpur to visit her and of course the Inglot store in Sunway Pyramid, I will haul some Essence Cosmetics back!
And this package was from
lunaface
! Both of us started doing swaps 2 Christmas ago and ever since, we have been doing monthly swaps that we will pass neglected products or even products we like over to each other to try. But work has caught up for the both of us and we are constantly traveling that we have not met each other in over 8-9 months and so we both have accumulated a huge ass bag of goodies for each other. Among the gazillion items in the bag, she wanted me to try the Aqua Label Enhancer that I have heard lotsa raves about but never gotten around to try it. The bottle she gave me is down to probably 8-9 uses. I have tried it for about 2 days and quite like it that I bought a brand new bottle from Watsons yesterday! They are currently having a 20% off Aqua Label products!
I can't wait to try the Beauty Maker skincare products that she has given me too. She is a hugeeeee fan of Beauty Maker skincare!
And finally, something from bestie who was in Thailand over the Hari Raya holidays with her very soon-to-be Husband
(today is exactly 3 months to her BIG Day! can't wait for D Day!)
. I got her to get me the Glico Collon in the Mixed Berry Cheesecake flavour which is not available in Singapore. I got to know about this from
witchz
who posted it on her twitter and facebook. I have yet to try it though but bestie said, at the supermarket she bought it from
(which she forgot how much it was)
, other tourists were insanely buying them too! We only have the Strawberry, Vanilla and Chocolate in Singapore. The Blueberry & Lychee Pocky are available at selected supermarkets in Singapore and the Choco-Banana is readily available everywhere.
What I was most excited about are the 4 pink bottles! These are actually deodorants. I love these super duper affordable deodorants from Thailand! These 12 Plus Double Fast Dry with Vitamin B3 deodorants are my favourite deodorants since I stumbled upon them yearsssssss ago when I was in Thailand. They costs approximately 23-24 Thai Baht for each bottle and works amazingly well for me that all my friends around me knows it and whenever they make a trip to Thailand, they'll definitely get me a couple of bottles! Really really love them!
*she actually bought me another 6 bottles of my favourite beer, Hoegaarden from DFS. I did not want to seem like an alcoholic thus I left out the 6 bottles of Hoegaarden.
And this concludes my huge ass 'haul'. I spent approximately US200 on 3 websites but have received way more than I paid for! All thanks to the love from my friends!