Well, despite being so busy at work, I still managed to squeeze some time to haul. Comeon, do you really think it's all work with no retail therapy for me? Definitely not!
I left out these 2 items that I bought somewhere in March when I was out with my colleagues for lunch one weekday. 2 boxes of falsies which was Buy One Get One Free. S$4.90 a box if I remembered correctly. Totally worth the deal yes?
And the Coach emook that came with a free Coach beauty bag that I paid S$29.90 for it. Quite a deal I must say. The beauty bag is really roomy! You girls saw it during my last road trip to Malacca last month.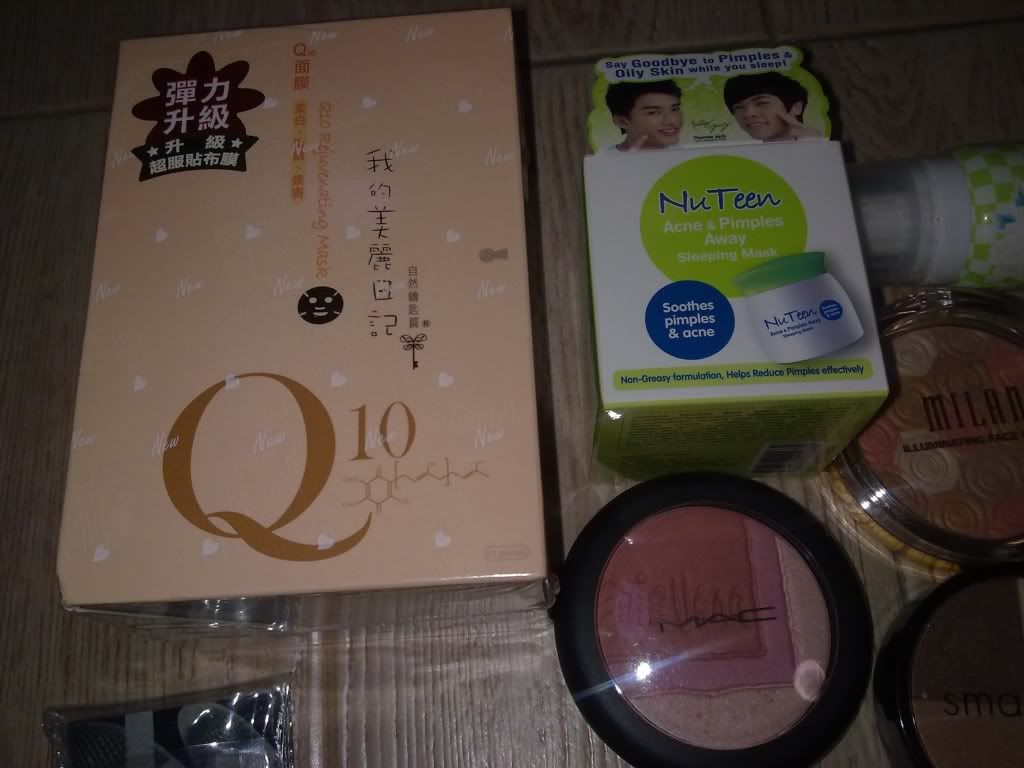 Alright, back to the main picture.
First up, a box of
My Beauty Diary Q10 Rejuvenating Mask
. Well, this was not bought. A new colleague whom was mentoring me was in Taiwan in March came back with this box for me after she knew how huge a fan of My Beauty Masks I was. You can never get enough of sheet masks can you? -grins-
Another tub of the
NuTeen Acne & Pimple Away Sleeping Mask
. The current tub I was using was almost out and there was a 30% sale for this so without a doubt, I grabbed it.
I have not been following the MAC collection recently but when I saw the
MAC Flower Fantasy Face Powder
, I had to get it! It is a lovely rosey pink on my cheeks!
The same colleague who bought me the My Beauty Diary Masks got me the
Mamechiyo for Shu Uemura Limited Edition UV Under Base BB Mousse
too! How sweet she is huh? This is totally up my alley she said! I have always wanted to try the BB Mousse but kinda stayed away since it was a little pricey and didn't know how it'll fare on my skin. Well, I tried it but was not overly excited over it though it helped my oily skin stayed matte for quite a while. I have no idea why I am not overly excited about it though. I mean, I do not hate it, just that I do not love it. Geddit geddit? LOL
Beauty fanatics would have heard about the new Spring products that Milani has launched but unfortunately, it is not launched in Singapore. We do have Milani in Singapore but definitely not this new released
Illuminating Face Powder
. I bought it in
01 Amber Nectar
and it is beautifulllllll! I wear it as a blush and it is a really lovely peacy pink coral flush on my cheeks! I am thinking of getting the other shades now!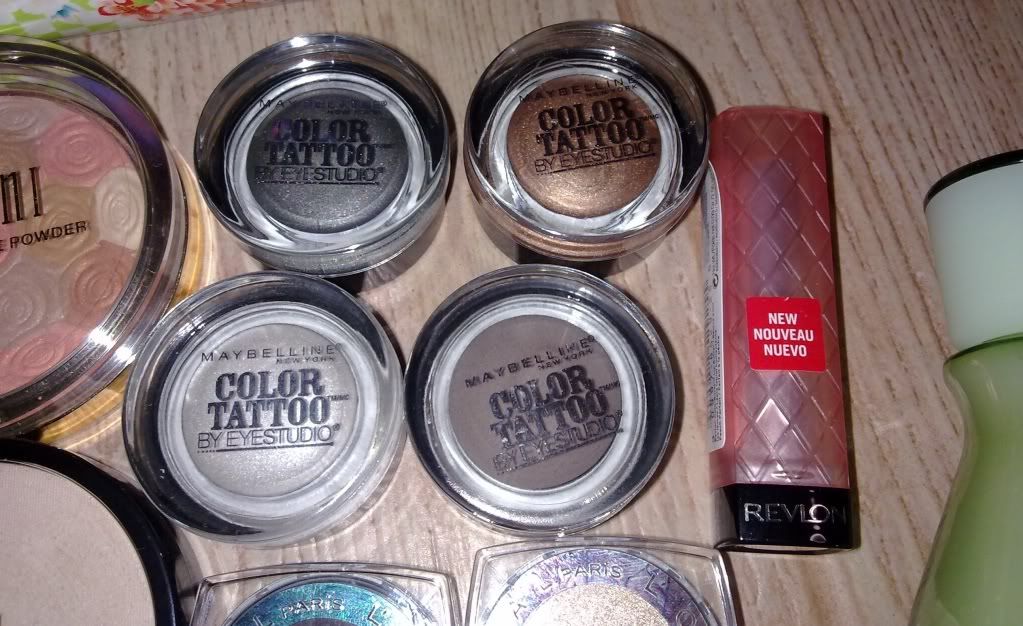 And the new
Maybelline Color Tattoo 24hr Eyeshadows in 15 Audacious Asphalt, 25 Bad to Bronze, 05 Too Cool & 35 Tough As Taupe
. These are said to be the dupe of MAC Paintpots but trust me, they are WAY better than MAC Paintpots. Paintpots tend to crease on me without a primer but these do not! I am amazed at how much I actually love them! I can't wait for Maybelline to launch more neutral shades! I heard these are available in Singapore but I have not quite spot them. I bought them online if you are wondering.
The
Revlon Lip Butter in Peach Parfait
was something I bought during my last road trip up to Malacca last month which you probably have heard me saying that I am not a fan of the lip butter. They are not moisturizing enough for my lips and do not last.
I bought a pack of
Brush Guard
off eBay. These aren't the original ones but works amazing well. For this pack of over 15 pcs? They costs slightly under S$3 including shipping to Singapore from Hong Kong. Google for Brush Guard on eBay if you are interested.
And a major splurge! The
Lancome Color Design Palette in Taupe Craze 100
&
Bronze Amour 101.
These aren't exactly the most affordable eyeshadow palette ever, infact, they are pretty pricey! Was it S$80 a palette? I can't quite remember but it was around that price. A couple of months ago, I stumbled upon a Lancome GWP quad and was amazed by its quality and decided to splurge on these 2 neutral palettes which I have yet to start using.
I acidentally chopped off the
Smashbox Eye Shadow Quad in Glitz
on the top left hand corner of the picture. It is an extremely lovely neutral quad! My very first Shashbox Eyeshadow!
The L'Oreal Infallible Eyeshadows which are said to be dupes of the Giorgio Armani Eyes to Kill (which I do not own) are pretty amazing too! I have them in the shades,
891 Continuous Cocoa and 888 Iced Latte.
Not sure if these shades are available in Singapore but I bought them online. Drugstore makeup have really gone up quite a couple of notches lately!
The
Revlon Lip Butter in Strawberry Shortcake
was bought in Malacca when I was there last month. Like I mention above, I am not a fan of the lip butter.
At the side of the Lip Butter, I have accidentally truncated the picture of the
Etude House AC Clinic Gel Lotion
which I bought from Malacca for slightly under S$10. I am also not a fan of it. As much as I love the foam cleanser, this gel lotion does not have much oil control for me.
I bought the
Urban Decay 24/7 Glide On Shadow Pencil in Juju, Rehab & Sin.
I tried them and loved Rehab so much that I bought another stick of Rehab as a back up. They glide on the lids like a dream and lasts really well on me! Oh, these mini pencils are part of a gift set that comes with 2 other shades but I bought them separately online via a blog sale.
And I finally have my hands on the
NARS Pro-Prime Smudge Proof Eyeshadow Base.
I heard so much about it and decided to get a mini from an online blog sale. Does it live up to its raves? Definitely! It is a wee bit
(just a tiny bit)
tacky as compared to other 2 cult favourite, the Urban Decay Primer Potion my favourite Too Faced Shadow Insurance but it works as well, if not better than the other 2! This is definitely next on my wish-list! I do not have the oiliest lids around but if you are looking for something even better than the UDPP and TFSI, try the Nars Pro-Prime Smudge Proof Eyeshadow Base. It will not disappoint you.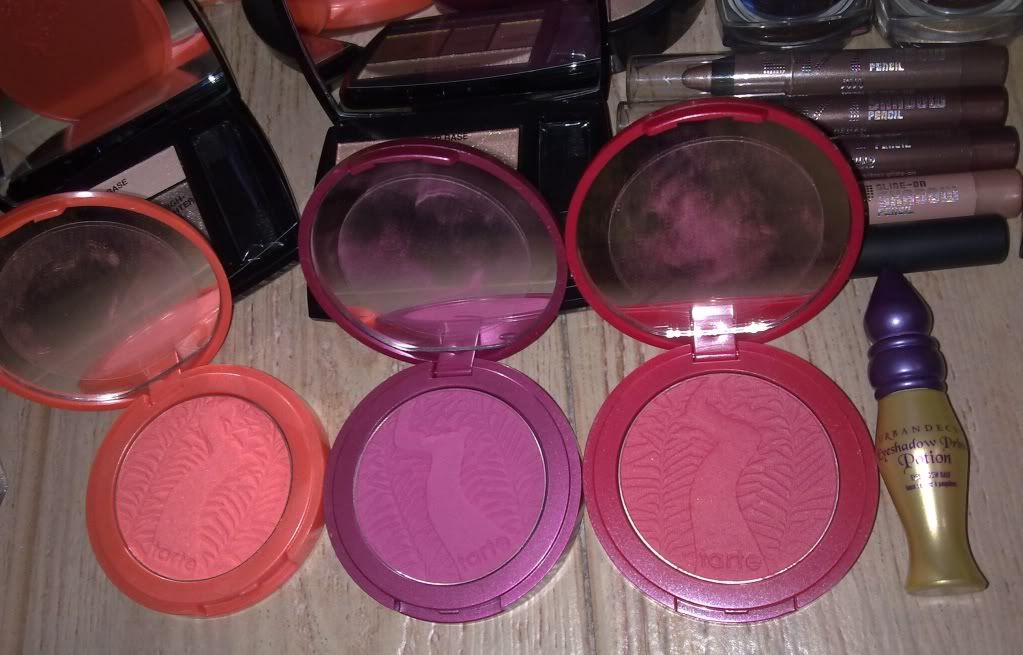 And one of the most exciting products in my entire haul,
Tarte Amazonian Clay Long-Wear Blush in Tipsy, Flush & Natural Beauty
. I own Glisten a while ago and absolutely adore the blush. It is super pigmented and very long wearing that I started to research on other shades. I personally feel that the Tarte Amazonian Clay Long-Wear Blushes are way better than NARS. Well, maybe I am just being bias just because NARS Orgasm did not work for me. Being the Mother of all Blushes, I bought it, tried to make it work in so many ways but gave up and sold it away. But these Tarte Amazonian Clay Long-Wear Blush is da bomb! They are pigmented, long wearing and works amazing well on my oily skin! I am so going to own the entire range of shades one day. ONE DAY!
Oh yes, not leaving out our little friend at the end, the mini
Urban Decay Primer Potion in Greed.
I own the original and Eden so I wanted to know how this shade fares so a mini would be good. Nothing too interesting about it though.
The 3 new Tarte Amazonian Clay Long-Wear Blushes to my 'exploded' drawer of blushes. From bottom, clockwise up, Natural Beauty (described as Red), Tipsy (Coral) & Flush (Deep Berry). The Glisten I originally own is described as a shimmering peachy pink.
Aren't they lovely? I should have taken a group picture with Glisten which is in my collection. Oh, these are not available in Singapore but you can get them from beauty.com (a sister site of drugstore.com). They are US25 a piece excluding shipping.
I will dedicate an entire post for these blushes soon with swatches of the 4 I now own. Out of the 12 shades they carry, I own 4 so that will mean I am 8 more away! Another US200 to spend!
And this concludes my collective haul for the past 2 months. Till my next collective haul!
At the rate I am going, I honestly need an additional cabinet to store my babies! Just in case you have forgotten how my makeup storage looks like...
Every single drawer in the 18 tier storage contains cosmetics, even the black train case, the small hello kitty pink cabinet, to the 3 coral drawers and the hello kitty drawers above it and even the small pink case right at the top contains makeup!
I am such a hoarder am I? I can't seem to downsize as fast as I haul!