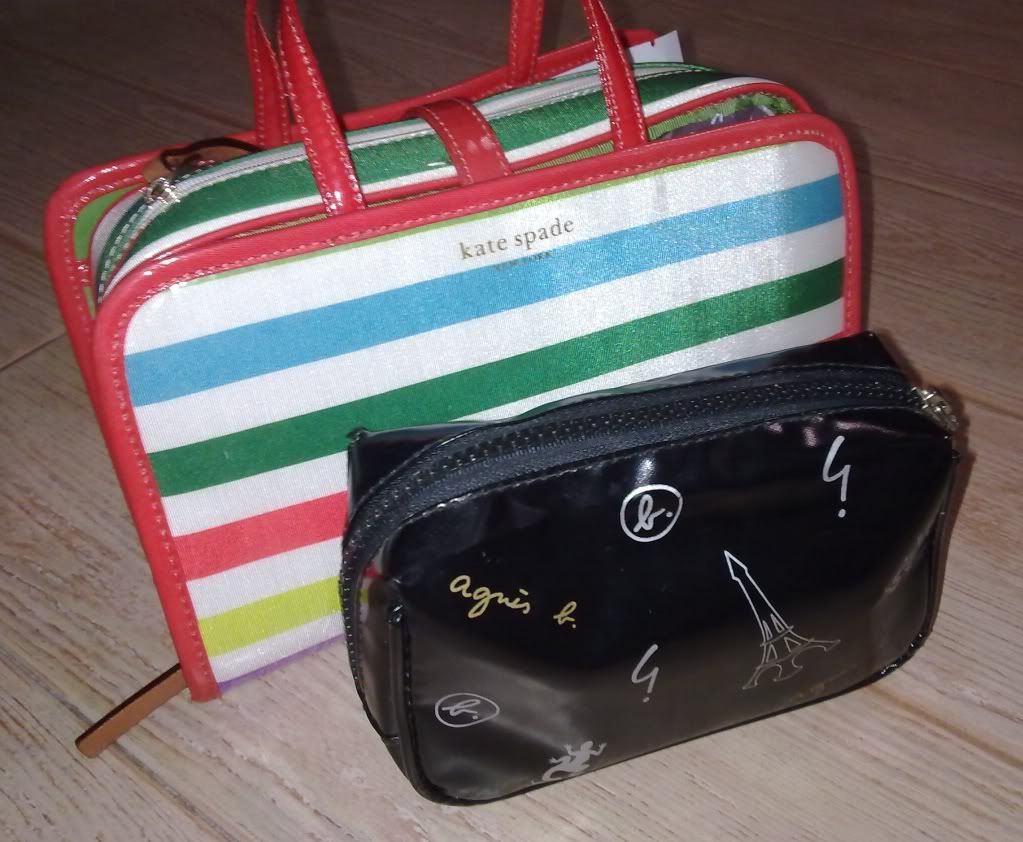 I am going away for a super duper short getaway to Batam, Indonesia this coming Sunday for my mother dearest's Birthday and Mother's Day. We are going away for just 1 night and I have booked a room at Turi Beach.
For those who have read my journal for quite a couple of years now would have know, my very first job upon graduation was a position in the hospitality industry, in particular, an International Hotel Chain in Batam, Indonesia. I was based in Singapore but had to travel over to Batam quite frequently so whenever I travel to Batam, it was like 'returning home'. My last trip was about a year and a half ago for work too but I am glad I am going over for leisure this time!
My last road trip to Malacca, some of you have commented that I have packed quite a fair bit for a 3D2N but it was because I had the luxury of space since I was driving up. This time around, as I am taking a ferry, I am packing as light as I can so my toiletries are all jam packed into this Kate Spade Sant Elmo Medium Manuela Beauty Case. If you remember, I do have the matching Kate Spade Large Colin Beauty Case in the same print! I love how cherry this print looks! So summery yes?
And yes, I have wanted to have both my toiletries and makeup into this case but LOL, it was pretty much mission impossible!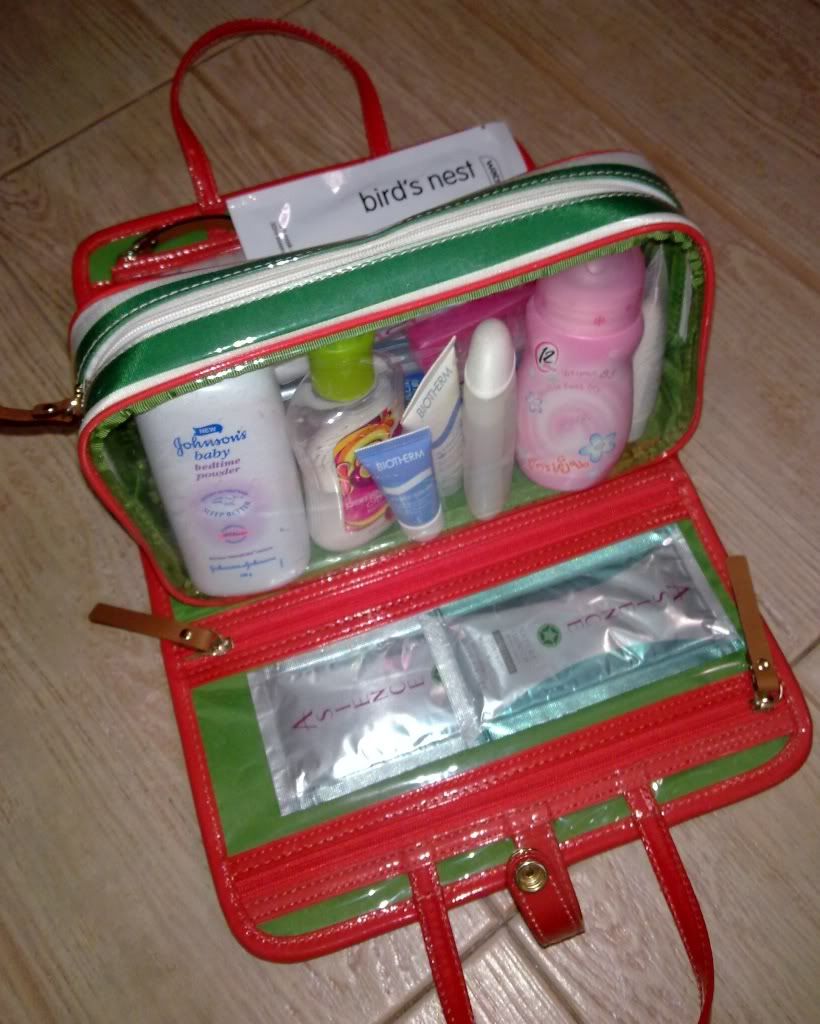 Opening the case, this beauty case sure looks pretty filled huh?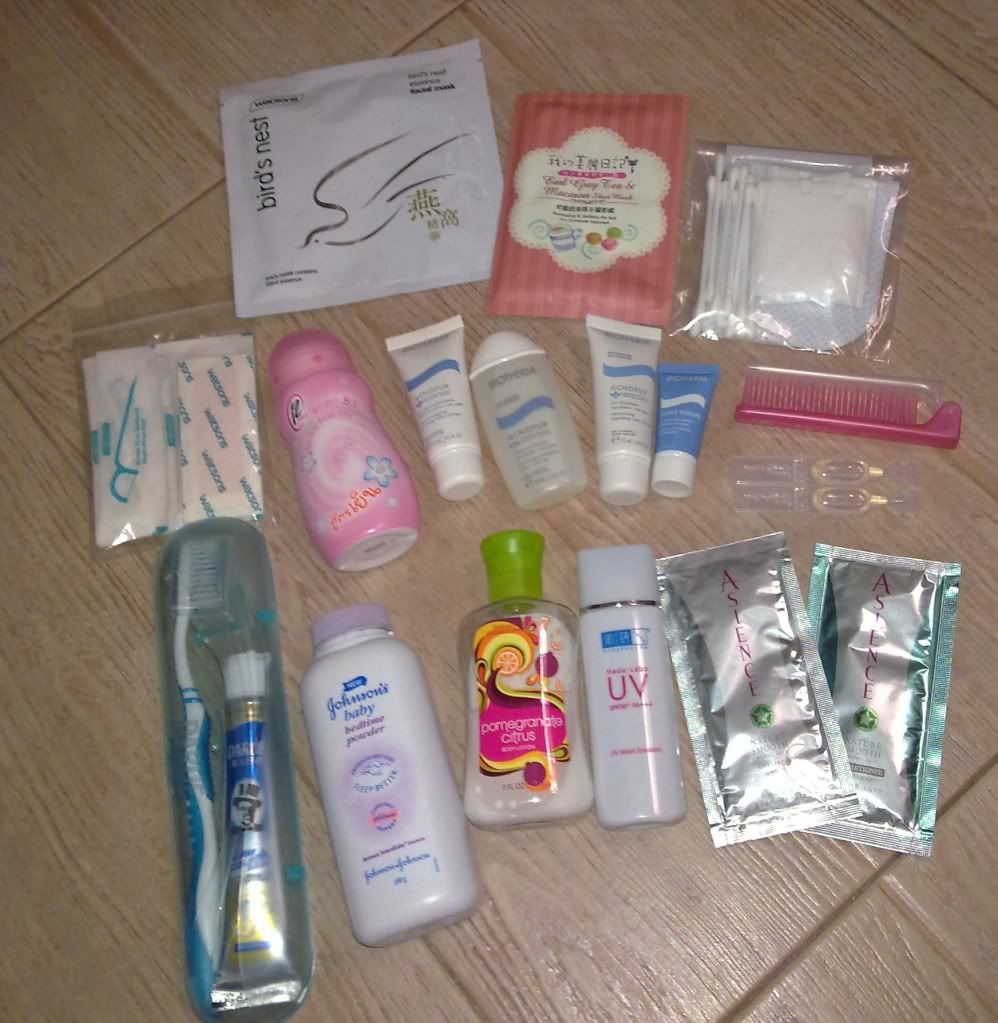 For a 2D1N stay, I tried to pack as minimal as possible.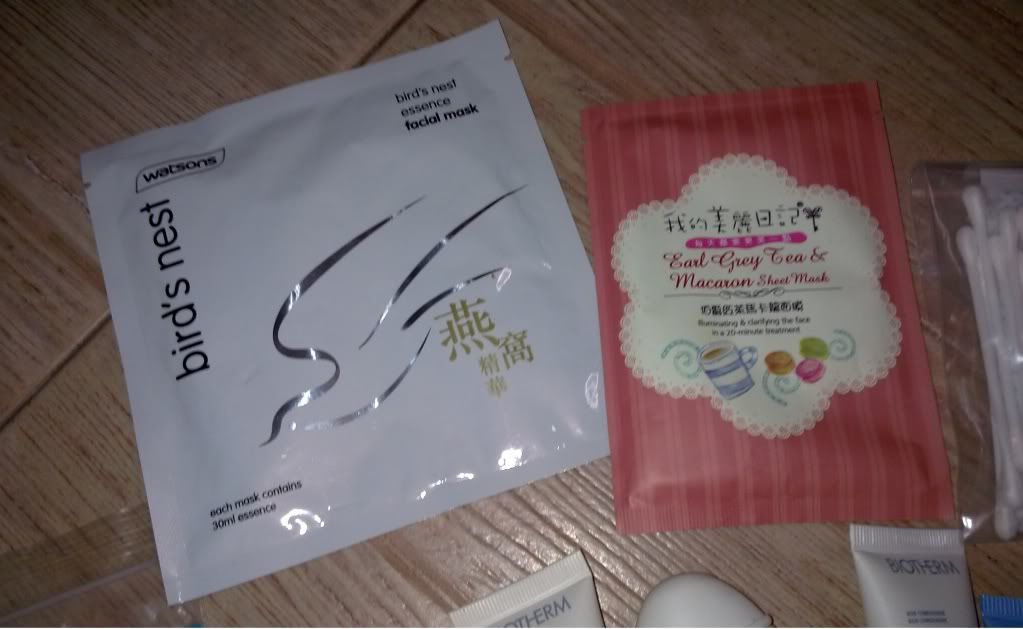 First up, 2 sheet masks, 1 for Mommy and 1 for myself. She will be treated to a 3 hour spa session so I am not sure if she is still keen to have a sheet mask at night. But I am definitely gonna have the My Beauty Diary Earl Grey Tea & Macaroon sheet mask for myself!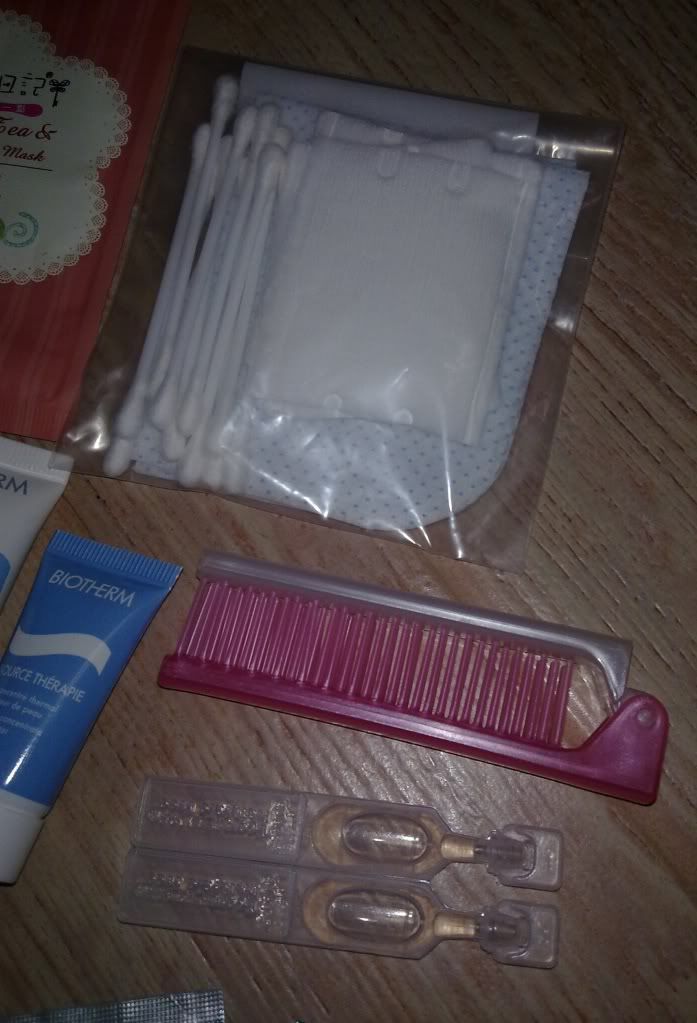 My must have travel buddy, the Olay 2-in-1 Daily Cleansing Towelette to remove my makeup with some cotton squares and q-tips with a small hair brush and eye drops.
Watsons house brand floss pickers & band-aids with my favourite deodorant, the 12 Plus Vitamin B Double Fast Dry from Thailand.
Biotherm Acnopur Pore Unclogging Purifying Foam, Clarifying Exfoliating Lotion, Moisturizing Regulating Care and the Source Therapie Pure Spa Concentrate serum.
The Darlie travel toothbrush kit that I was sent a couple of weeks ago which comes with a toothbrush and my favourite All Shiny White Enamel Care toothpaste, baby powder, Bath & Body Works Pomegranate Citrus Body Lotion.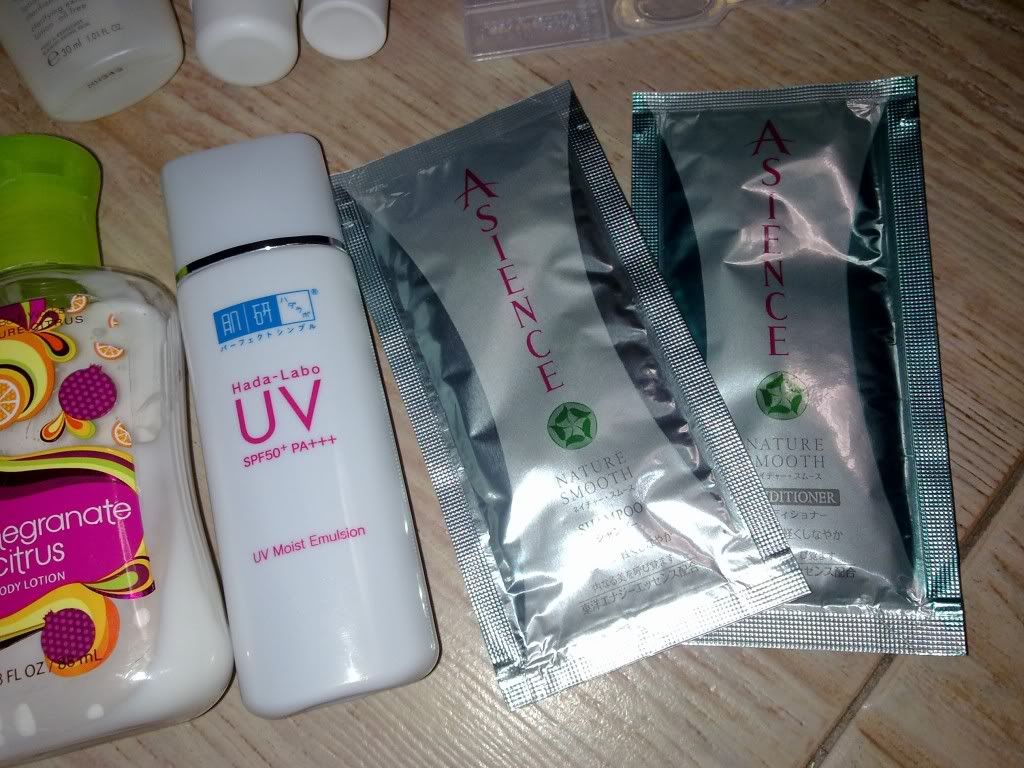 My HG sunscreen, the Hada Labo SHA UV Milk SPF 50 PA+++ for face and body and sample packs of the Asience Nature Smooth Shampoo & Conditioner.
I skipped my hair serum and heat protectant for my hair so I am really not overpacking!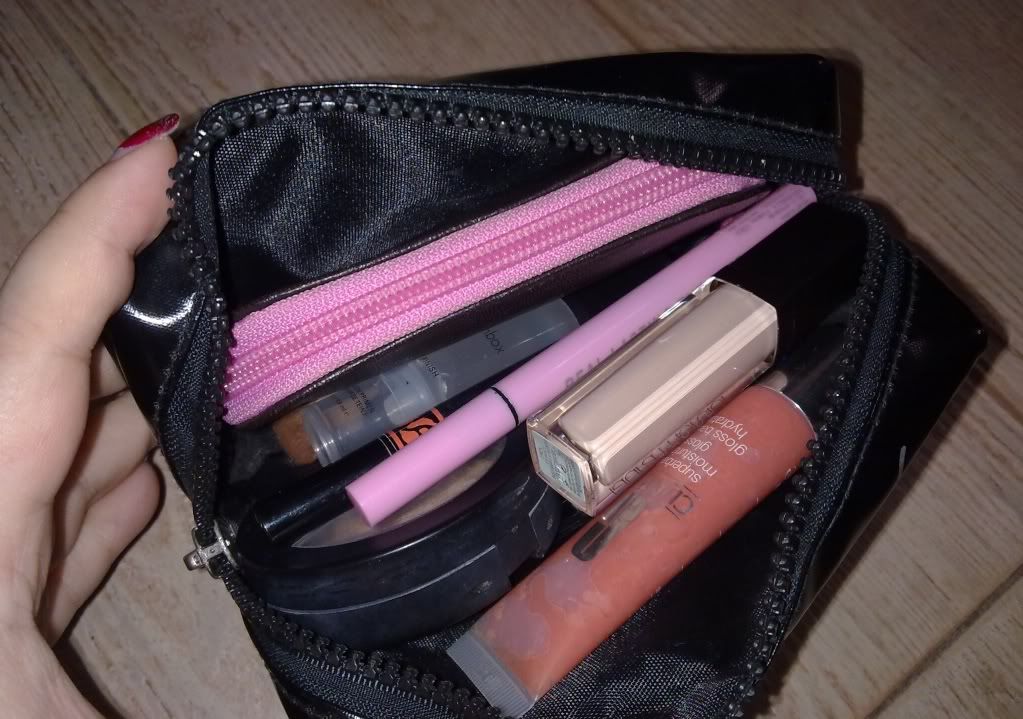 Next, the cosmetics that I am taking with me which fits into the Agnes B pouch that came free with an Elle Magazine over a year ago.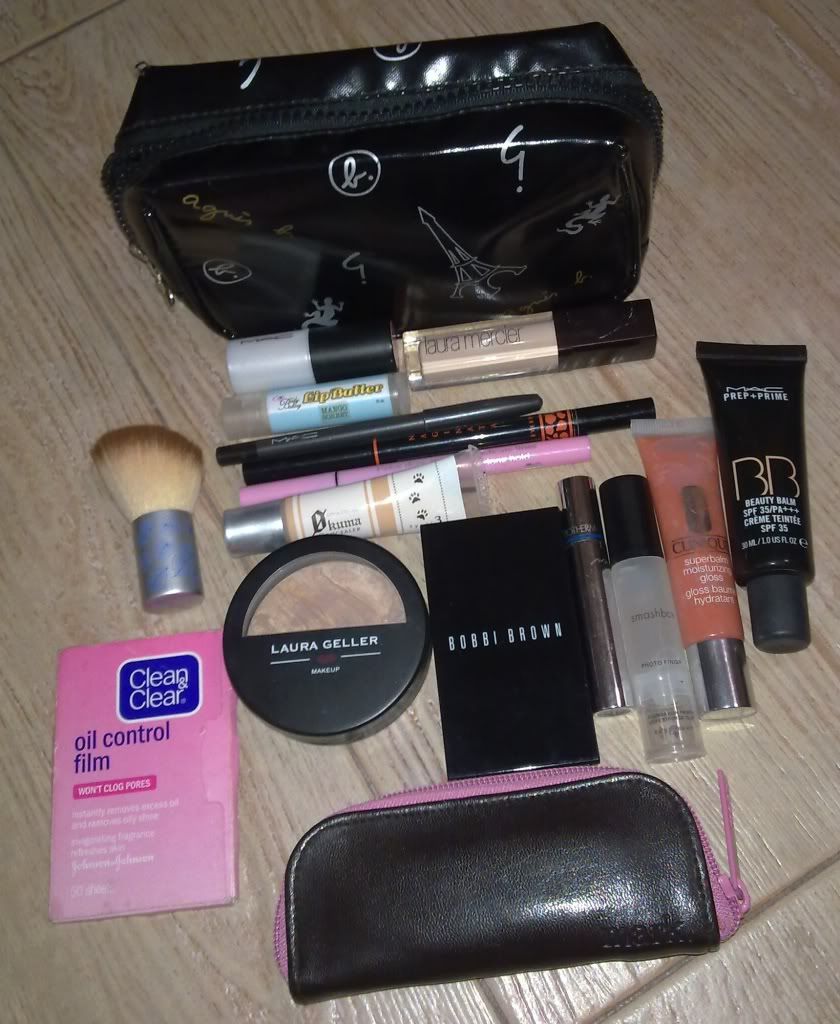 The pouch can really fit quite a fair bit of cosmetics! If you remember, I took this as a carry on makeup pouch during my trip to Taiwan last June.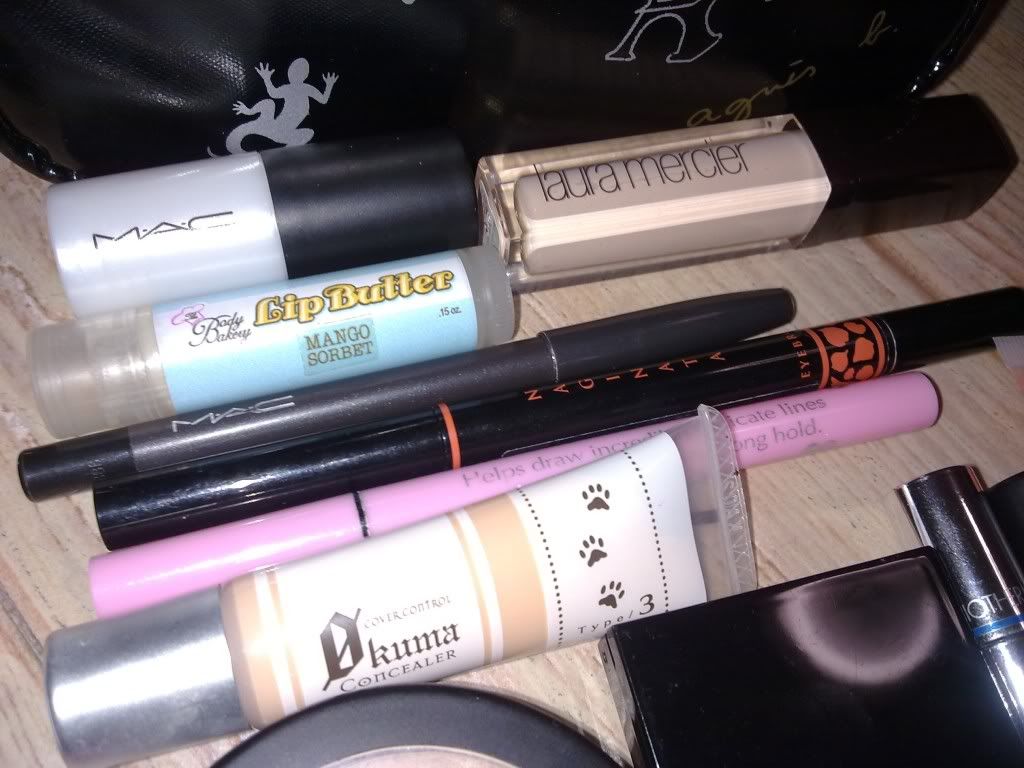 #1 MAC Strobe Blossom Tinted Lip Conditioner Stick with SPF 15
- This is a tinted lip conditioner with an SPF to help protect my lips from the harmful sun rays.
#2 Laura Mercier Eye Basics in Linen
- A cream shadow that is also an eye primer
#3 The Body Bakery Lip Butter in Mango Sorbet
- This is one of my top favourite lip moisturizers to date. I have completed one in Key Lime Pie before and this is my 2nd tube.
#4 MAC Engraved Powerpoint
- A pencil eyeliner for my waterline
#5 Naginata Eyebrow Pencil
- It comes with a slanted tip on one end and a spoolie on the other which is pretty convenient without having to bring a separate spoolie.
#6 K-Palette Real Lasting Eyeliner 24hr
in a Limited Edition pink packaging - 1 of my favourite eye liner for my upper lash line that is very smudge-proof even without a good eye primer.
#7 K-Palette Zero-Kuma Cover Control Concealer
- What can I say, this is my HG concealer at the moment that can double up as a foundation!
#8 Eco Tools Angled Small Kabuki
- Bought this among 4 small kabukis in a set and quite like this angled kabuki for foundation application. It is soft and does its job pretty well!
#9 J&J Pink Oil Control Film
- It is always good to have oil blotters especially in a hot humid climate. I love the pink version because of its color!
#10 Laura Geller Balance & Brighten in Fair
- I love love love this product as a powder foundation or simply to set my base makeup. Love how natural it feels on the skin without feeling the cakiness.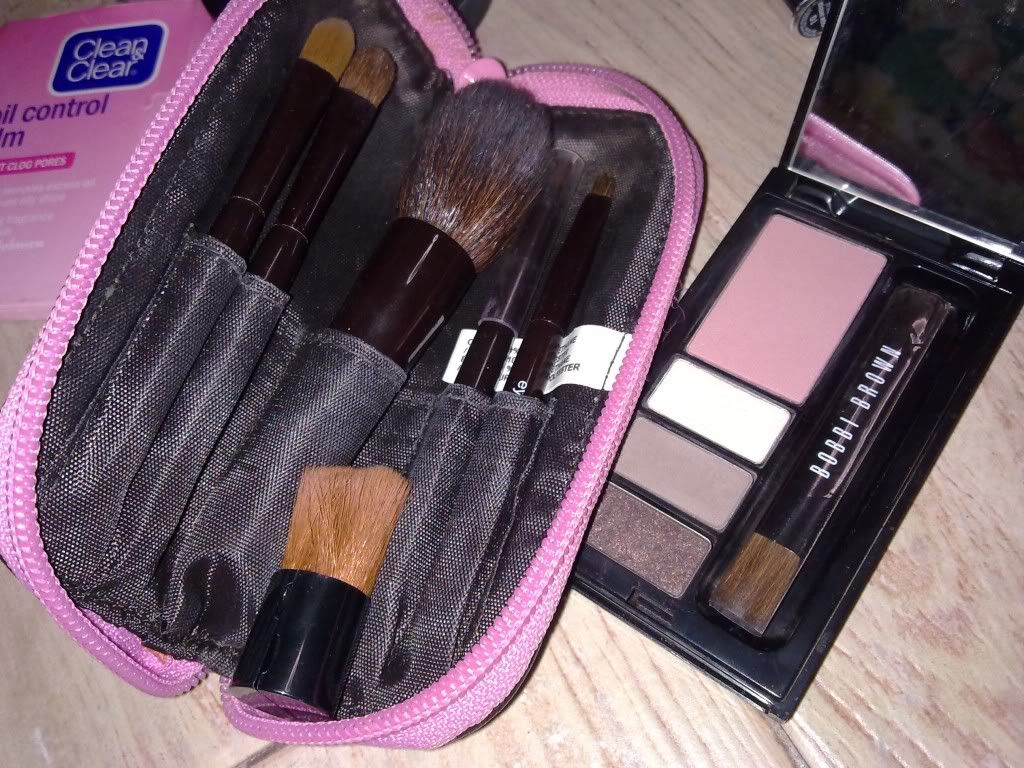 #11 - MARK travel brush kit
with an Elizabeth Arden small kabuki - The brush kit was from Carrie 2 years ago and I am still loving the set! It is so compact, perfect for small pouches! The Elizabeth Arden small kabuki can be opened to create a larger surface area if you need to do contouring.
#12 - Bobbi Brown Classic Evening Palette
- This is a pretty compact palette that comes with the Dessert Rose Blush and eyeshadows in Navajo, Flint & Black Plum. In the palette is also a small brush which I have never quite used it before. Totally my kinda neutral shades that can take you from day to night!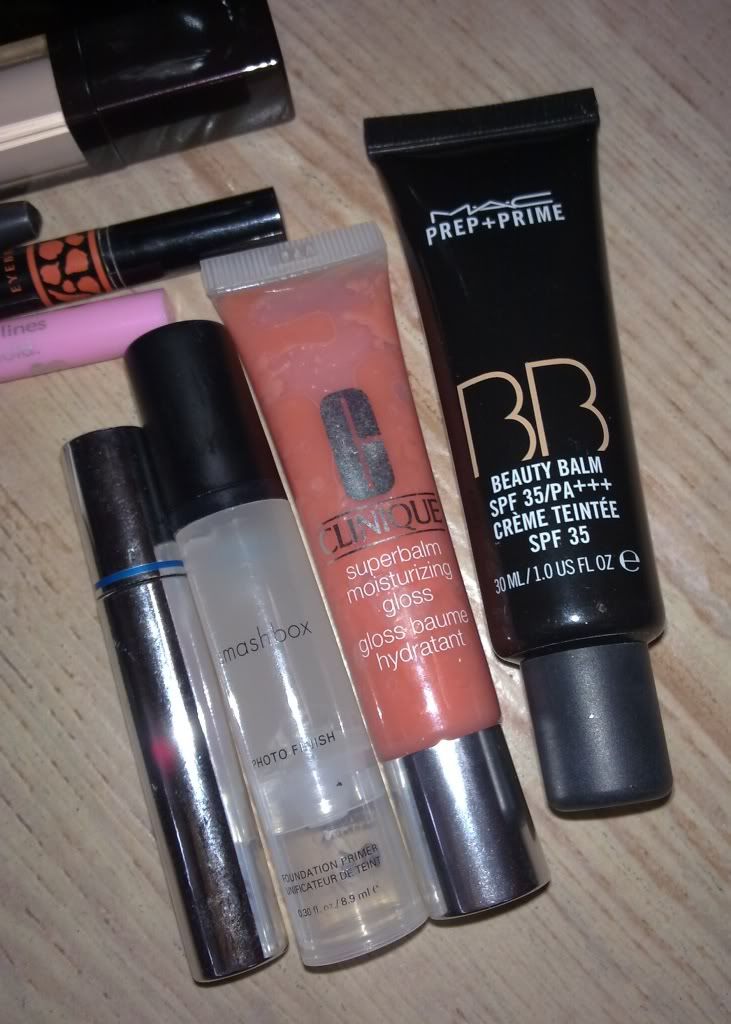 #13 Biotherm Look Intense Mascara
- One of my earlier favourite mascara before it was discontinued.
#14 Smashbox Photo Finish Foundation Primer
- Not my favourite primer for a humid climate but works pretty alright I suppose. Love the small handy compact travel size.
#15 Clinique SuperBalm Moisturizing Gloss in 01 Apriot
- The MAC Strobe TLC can be a little drying as it has an SPF in its formulation thus a moisturizing gloss like this Clinique's will help counteract the dryness while giving a glossy finish.
#16 MAC Prep & Prime Beauty Balm
- Didn't want something too heavy on my face so this Beauty Balm will be my foundation with the Laura Geller Balance & Brighten to help set the base makeup.
Now now, that is not alot of stuff that I am packing with me yes?
*Edit: This was just delivered! I am taking this vintage looking cabin trolley luggage for this trip that has just arrived from Korea!
Isn't this so cute? LOL! Ms Pink Checkers shall be my new travelling companion for short getaways!