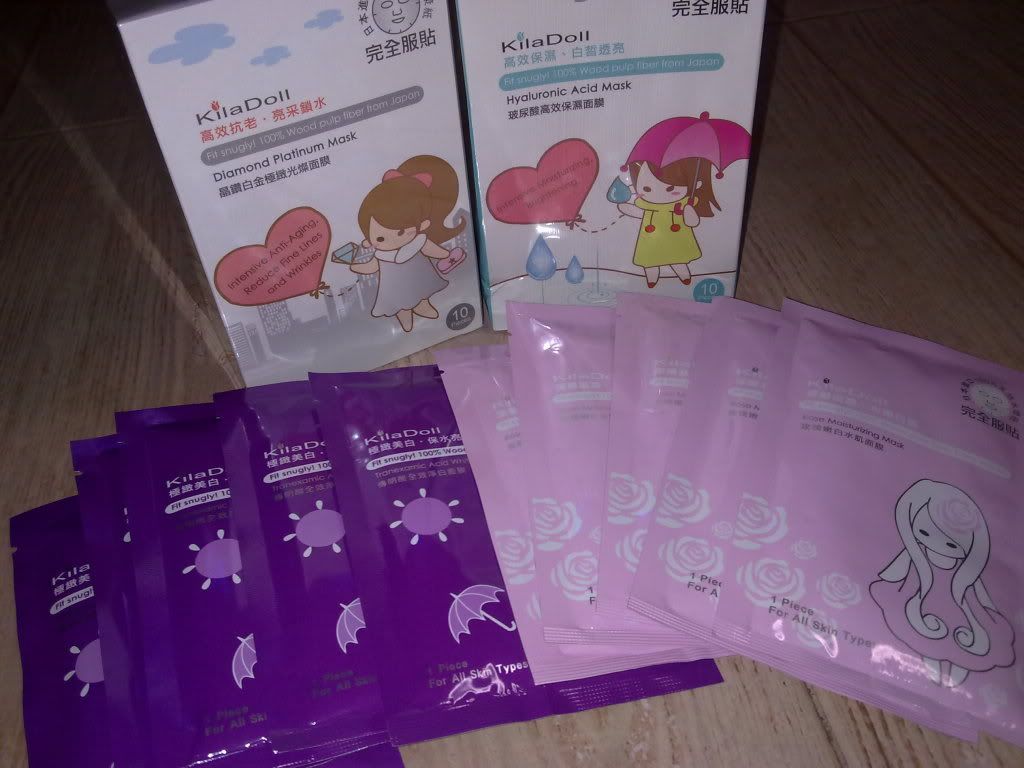 A couple of weeks ago, I was sent some Kila Doll facial sheet masks. Knowing how huge a fan of sheet mask I am, I was extremely excited to receive them. Having tried so many brands of facial sheet masks, I was curious how these Taiwan made sheet masks fared...
I received a box of 10 pieces of the Diamond Platinum Mask, a box of 10 pieces of Hyaluronic Acid Mask
5 pieces of the Rose Moisturizing Mask and 5 pieces of the Tranexamic Acid Whitening Mask.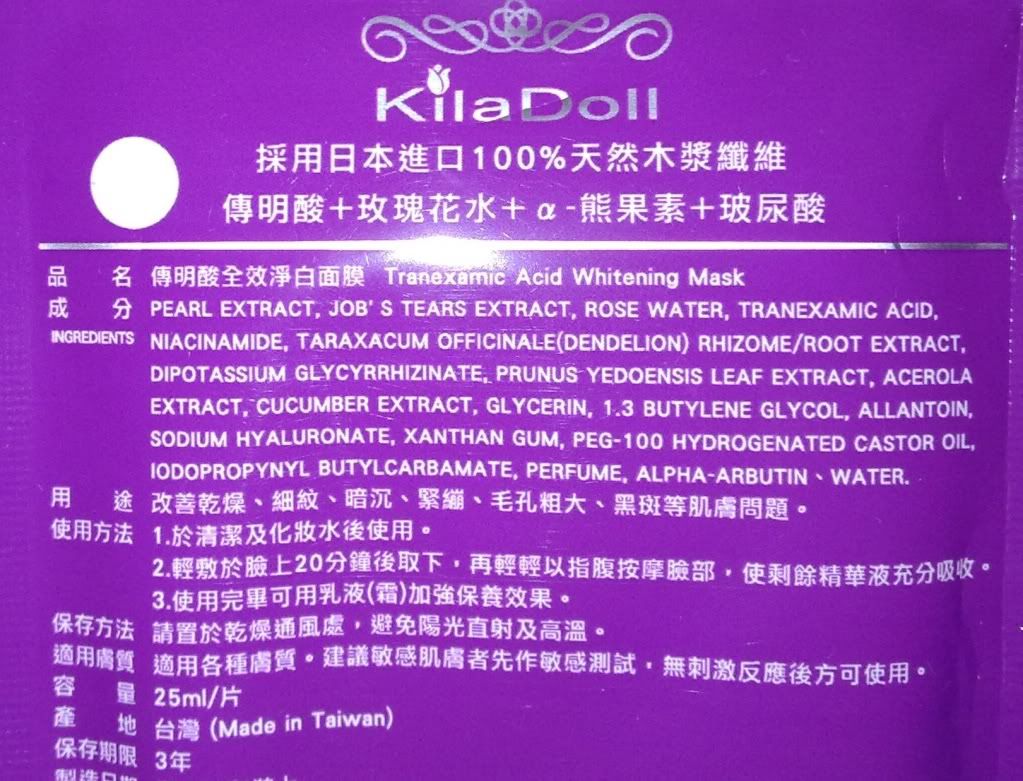 Removing the folded piece of mask from the packaging, the mask has a piece of plastic that acts as a guide when you unfold the mask. I have many a time torn masks that does not have this piece of guiding plastic so I really like masks that comes with this plastic.
What I noticed about these Kila Doll Facial Masks is that it is very moist! So moisk that it allows the mask to fit snugly! The sheet mask is slightly translucent and soaked with the essence of the mask when you remove it from the packaging.
The 100% wood pulp fiber of the sheet mask is pre-soaked with a slightly thick essence
(as compared to other facial sheet masks)
that does not dry up that easily! This picture is taken after I have had the mask on for 60 minutes! You will be able to notice that the area on my cheek & forehead still looks a little damp and it is! I must say, I am really impressed with it!
Some facial sheet mask tends to dry up on your skin really quickly and that is why it is suggested that you have the mask on for 15-20 minutes before you remove it but these Kila Doll Facial Sheet Masks do not! Even after 60 minutes, it is still damp and so, I removed it off my face and started rubbing the damp mask on my joints so as not to waste the essence! Talk about multi-usage huh?
I am actually pretty impressed with these masks in general. I have tried so many brands but I still return to a particular Taiwanese facial sheet masks but these Kila Doll has just topped my charts! I like how comfortable the 100% wood pulp fiber material that fits snugly on my face and that it does not dry up that quickly. It allowed my skin to drink up all the essence at its own pace.
Best part? These masks in a box of 10 pieces are approximately S$13.90 at all major drugstore/beauty stores island-wide.
For S$1.39 a piece, it is definitely worth a try! You might like it as much as I do!