Watsons Singapore had their 1 day Members Sale across over 20 outlets island-wide and I definitely could not pass on the sale!
The sale started at at 12noon (If I remembered correctly) but I only made it to the sale at about 6pm which I still managed to get a really good bargain on some products!
The crowd was insane and the queue to check out was even longer than the queue to get into the store but patience over rules the great steal and this was what I bought from the sale!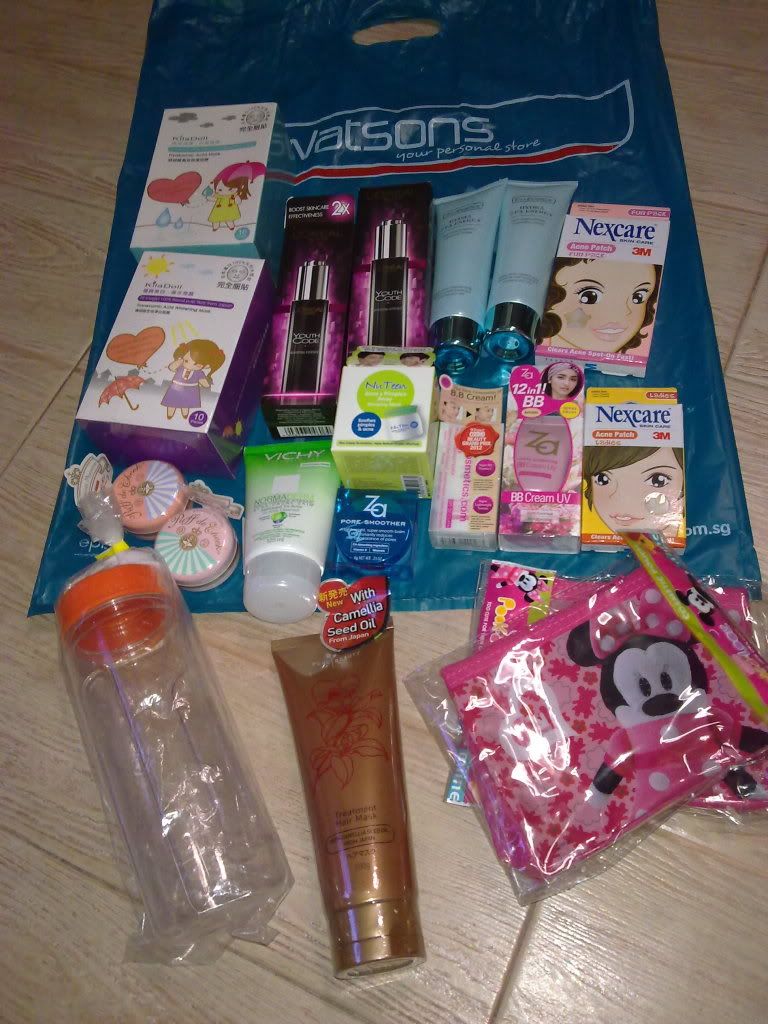 I think I did pretty good at the sale... Well, I bought more stuff for my friends than for myself so I want to think I really did well at the sale!
First up, the
Kila Doll Facial Sheet Masks
. I recently wrote a review on these masks that were sent to me. I loved them so much that I bought 2 boxes. There was a
20%+5%
sale and I ended up paying only
S$10.56
per box of 10 pieces each! I wanted to get more but I have at least another 5 unopened MBD masks and a gazillion other sheet masks...
I bought 2
Majolica Majorca Puff De Cheek
for my dear friend Carrie who is in America! I gave her an Etude House Cheek Stamp and she loves it so much but I can't seem to find any so when I saw these had a
25%+5%
sale, I bought both shades. After discount, they were
S$16.31
each! I have not tried these blushes but heard good things about them so I hope Carrie will love them too!
Alright, these 2 items werent exactly on sale. When I saw that L'Oreal had a 25%+5% sale on all their skin care products, I asked 1 of the SA who was patrolling around the store, if this particular item had the 25%+5% discount as there isn't the promo tag on the price. Without thinking, she answered, yes. ALL L'Oreal products in a rather rude tone as if I was asking an obvious question. Well, I took her answer for it and took 2 bottles of my absolute favourite serum, the L'Oreal Youth Code Boosting Essence into my shopping bag. But when I checked out, I realized my total was a little over what I have estimated and decided to check my receipt just before leaving the store and true enough, these 2 items were full priced with no discount. I was furious and wanted to ask that SA who INSISTED there was a discount but I did not not to weave through the crowd and decided to head straight to the Cash / Refund Counter and told the cashier I wanted a refund as these weren't on sale although I have had it verified. The cashier told me to join the queue and I said, I queued for OVER 40 minutes and you want me to queue again just to get a refund? I know I was acting a little overboard but I really didn't want to waste my time but she said, no, join the Cash queue which was significantly shorter.
I queue patiently and when it was my turn, she was really apologetic and asked if I would accept the discount if she could offer me. I told her if it is possible, definitely! And so she refunded the extra 25%+5% which worked out to be S$19.10! Imagine if I walked outta the store and not refunding that S$19.10! I honestly saved alot! And she was so apologetic that I had to queue, though it was significantly shorter than the other queue, she gave me a water bottle that she whisked from under the counter and said, this is for you that you had to queue and wait for the refund. She said it with a really sweet voice and smile that left me speechless. Well, I hope she does not get too much of a trouble for having to refund that S$19.10 to me! I walked out with these 2 serums for
S$22.73
each after the
25%+5% discount
! Down from the usual price of S$31.90!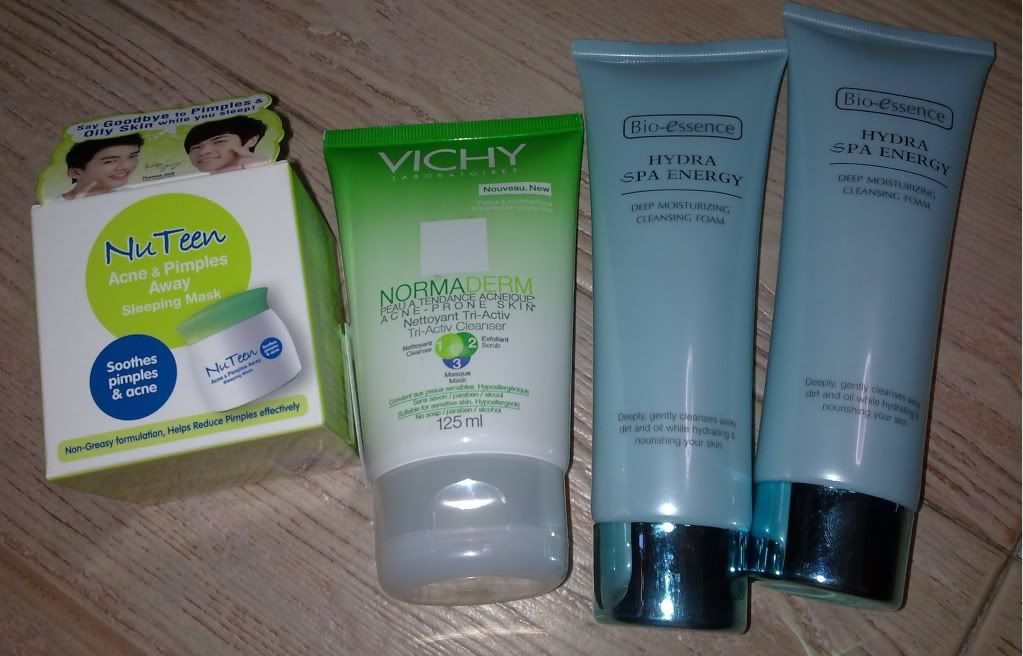 The NuTeen range of products had a
30%+5%
sale so I could not pass on my favourite sleeping mask,
NuTeen Acne & Pimples Away Sleeping Mask
that I paid only
S$10.57
! I have another tub in my stash so I only bought 1.
I bought the
Vichy NormaDerm 3-1-in-1 Cleanser Exfoliant Mask
for
midnight_plue
who said she wanted to try it. Malaysia has yet to launch it and since it had a
20%+5%
, I paid
S$25.08
for this new product that I have yet to try it. It'll be 1 of her pressies from me when we meet in Bangkok in August!
My 7 months heavily pregnant bestie did not make it to the sale
(I didn't want her to be weaving in and outta the insane crowd in her heavily pregnant state)
and decided to haul on her behalf. She loves the
BioEssence Hydra Spa Energy Cleanser
and I paid
S$6.51
each after a
30%+5%
discount! Such a bargain!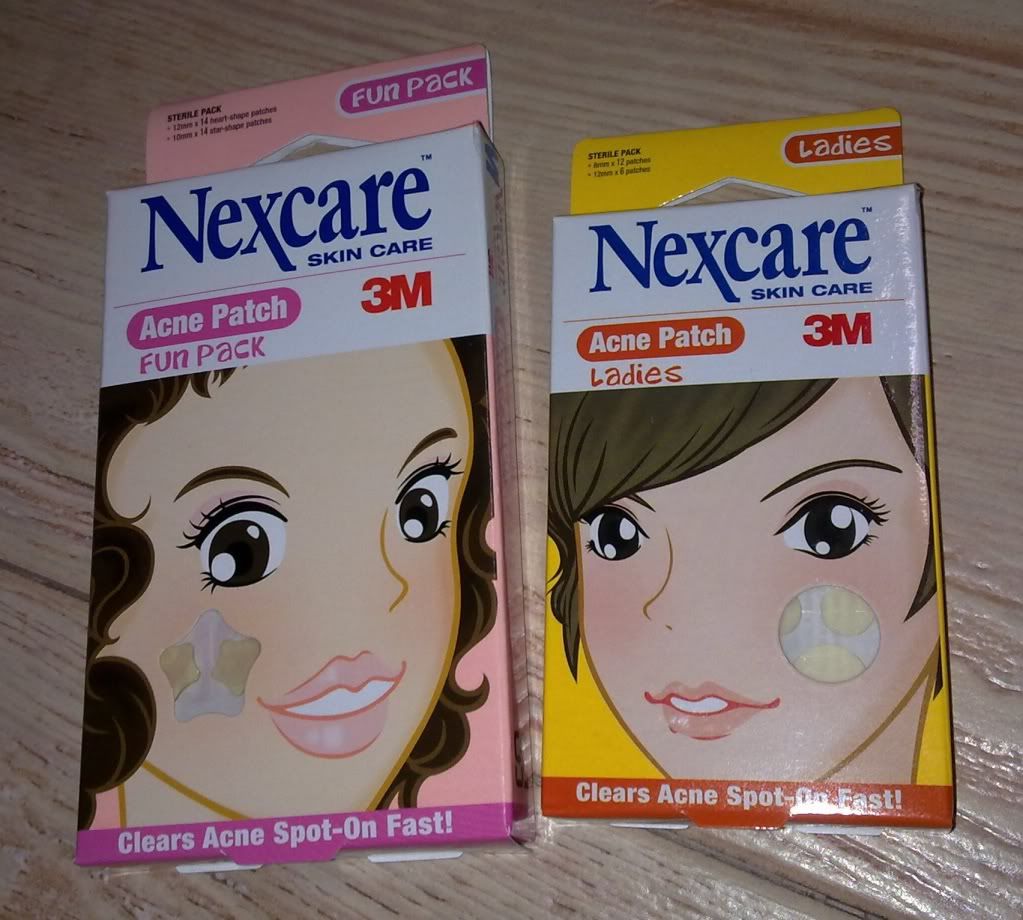 The
NexCare Acne Patch
were on
20%+5%
sale so I bought the
Fun Pack for S$5.32
after discount for Carrie and the other
Ladies pack for S$3.73
for myself!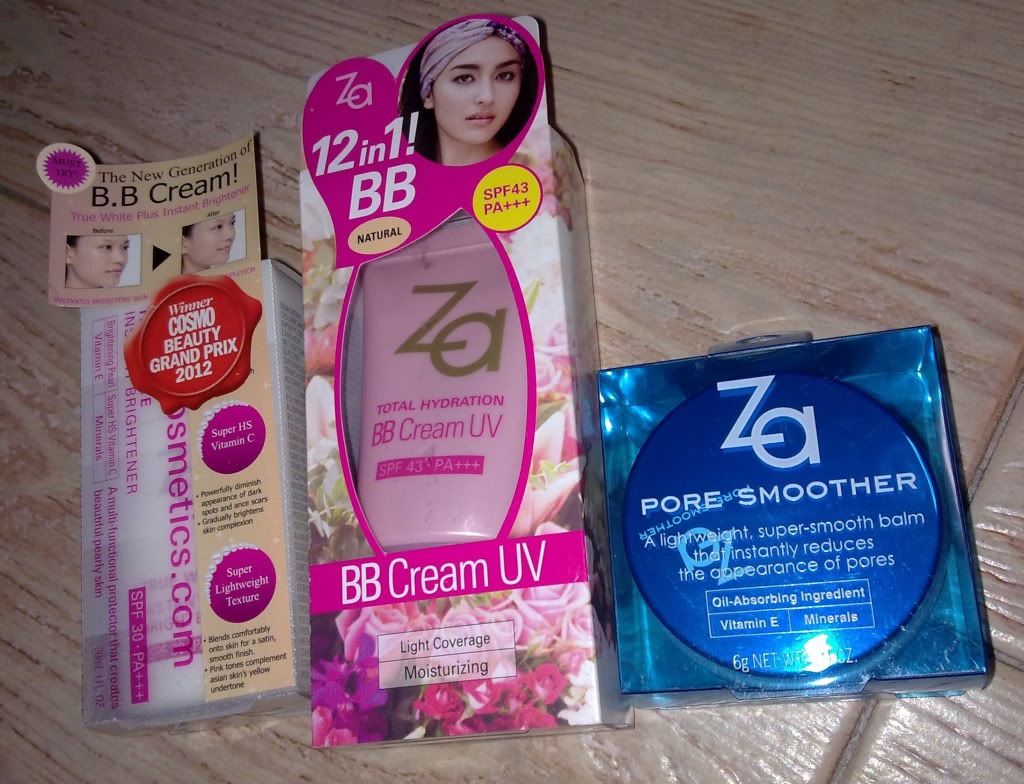 I picked up 3 items from ZA which had a
25%+5%
discount on all their products and with every S$30 spent, there was this really nice pink and black gym bag free (which unfortunately was given out by the time I tried to redeem for it).
I bought the I
nstant Brighter f
or Carrie because she has pink undertones and thought this might suit her since she always have problems with finding a suitable BB Cream. She is very fair and had pink undertones. Hopefully this suits you babe! I paid
S$11.32
after discount for it.
I also bought the T
otal Hydration BB Cream UV w
hich is a new product by ZA. After the discount, it was only
S$11.32
too!
And finally, I bought the
ZA Pore Smoother
which I have reviewed it for ZA 2 years ago when it was first launched. I quite like the product and decided to get 1 for Carrie to try since she has oily skin! It also costs
S$11.32
after discount! It is pretty similar to Dr Feel Good from Benefit!
And finally, freebies! The water bottle on the extreme left was from the cashier who felt apologetic when I had to re-queue to get a refund for my L'Oreal Youth Code Serum. The middle item is a Pure Beauty Hair Treatment Mask which was free with every S$100 purchase. There were 3 items to choose from. A Watsons House Brand electric eyelash curler, a Watsons House Brand Eyebrow Trimmer or this Pure Beauty Hair Treatment Mask which I chose. The 2 Minnie Mouse pouches were free from S$30 purchase of ZA and Majolica Majorca products. It was supposely a ZA Gym Bag and a Majolica Majorca Draw String Pouch but I suppose they ran outta those and decided to give these out instead. I passed it onto my 2 helpers who were extremely delighted.
The highlight of my haul is actually the L'Oreal Youth Code Serum! Thank you to that cashier who extended the discount to me!
What did you get from the Watsons Sale?