Have you heard about 2 Warehouse Sales that ends tomorrow? If not, I am gonna share them with you and my haul!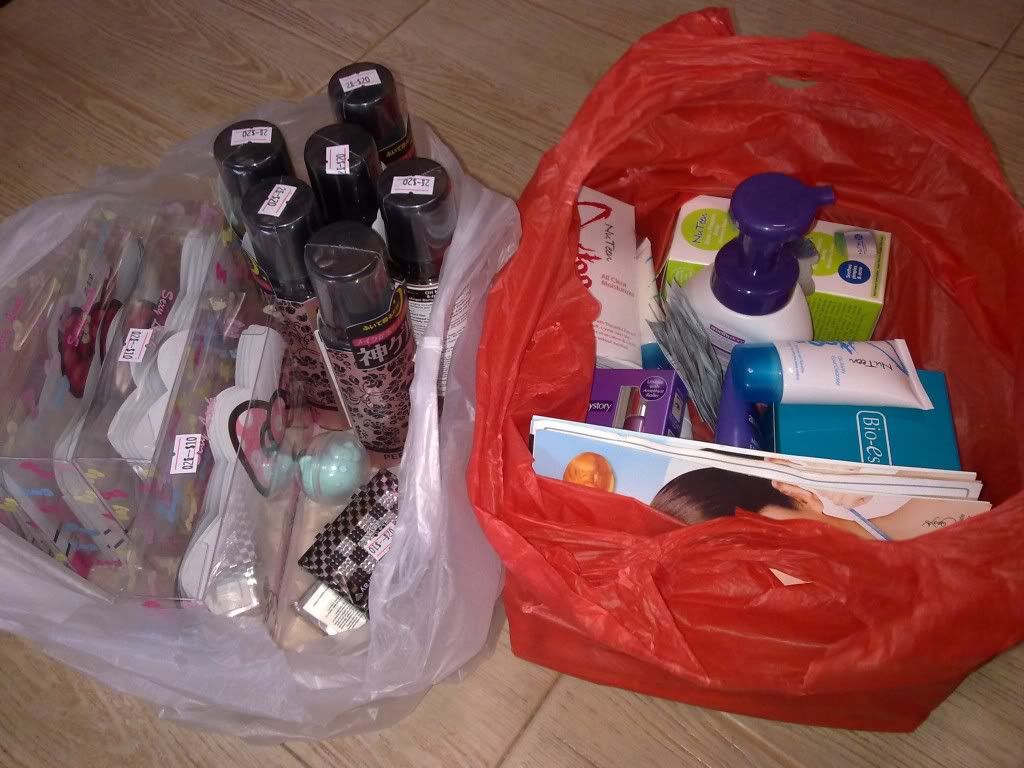 2 bags of goodies from the Japalang Beauty Warehouse Sale & L.D Waxson Warehouse Sale!

When I first heard about the Beauty Warehouse Sale by Japalang, I was really excited! Japalang is the Distributor of Cure, K-Palette, Beauty Blender, Steam Cream and many other Japanese Brands here in Singapore and this is their first ever Warehouse Sale that has discounts of up to 90% so how could I pass on it!

I was in the office till 9.30pm yesterday and I had an appointment today so it was quite impossible for me to make it down to the sale but all Thanks to Ariel who is the Marketing Executive of Japalang who helped put aside some stuff for me earlier today, I managed to rushed down at about 5pm just to take a peek at their warehouse sale, collect my goodies, pay up and and I was off! It was so quick that parking was free as it was within the grace period!

Thank you Ariel! Sorry I had to rush off! I could not wait to get the goodies so I made a really quick one at the sale! And Thank you for being my personal shopper over Twitter! Will chat more the next time we meet! Could you also say sorry to your boss, Soh and also Sharon! I had a quick chat with Sharon but it was so quick I could not catch up with her! You guys have quite a lovely office space!

Anyway, here's my haul of S$90: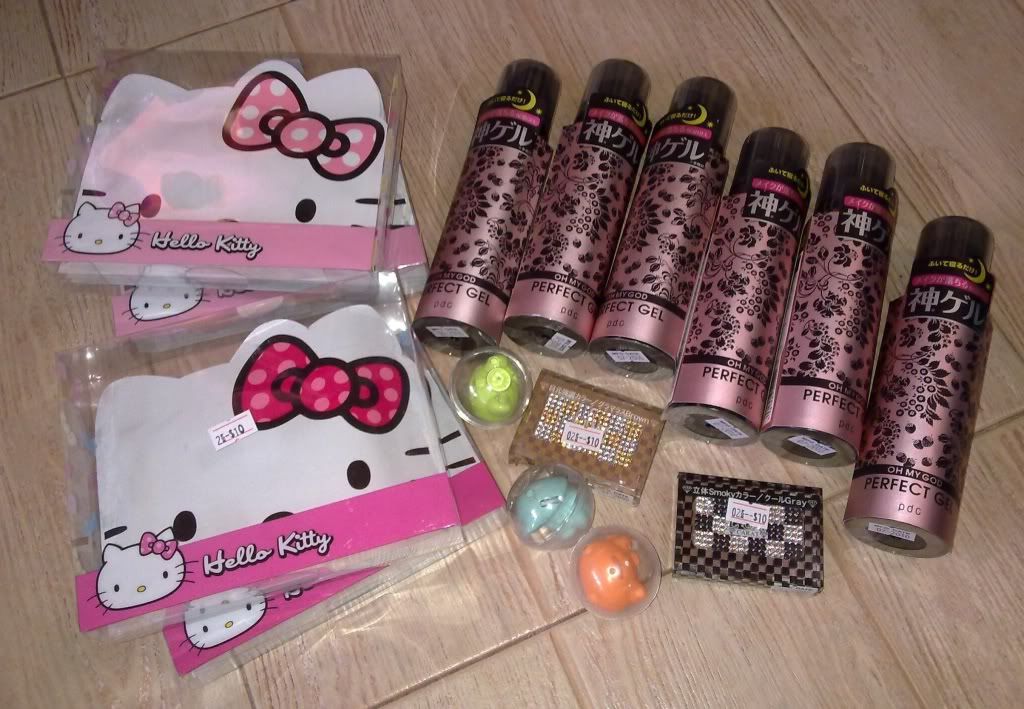 The Hello Kitty Masks of 5 pcs in each box was going for 2 for S$10 and I bought 4 boxes! That is quite a bargain yes?

And do you remember me reviewing about the Oh My God Perfect Gel Makeup Remover back in 2010? If not, click here for the review! I absolutely love it and did complete 2 bottles of it but it was a little pricey for me to up keep this makeup remover till I heard it was going on sale for 2 for S$20 at the sale and I got Ariel to set aside 6 bottles for me! I am not keeping all for myself though. Gonna give them to my babes! 1's for Carrie (read on more about Carrie below!), 1's for Elaine, 1's for
lunaface, 1's for
midnight_plue! I am only keeping 2 for myself! Love this stuff!

And finally 2 Luv Carat Eyeshadow Trios, 2 for S$10! That is an absolute steal since each of it retails for S$39.90! I have always wanted to try the Luv Carat Eyeshadow Trios but they were a little pricey but I am glad to have picked these babies up for such a bargain!

Ain't they lovely?

S$5 for each is an insane bargain huh?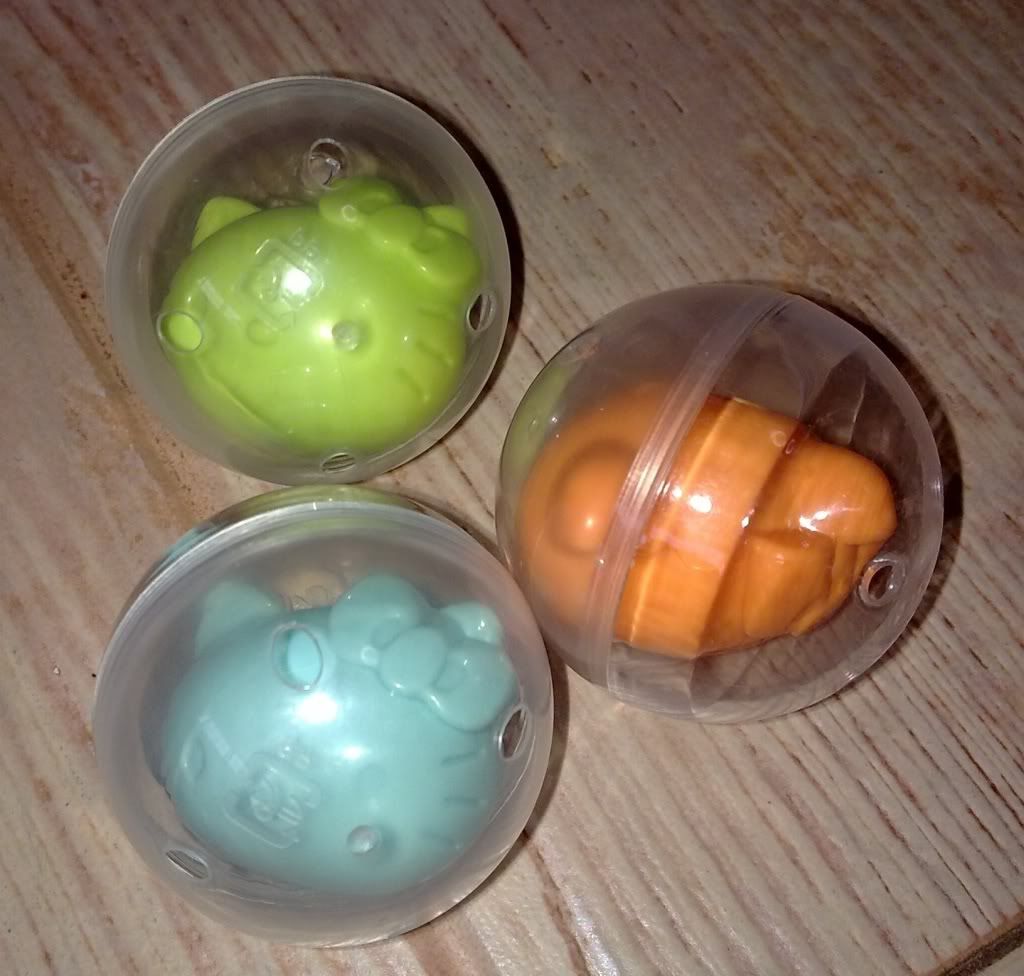 I received these 3 in the Sure Win Lucky Dip with every S$30 spent! I spent S$90 so I had 3 tries on the Gachapon Machine and got these cutesy babies. What are they?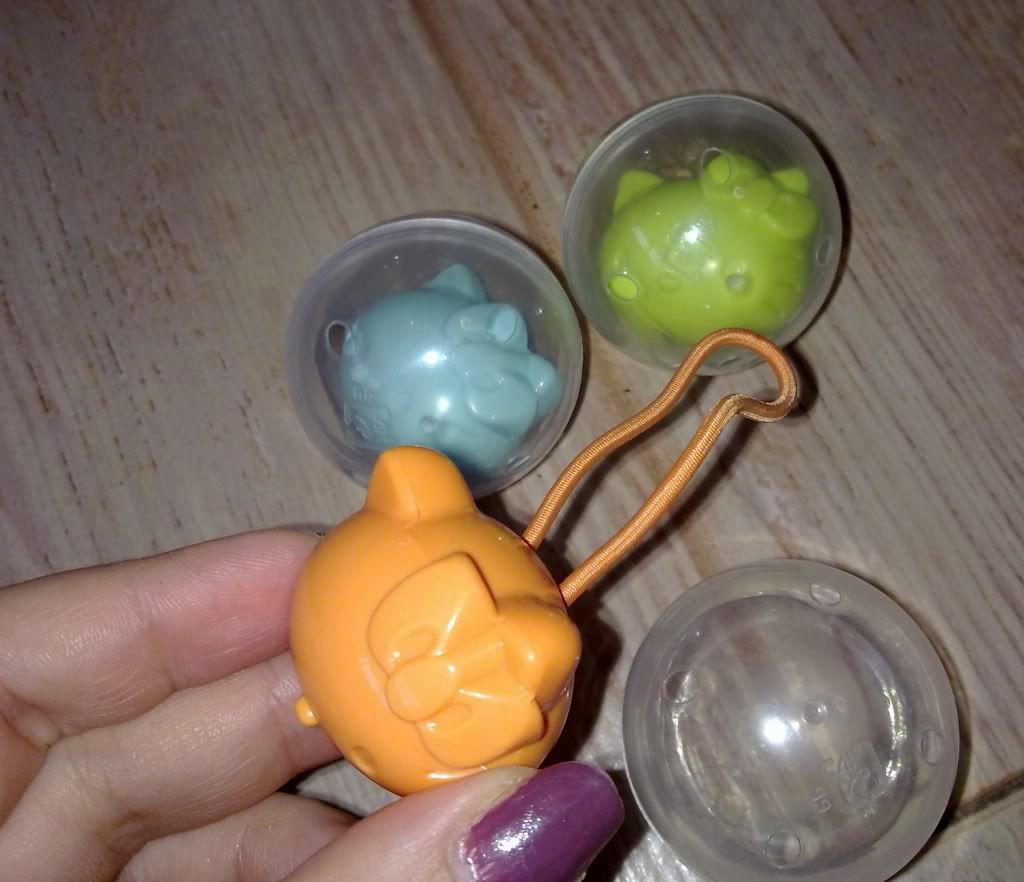 They are Hello Kitty Hair Ties! How CUTE are they! Well, other prizes includes Hello Kitty Masks, discount vouchers, K-Palette Eye Pencil, Domo-Kun Mugs and even the all new K-Palette Micro Eyeliner that has yet to be launched!

What other stuff are there on sale? How about Steam Cream that is going 3 for S$20? Beauty Blender Sponge fo 30% off retail, CURE Natural Aqua Gel that is 2 for S$69, Gransenbon Blushes (that has been discontined as production has ceased in Japan) 3 for S$20, K-Palette eyeliners for S$14 each and many other goodies! If I had the time to browse through the products on sale, I probably would not have only spent S$90.

There is just 1 more day of the Sale tomorrow! Check out their Facebook Page for more pictures of hauls from others. I assure you that you will be tempted to rush down to the sale! Oh, do remember to bring cash as they only accept cash!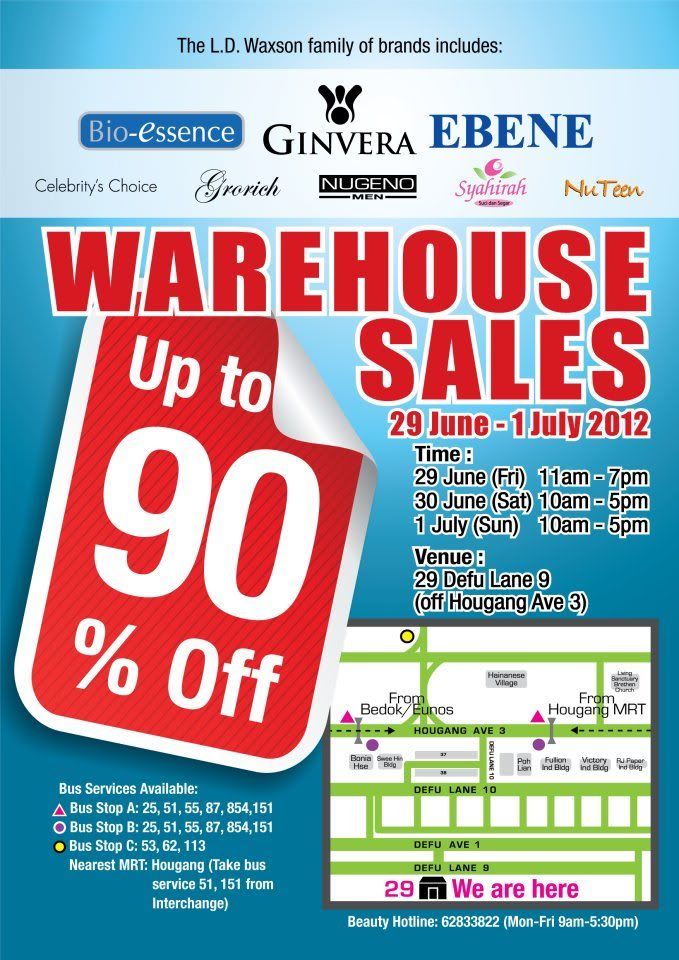 And next, the L.D Waxson Warehouse Sale!

If you remember, I went to the sale with bestie last year too! Click here for my haul entry at the last L.D Waxson Warehouse Sale.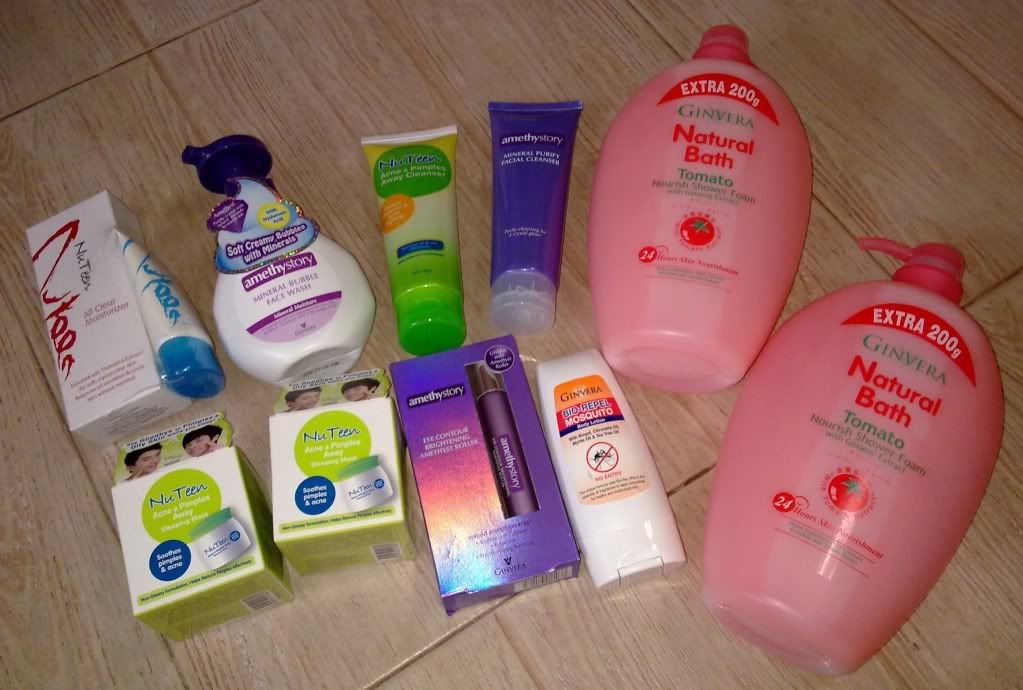 Stuff I hauled:
1) NuTeen All Clear Moisturizer that came bundled wih the NuTeen Oil Away Cool Cleanser was S$5 which is for Carrie! I have never tried this but it looks pretty interesting and since she has oily skin, I hope it will work for her. She sent me a huge carton of goodies all the way from North Dakota, USA and I am on the look out for goodies for her too! Pictures of the huge carton of goodies from her coming up soon!

2) Amethystory Mineral Bubble Face Wash is also for Carrie. This bottle is S$8 (RP S$14.90). I reviewed the product here if you are interested to find out more about the product.

3) NuTeen Acne & Pimples Away Cleanser - S$4. Since I am a fan of the NuTeen Acne & Pimples Away Sleeping Mask, I wanted t try the cleanser too and it is soooo affordable!

4) Amethystory Mineral Purify Facial Cleanser - S$5. When I reviewed the Amethystory products for the company, I was not really interested to try this since I quite like the Bubble Face Wash but decided to pick this up since it was rather affordable. This retails for S$8.90.

5) Ginvera Natural Bath Tomato Shower Gel - 2 for S$6. I bought this last year and it smells really nice! I have tons of shower gels in my stash but for S$3 a bottle, I could not pass on it! Mommy loves the scent too!

6) NuTeen Acne & Pimples Away Sleeping Mask - S$10 each. My favourite sleeping mask to date. Could not pass on it since it usually retails for S$15.90. I recently paid S$10.57 at the recent Watsons Sale and it was the cheapest I could lay my hands on.

7) Amethystory Eye Contour Brightening Amethyst Roller - S$9. This was 1 product I have always wanted to try since I was a fan of the Ginvera Green Tea Jade Dark Eye Circles Roll Away. This usually retails for S$16.90.

8) Ginvera Bio-Repel Mosquito Body Lotion - S$1. This is so random but my younger sister is always looking for mosquito repellent for her outdoor activities so for S$1, could I have passed on it?




And just like last year's sale, at the check out counter, random freebies / samples will be thrown into your shopping bag. Love the box of cotton pads which is my favourite kinda cotton pads with the crimped edges!

The sale is pretty worth it if you are a fan of Bio-Essence products. There's just one more day to the sale so make your way down tomorrow! They accept Cash & NETS.

Though it is insane to haul at 2 warehouse sales in one day but I really saved alot with the great bargains!

Share your haul with me if you manage to make it to either of the warehouse sale!