I was sent these 2 new Hada Labo Super Hyaluronic Acid skincare products approximately over 2 weeks ago and I have been using them consistantly for the past 2 weeks.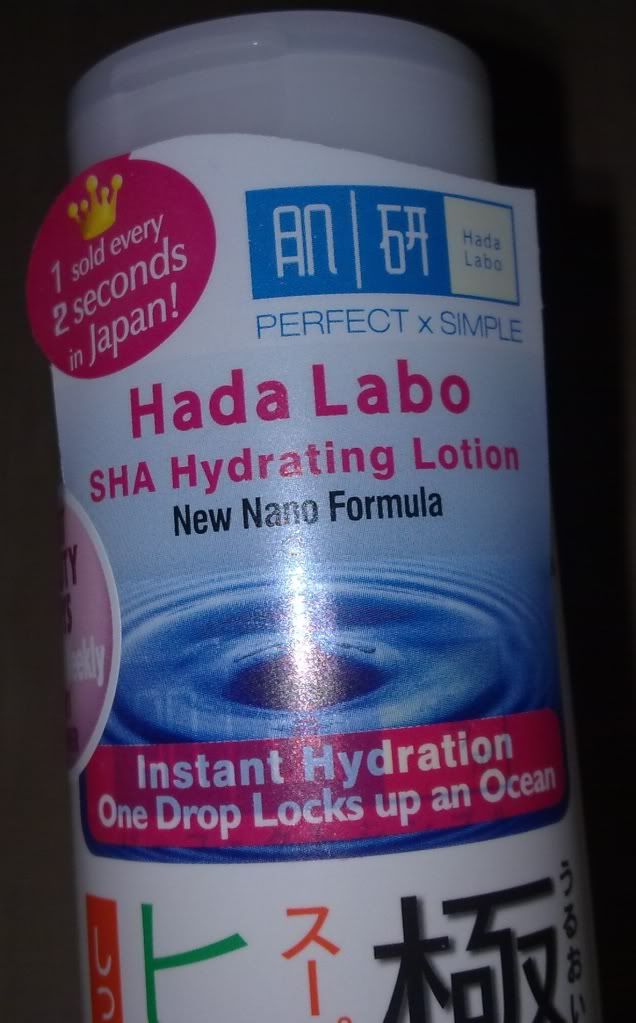 First up, the Hada Labo SHA Hydrating Lotion in the all new Nano Formula. Nano formula? Yup! The new nano formula promises to penetrate deeper for a fuller hydration! It boosts its hydration power and enables full and thorough hydration from skin surface to deep within.
It is the 2011 Winner of the Best Beauty Buys of The Singapore's Women's Weekly! Surely there are some claims yes?
I was sponsored the original Hada Labo SHA range of products that includes the Hydrating Lotion, Essence, Hydrating Milk and Cleansing Foam, Collagen Hydrating Lotion, Cleansing Oil and even the UV Milk quite a while ago. If you have read my reviews on those products, I was most impressed with the Hydrating Lotion, Cleansing Oil and the UV Milk.
I love how hydrating the product was for my oily-acne prone skin. It provided hydration without the excess moisture that made my oily skin greasy, nor did it break out my acne prone skin. And all it takes is just 2 tiny drops for my entire face!
When I received this nano formula of the SHA Hydrating Lotion, I was extremely delighted! My favourite hydrating lotion now comes in a nano formula which it's molecule is 1/20 of the size of the normal hyaluronic acid' which enables the product to penerate deep within the skin. There are also 2 other hyaluronic acids in the formula which is the 'Normal' and 'Super' that hydrates the skin closer to the surface.
With the superior combination of all 3 hyaluronic acid (nano, normal and super), the Hada Labo Hydrating Range promises to give your skin a deeper and fuller hydration.
How do you use this product since it is said to be a lotion? It is a clear liquid that is slightly thicker than your typical facial toners but is not a creamy moisturizer texture either. All I do is to dispense 2 drops onto my palms and lightly pat the product onto my face till all the product has been absorbed after using my toner, before my serums.
I have recently suffered from a skin reaction from a combination of product allergy and heat rash which my derm prescribed a topical steriod facial cream that completely dried my face. The result? Dry flaky patches especially on the affected areas. To combat that flakiness, this Hada Labo SHA Hydrating Lotion Nano Formula has been the best companion ever! I have always adored the original SHA Hydrating Lotion and this Nano Formula has just topped the chart in my personal favourite skin care products!
Trying is believing! Don't take my words for it! Go try to get yourself a sample from
www.hadalabo.com.sg
if you have not tried it or if you are a fan of the original SHA Hydrating Lotion and is going to get yourself another bottle, get the Nano Formula to try it for yourself!
I am not going back to the original formulation after trying this! A little goes a long way so one bottle can last quite a while if you only use 2 drops per application!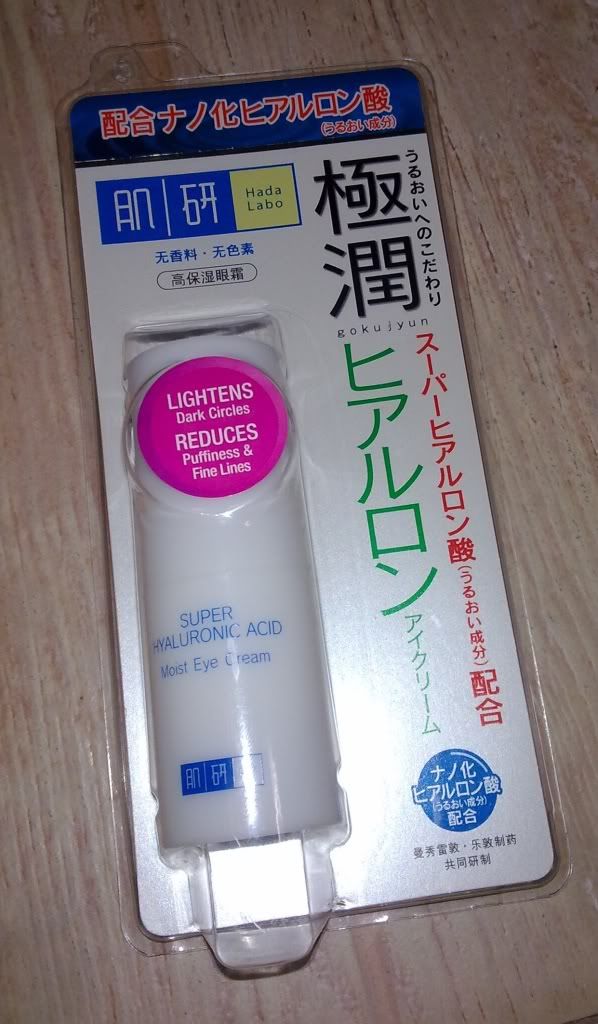 Next, the Hada Labo SHA Moisturizing Eye Cream.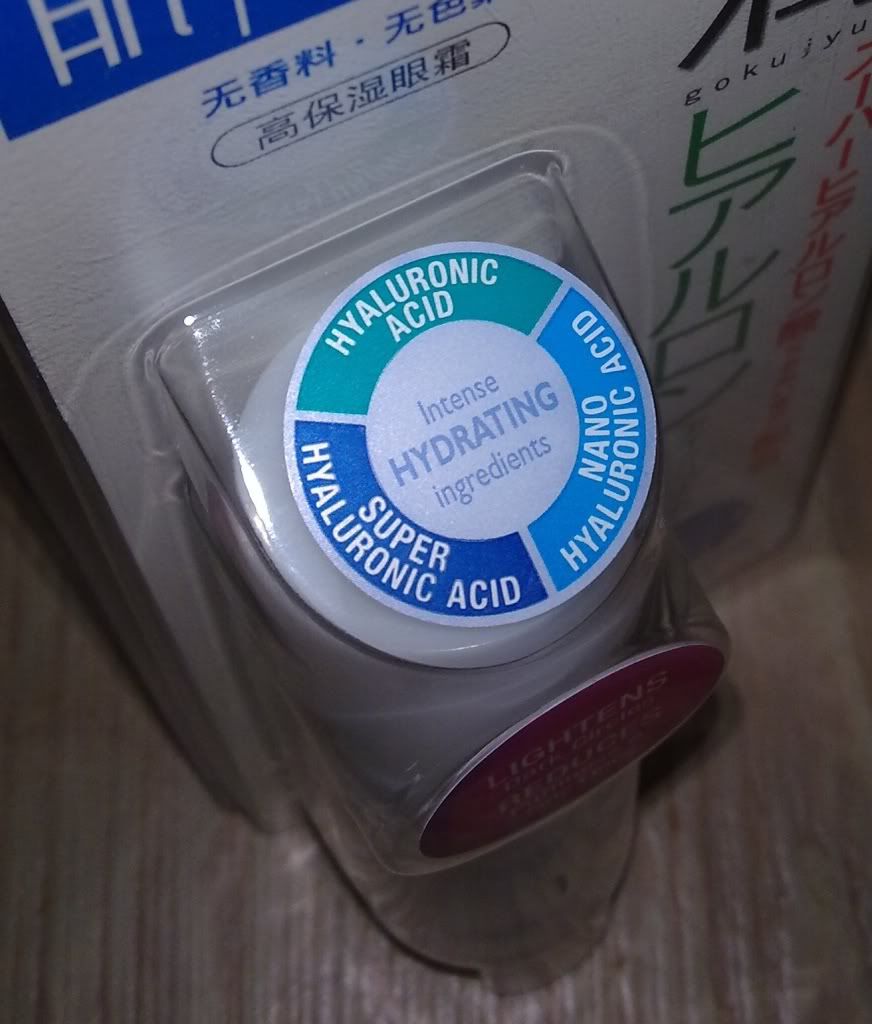 With the success and popularity of the SHA Hydrating Skincare range, the brand now introduces a new cream dedicated for the skin around the eyes which has a thinner layer of skin and often shows the first signs of aging.
This all new Hada Labo Eye Cream contains 3 types of hyaluronic acid (nano, super, normal) for thorough and deep moisturization; ACTIFLOW ingredient that increases blood circulation, lightens dark circles and puffiness; Jojoba oil to smoothen fine lines around the dedicate eye area.
In a simple plain white pump dispenser plastic bottle, I was pretty skeptical about the product being moisturizing, hydrating and yet helps combat dark eye circles, puffiness and even smoothen out fine lines. That is too much in a 15g product that retails for S$21.90. Well, at least to me.
But, after using the product twice a day for the past 2 weeks, I can honestly say that I do notice that my dark eye circles are not as prominient as before. It did not diminish them completely of course but the lightening effect can be noticed by a wee bit. I have only used it for about 2 weeks so I will be lying if I say it works magically.
As for the moisturizing factor, the area around my eyes are usually not dry to begin with but overly rich and moisturizing eye cream does lead to milla seeds on my undereye area in which I have not noticed any aftr using this eye cream.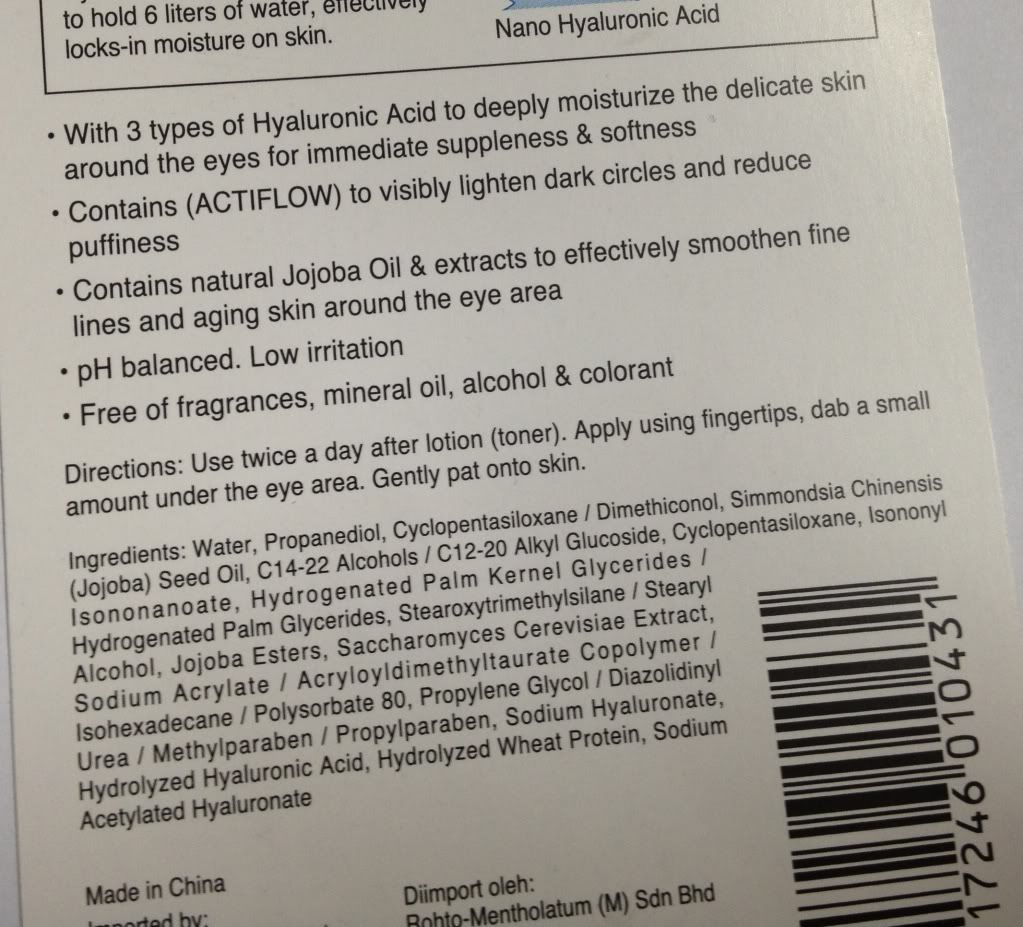 Can I say it works as it claims? Not for now I suppose but I do notice a slight difference in my dark eye circles and will continue to use it. Oh yes, it is pretty creamy so application will not tug your sensitive eye area and the product gets absorbed by the skin pretty easily.
I will continue to use this product and will report back maybe when I have completed the product and can write short reviews in my completed products entry.
As for now, between these 2 products, my favourite has got to be the new nano formula SHA Hydrating Lotion!