My last collective haul was back in mid July and since then I have not posted any hauls and since the new stuffies are accumulating in my little 'collective haul' corner, I finally decided to post this up so that I can keep them away instead of cluttering that 'little corner'.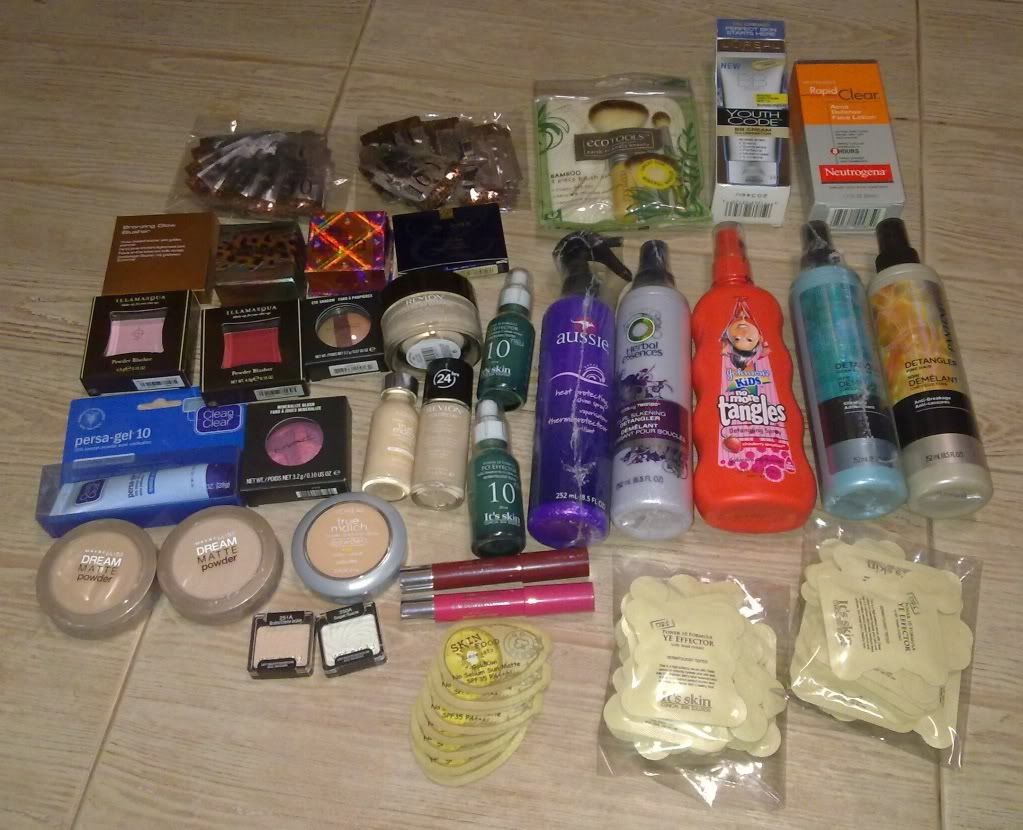 It is not a whole load of stuffies for 2 and a half months is it? Well, these are just for beauty related stuff of course. If I add the non-beauty related stuff, it sure is a whole load of stuff.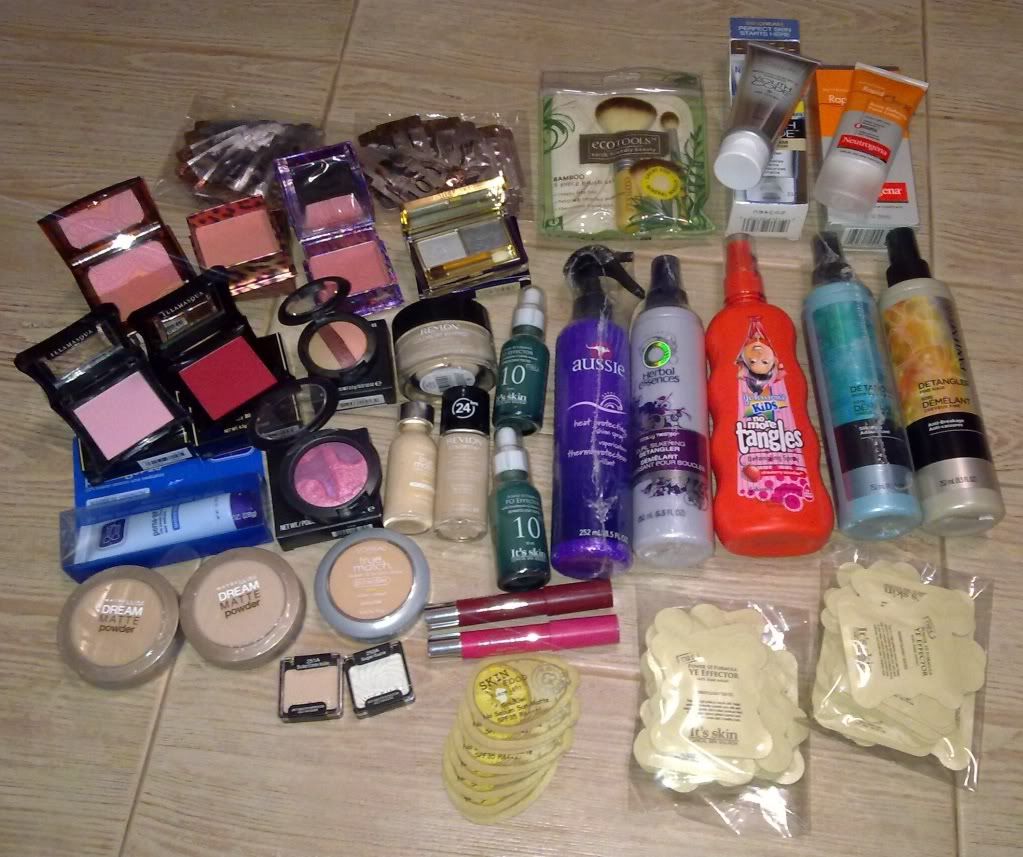 All the stuffies in their full glory (almost all)..
From the background, top most row, from left to right:
1)
It's Skin Power 10 Formula Syn-Ake Effector
- 15 sample sachets x 2 packs. Found these from G-Market for a really affordable price inluding shipping to Singapore. It is no secret that It's Skin PO Effectors are my favourite serums to date and when I saw that there is a new effector which is made from Snake extract (gross yes?), I wanted to try it! 15 sachets makes up one full retail bottle and it was for less than half the cost of the retail bottle so I decided to get it. I am gonna be giving some to a few lovely people so 30 sachets really isn't a lot. I have not tried it yet but the review seems promising!
2)
Ecotools Brush Set
- This was a freebie from Christie (some of you might know her as RedBerried) whom I bought some blushes from her. I bought 6 blushes and an eyeshadow trio for S$100 and she threw in free registered mail and this brush set! She made the deal oh-so-sweet!
3)
L'Oreal Youth Code BB Cream
- This was bought from Drugstore.com and honestly, I am not too impressed by it. It is pretty pricey for a drugstore BB Cream even in the US. I think I paid about US$15 excluding shipping? I will write a review about it but don't expect too much from this. I was rather disappointed in this BB Cream. Oh well...
4)
Neutrogena Rapid Clear Acne Defense Face Lotion
- Bought this from Drugstore.com too when I wanted to try a new acne fighting moisturiser after I had completed my Vichy Normaderm and Eucerin. Not too bad for such an affordable price but it will not replace my HG moisturizer for acne prone skin, th Vichy Normaderm.
5)
ArtDeco Bronzing Glow Blusher
- This was a belated birthday gift from Maria_Spletniza who is in Russia! It is really lovely! Refer to the picture below!
6)
Benefit Coralista Blush
- From RedBerried's Twitter-sale! I put off getting Benefit Box Blushes for the longest time because they are so bulky and storage was a problem for me but I could not resist getting it from her because her price was simply irresistable!
7)
Benefit Bella-Bamba Blush
- Yet another blush from RedBerried's Twitter-sale! I love my corals can you tell?
8) E
stee Lauder Pure Color Eyeshadow Duo in 14 Modern Mecury
- A belated birthday gift from a dear colleague. I am not too crazy over the quality of the shadows though. Not sure if it is just this duo or the brand in general.
9)
Illamasqua Powder Blusher in Katie
- Got it from RedBerried's Twitter-sale. I own 2 Illasmaqua Powder Blushes and love them that when I saw that she was selling this shade and the next, I HAD to get it! I thought this shade would be too light to show up on my skin so I did not even consider this shade when I made my first purchase but I'm glad to have bought it from Christie as this is an amazing shade on my cheeks!
10)
Illasmaqua Powder Blusher in Panic
- From RedBerried's Twitter-sale. The name of this shade is ironically perfect! On the first time I tried, I panic-ed like crazy because it was so crazily pigmented that I had no time to re-do my makeup and kept piling on powder to make me look less like a baboon's butt and my colleagues kept commenting whats up with that overly flushed looking cheeks. A lovely shade though but BEWARE of its insane pigmentation and lasting power!
11) M
AC In the Groove Mineralize Eyeshadow Trio
- From RedBerried's Twitter-sale too. I lost touch of MAC and their collections as they were releasing collections oh-so-often and when she put this up for sale for probably like S$10, I bought it.
12)
Revlon ColorStay Whipped Creme Makeup in 200 Sand Beige
- I bought it from Drugstore.com prior it was launched in Singapore and definitely at a much affordable price. It retails for S$29.90 in Singapore but I think I paid US$11.19 after a Buy 1 Get 1 50% off and an additional 20% discount. I quite like it though as good in terms of oil control as the Colorstay Makeup for Oily Skin but it is definitely lighter if you find the Colorstay Makeup a little too thick and heavy.
13)
It's Skin Power 10 Formula PO Effector x 2 bottles
- My favourite serum for enlarged pores and oily skin to date. I have completed at least 3 bottles, stopped for a while and decided to get back into using it after I saw an insane sale on GMarket which it was only S$7.80 per bottle inclusive of international shipping!
14)
Aussie Heat Protecting Shine Spray
- Bought it from Drugstore.com during a sale but have not tried it.
15)
Herbal Essences Totally Twisted Curl Silkening Detangler
- From Drugstore.com too. I have been trying to look for a hair detangler to use after washing my hair but in Singapore, detanglers are so overpriced! This was less than US$4 during a sale!
16)
Johnson's Kid No More Tangles Detangling Spray
- From Drugstore.com too. I went crazy when there was a sale on hair-care products when I was looking for detanglers. Nevermind it is formulated for Kids but for US$2.39, do you think I'll skip it? OF COURSE not!
17)
Pantene Pro-V Dentangler for Normal-Thick Hair
- Yup, yet another detangler on sale on Drugstore.com for US$2.69! When I go insane looking for a product and see it on sale, I will never pass it up!
18)
Pantene Pro-V Dentangler for Fine Hair Anti-Breakage
- There was an additional US$1 coupon for buying 2 Pantene haircare products and so I only paid US$1.89 for this! Is that not a deal or what?
19)
Clean & Clear Persa-Gel 10
- This is probably
1 of
the only off-the-shelf spot treatment that works for me that I have tried so far. Instead of heading to my derm for a spot treatment that costs over S$25, this little tube from Drugstore.com is only US$6+ and I bought it when I had a 20% discount coupon.
20)
MAC Mineralize Blush in Two Virtues
- From RedBerried's Twitter-sale. I am still looking for the Buddy Up Mineralize Blush at an affordable price since it is no longer available and this is pretty close to that shade! Love love love it!
21)
L'Oreal True Match Super Blendable Makeup in Light Ivory W2
- I have heard so much raves about this on YouTube and decided to get it with the powder when there was a Buy 1 Get 1 50% Off and an additional 20% off. Not sure how this differs from our local True Match that comes in a pump bottle but I am not crazy over this for now. I bought a shade lighter because I have the Makeup Forever Velvet Mat+ Foundation that is too dark for me now so I am using this to even the shade out. Even so, I am not crazy over this L'Oreal True Match foundation.
22)
Revlon ColorStay Makeup for Oily Skin in 180 Sand Beige
- I completed my existing bottle and since I love love love this foundation but did not want to pay full price in Singapore, with the Buy 1 Get 1 50% off and additional 20%, for US$5.20, it is a STEAL!
23)
Maybelline Dream Matte Powder in Medium 0-1 (Sand) & Light 4-5 (Cream)
- My HG pressed powder for oily skin to date. I have completed so many of this powder that I lost count. Whenever there is a sale, I'll stock up even though I do have at least another 2 in my stash. I cannot live without this powder period.
24)
L'Oreal True Match Super Blendable Powder in W3 Nude Beige
- Bought this with the Super Blendable Makeup but have yet to try it. This is available in Singapore and I have heard lotsa raves about this. Any users of this powder?
25)
Revlon Just Bitten Kissable Balm Stain in Sweetheart and Adore
- These were highly raved and I heard that if you did not like the lip butters, you will like this and it's true! I am not a fan of the Revlon Lip Butters but I absolutely love these! I am so getting the other shades!
26)
Wet & Wild Single Eyeshadow in 251A Brulee and 250A Sugar
- I own the shade Nutty which is an absolutely lovely taupe shade, a dupe of MAC Satin Taupe. Love it so much I decided to try the other 2 neutral shades that is highly raved too. These are so affordable and extremely high quality for it's price!
27)
Skinfood Gold Kiwi No Sebum Sun Matte SPF 25 PA+++
- I found these sample packets on sale on Gmarket for about S$7 for 20 sachets and decided to try them outt curiosity and I actually do like it! I am left with a few because I am giving / have given some to some lovely people to try. I am gonna be purchasing the retail tube as soon as I can find it. What is available is the normal Sun Cream and not this No Sebum Matte version.
28)
It's Skin Power 10 Formula YE Effector
- 15 sample sachets x 2 packs. This is my new found favourite serum after PO Effector. This YE Effector keeps my skin hydrated and very soft & smooth! Love love it! I have completed 1 retail bottle and found these sample sachets for an extremely price that I am gonna be using them as refill packs into my retail bottle.
And now, more pictures of my collective haul to drool at...
Are the blushers to die for or what?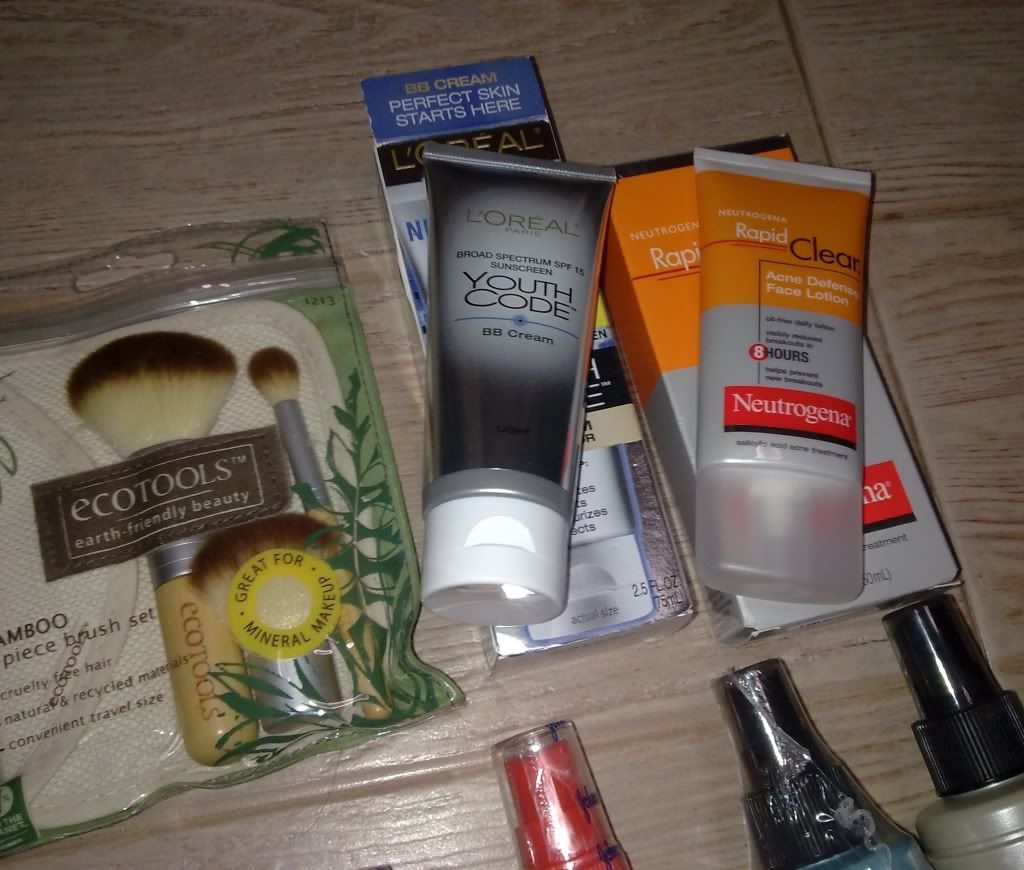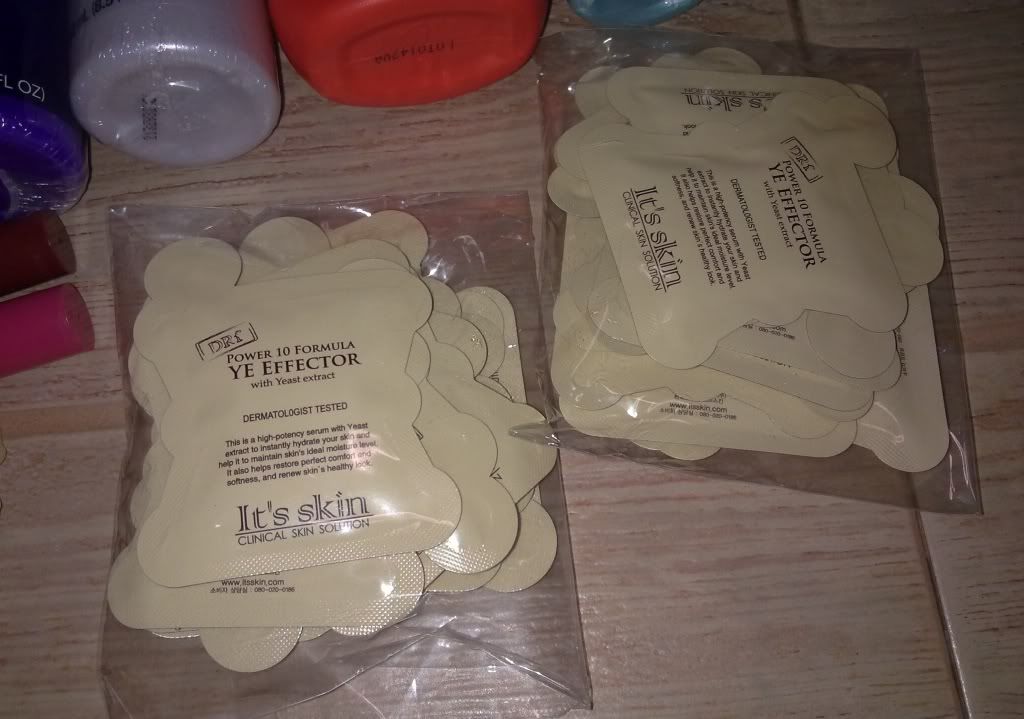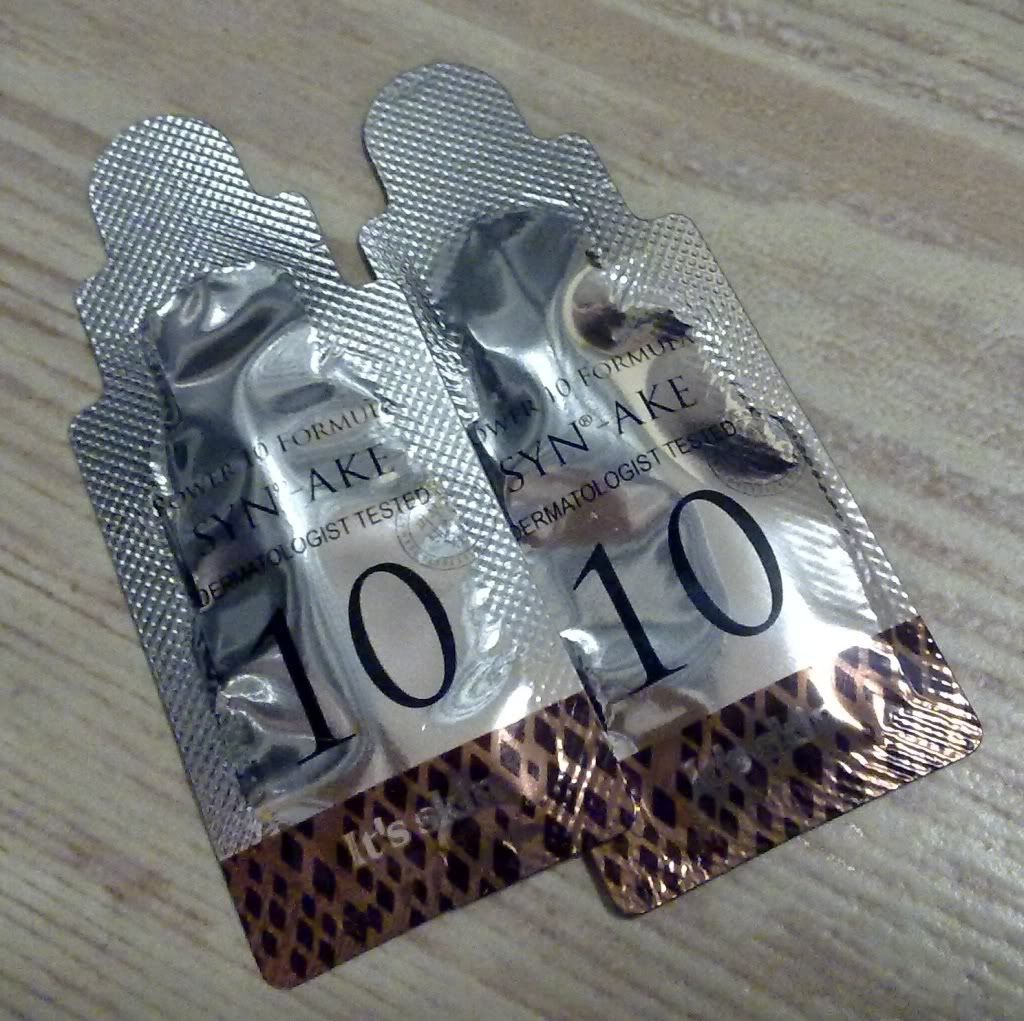 First it was Snail / Escargos and now it's Snake Venom? We Asians will try anything for the sake of Beauty huh? I wonder what's next!
Oh yes, not to forget a huge love package from the lovely Lynn!
It is so heart warming that I am still being remembered despite being inconsistent with my posts in recent months. I have been busy with work since a recent mini promotion and my health has been terrible that I have had 2 major illness in which 1 had me ended up in the hospital but it is such gestures from lovely people that keeps me going. Thank you so much Lynn!