Well, Hello Hello! It has been quite a while huh?
No excuses for my absence in here again except that work and personal life has made me take a back seat in writing but trust me, I have not given up on writing! I am still micro-blogging on Twitter and Instagram and I update almost every day there so catch me on Twitter and Instagram under the user name of KimokoMasada.
Back to the main topic! Though I have been away but I have not given up hauling!
Above is what I have hauled since Mid October last year till the end of December. Not quite alot you say? Only because I have received tons of other goodies from everyone else!
#1 - John Frieda Friz-Ease Heat Defeat Protective Styling Spray
: I am still on a lookout for a good heat protectant and there seems to be quite alot of choices on drugstore.com . I must say this particular one is 1 of the better ones I have tried ever since my favourite Fuwarie Styling Hair Mist has been discontinued here in Singapore.
#2 - TreSemme Heat Tamer Leave-In Spray
: I have used about 2 bottles of this and though I don't exactly like this but I bought it just in case I really run out of heat protectants. This is just a back up and I am not overly crazy about this.
#3 - Maybelline Instant Age Rewind Eraser Treatment Makeup in 190 Nude
: I have heard lotsa raves about this and decided to pick this up when there was a 20% sale on drugstore.com and I must say I am pretty impressed with this foundation! Though it is a little darker than my skin tone but I am still using it by buffing a lighter shade of powder. I heard raves about the complementing powder too but it has since been discontinued.
#4 - Murad Clarifying Acne Cleanser
: I have always wanted to try Murad but its price is rather steep and since I saw this deluxe size of 60ml on a blogsale for a really affordale price, I decided to get it but I have yet to try as I am currently trying a new acne cleanser for a review. Can't wait to try this!
#5 - Sesalo Special Pore Tightening Serum
: Bought this from G-Market when it had an insane sale but I have yet to try it though.
#6 - Yes To Carrots Lip Butter in Berry :
I am a chapstick girl and cannot live without my lip moisturizers so whenever I spot a new and interesting chapstick, I have to get it though I have tons of others in my stash. I brought this to Seoul last month where it was extremely dry and though it works pretty well but I am not overly excited about it.
*in my next collective haul entry, I'll post my haul from Seoul!
#7, #8 & #9 -
Wet & Wild Single Eyeshadow in 250A Sugar, 255C Panther & 301 Unplugged
- In my previous collective haul, I bought Brule and Sugar and absolutely love them that I had to get a backup of Sugar and 2 other shades that I do not own. I love these uber pigmented eyeshadow singles which are sooooooo affordable!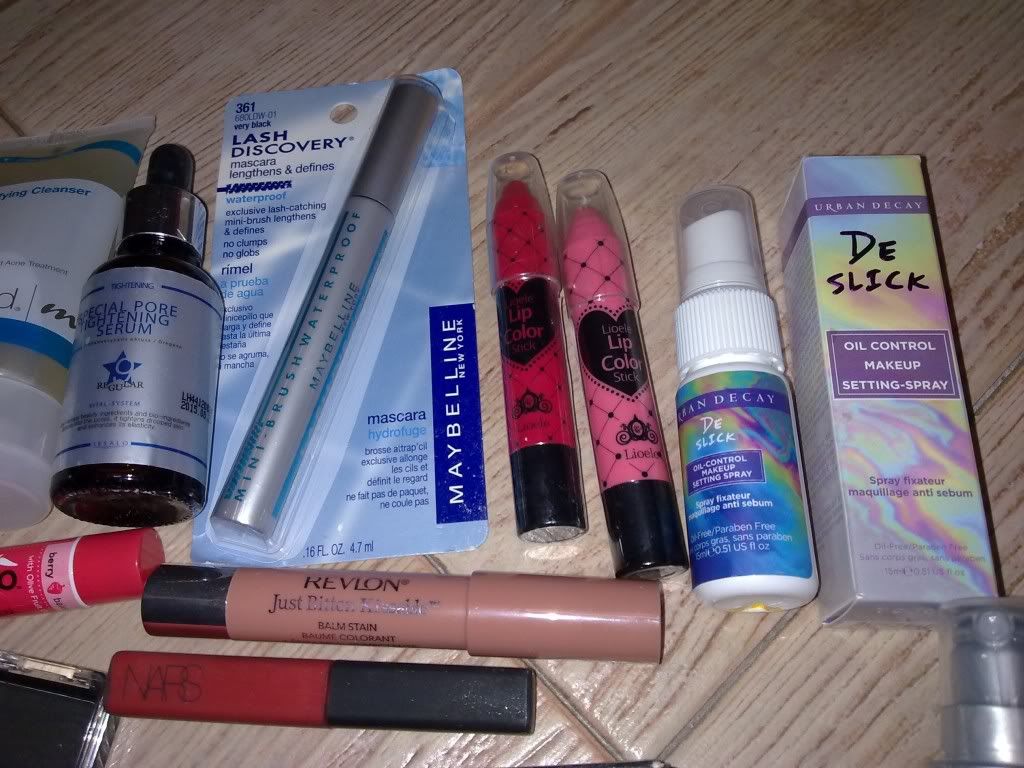 #10 - Maybelline Lash Discovery Mascara
: This was an impluse purchase on drugstore.com . I have tons of mascaras but when I was browsing the beauty section, I came across this and remembered how much I love this mascara because of its applicator that I added into my cart.
#11 & #12 - Lioele Lip color Stick in 04 Cherry and 03 Strawberry
: I am so in love with the Revlon Just Bitten Kissable Balm Stain that I am on the hunt for all sorts of chubby lip pencils! I have tried 04 Cherry and absolutely love the texture and pigmentation of it! It is not drying and does not have any scent to it.
#13 - Urban Decay De Slick Oil Control Makeup Setting Spray
: I have always wanted to try this but did not want to fork out so much for a retail bottle and the moment I spot this deluxe size bottle on a blogsale, I knew I HAD to get it. It works really well but I have since found my HG makeup setting spray, the SkinFood Red Orange Makeup Finish (Matte).
#14 - Revlon Just Bitten Kissable Balm Stain in 050 Precious
: I love the kissable balm stain but was a little disappointed in this shade. It might be because I am no longer in the nude lips phase that I do not like nude lips now but I will keep this to tone down any over bold lip color.
#15 - NARS mini Lipgloss in Bloodwork
: Yet another deluxe size. The seller I bought from had all these deluxe size products that were from a goodie bag from Sephora in USA. Well, this is my first NARS lipgloss. In a bright red no less! This is so insanely pigmented that it should be called a liquid lipstick instead of a lipgloss because of its insane pigmentation! It is not sticky and lasts a decent amount of time! Not sure if all NARS lipglosses are similar, if so, I am so gonna convert!
#16 - Colgate Wisp
: I stumbled upon these when Carrie sent me a couple quite a while ago and found them sooooooo convenient! I actually bought 2 packs but gave a couple of friends a few each because I absolutely love them! They are not meant to replace your regular toothbrush and toothpaste but they are really good for on-the-go freshener without water. Notice hat pink ball in the middle of the bristles? That is the toothpaste or rather, toothgel that cleanses an refreshers your teeth. They are not available in Singapore though and I bought them from drugstore.com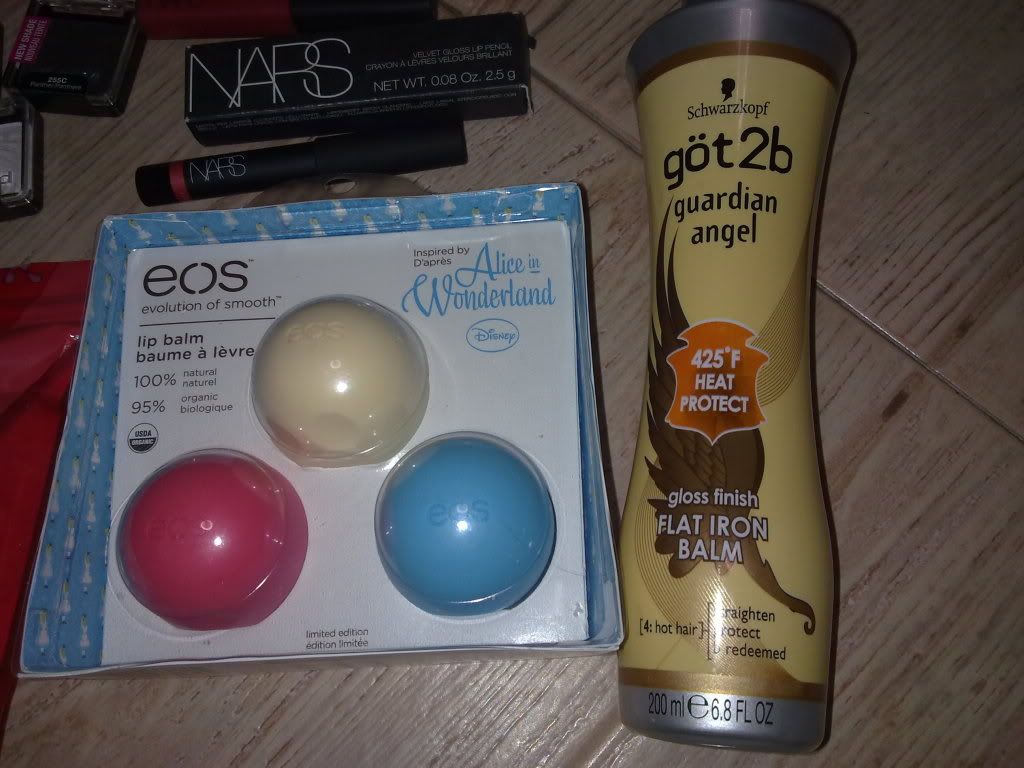 #17 - NARS Velvet Gloss Lip Pencil in New Lover
: The last deluxe size product I promise! I have never tried NARS lip products and what a better way to try them in deluxe sizes? I am so into chubby like stick lip products and had to try this but I was not impressed. Color pigmentation was average but lasting power was weak and these had to be sharpened. There are other better chubby like lip products in the market.
#18 - EOS Alice in Wonderland Lip Balm Set
: I am a huge fan of the EOS lip balm and everytime a new flavour is released, I have to get it! Not to mention, a collaboration / inspired by my favourite Disney cartoon! The pink is Watermelon Wonderland, Vanilla is Sweet Vanilla Nonsense and Blue's Blueberry Potion. What cute names huh?
#19 - Schwarzkopf got2b Guardian Angel Flat Iron Balm
: Yet another heat protectant. This is actually a liquid and not a balm as the name suggests. I am on the fence for this. Upon drying your hair with a hair dryer, your hair looks as though it was sprayed with hair spray, leaving it really stiff which can be considered good as it'll remain its shape but since I am not a fan of hair sprays, I very much prefer a natural looking finish.
The following pictures were uploaded on Instagram thus the filtered looking pictures....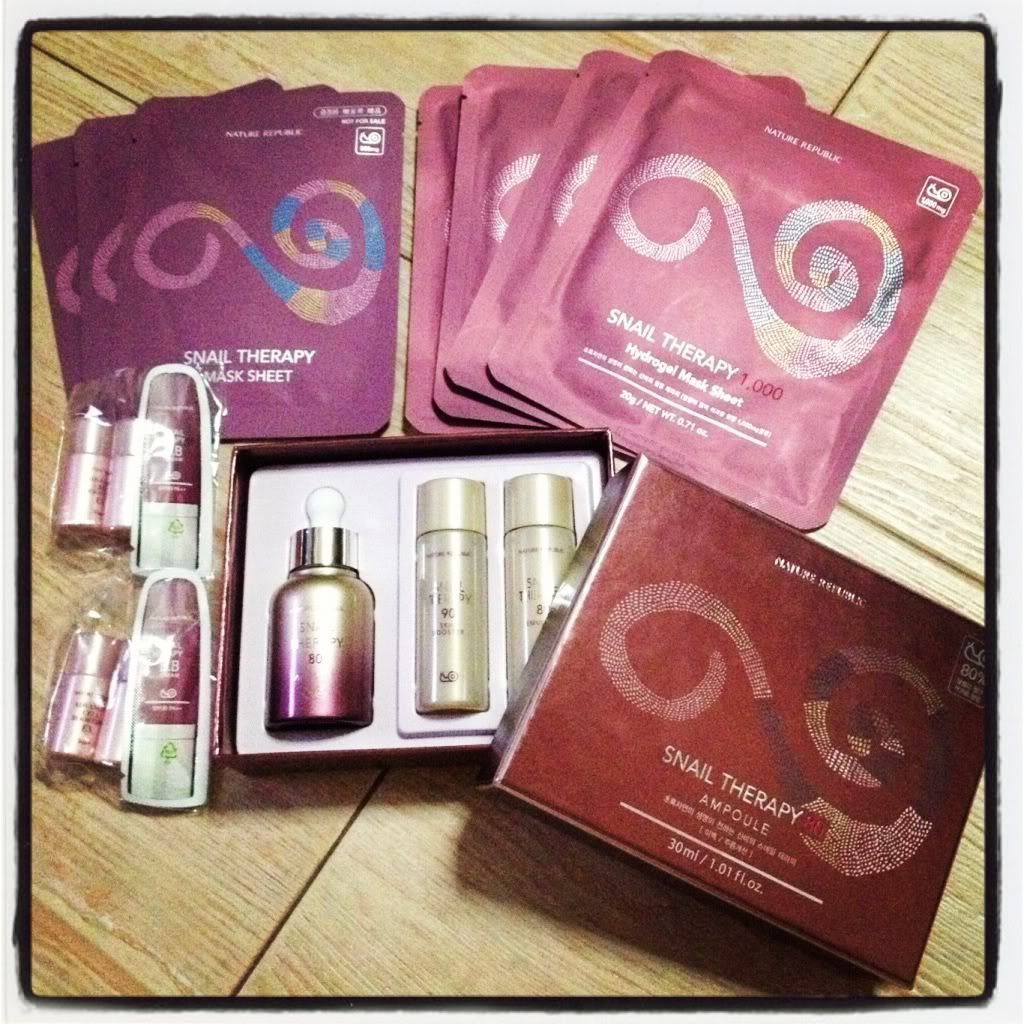 I got a CP from a colleague who was in Korea for work back in November. The Nature Republic Snail Therapy Ampoule with the Hydro Mask Sheet set. The rest were freebies / samples from the store. This is my HG serum now.
lunaface
gave me her bottle which I managed to use 2 weeks before I was whining that I was out of it because in that 2 weeks, I really noticed a difference in my skin in terms of refined skin tone and overall brightness / clarity! I have tried the Holika Holika Snail Essence but it broke me out badly that I had to pass it to lunaface instead. This set is not cheap though because of the hydrogel masks. It was 55,000 Won which was approximately S$60++ because the hydrogel masks costs over S$5-S$6 per piece. I will probably repurchase just the ampoule once I am done with this bottle. No, I am going to repurchase it now since I am half done with it.
*I actually hauled 2 more bottles from Seoul! The next collective haul coming up soon!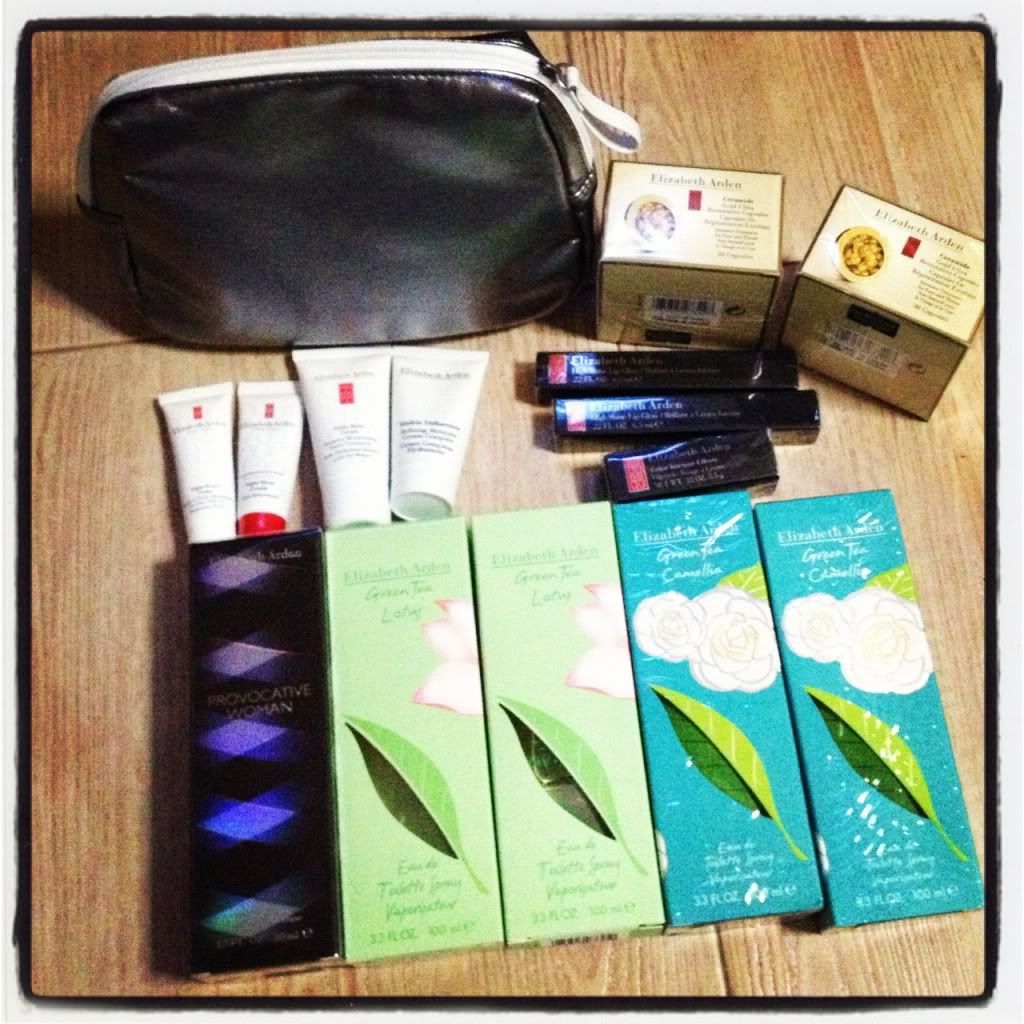 I travelled to Hong Kong back in November and these were the goodies I bought from the Singapore Changi Airport DFS. Yup, all Elizabeth Arden goodies with a GWP!
And this is my humble beauty haul from Hong Kong. Love love the Bioderma which was so cheap! The 500ml bottle was only HK112 each!
Christmas Goodies from Lynn! She actually sent it to me way before Christmas but I was too ill
(I was down with some lethal viral attack that led me to burning a temperature of 40 degrees!)
to notice a package in my pile of mails when I was on medical leave for an entire week.
Christmas Goodies from Elainnio! Right at the top left of the picture, next to the Shiseido Perfect Whip is the ClearLast Genius Cream BB which I am currently obsessed with! It is a japanese BB Cream with a pretty grey undertone but I am soooooooooooo loving it! I MUST get down writing a review of this since there are not many reviews of this BB Cream!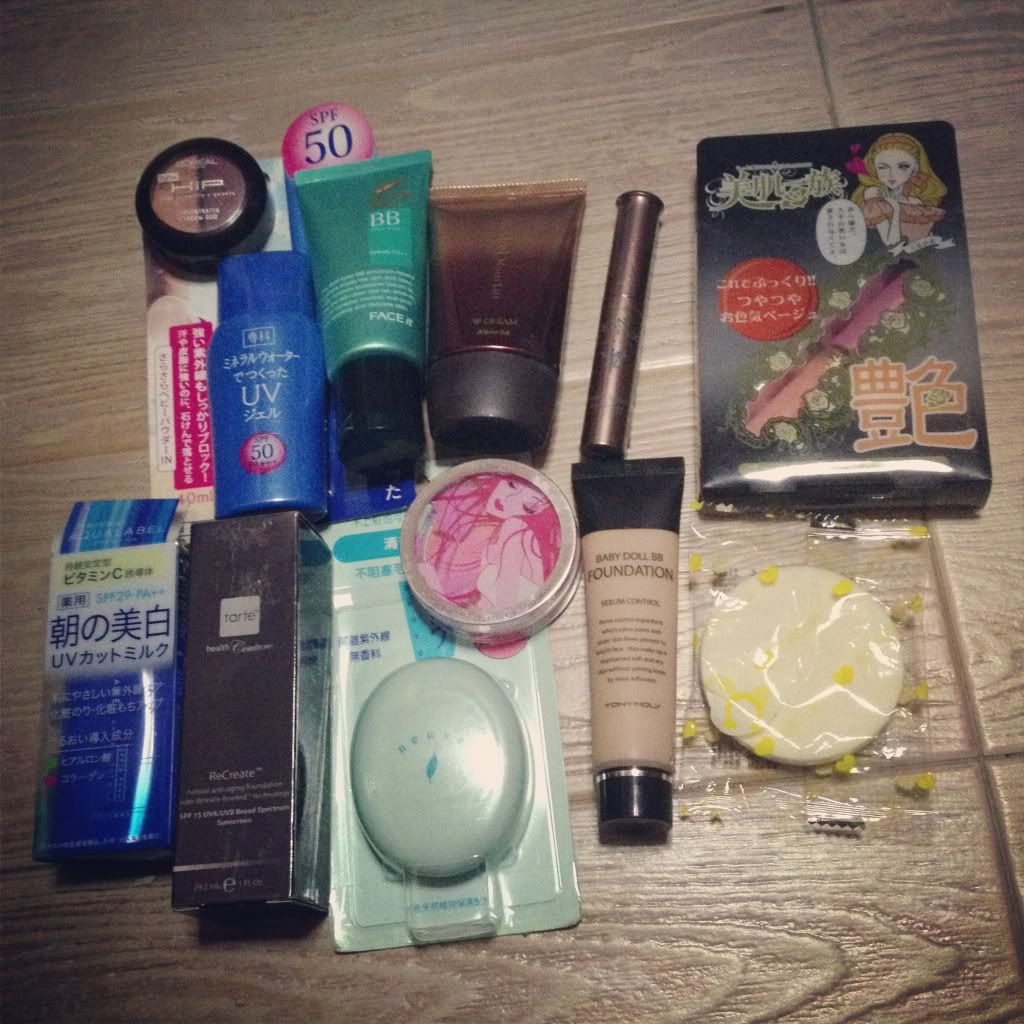 Goodies from Alicia! 2 BB Creams, 2 foundations and 2 sunscreens with other goodies. It does not get better than this does it?
Elizabeth Arden Goodies from my Aunt! My favourite Ceramide Lash Extending Mascara! I have so many of this mascaras that I really do not need to get any mascaras any more. She knows I love it and always gets her BA to give her extras with her huge purchase. Oh that reptile skin looking compact is a bronzer duo! I have at least 3 bronzers from Elizabeth Arden and love them! The Eight Hour Intensive Moisturizing Hand Treatment is no stranger to all of you as this is my HG hand cream!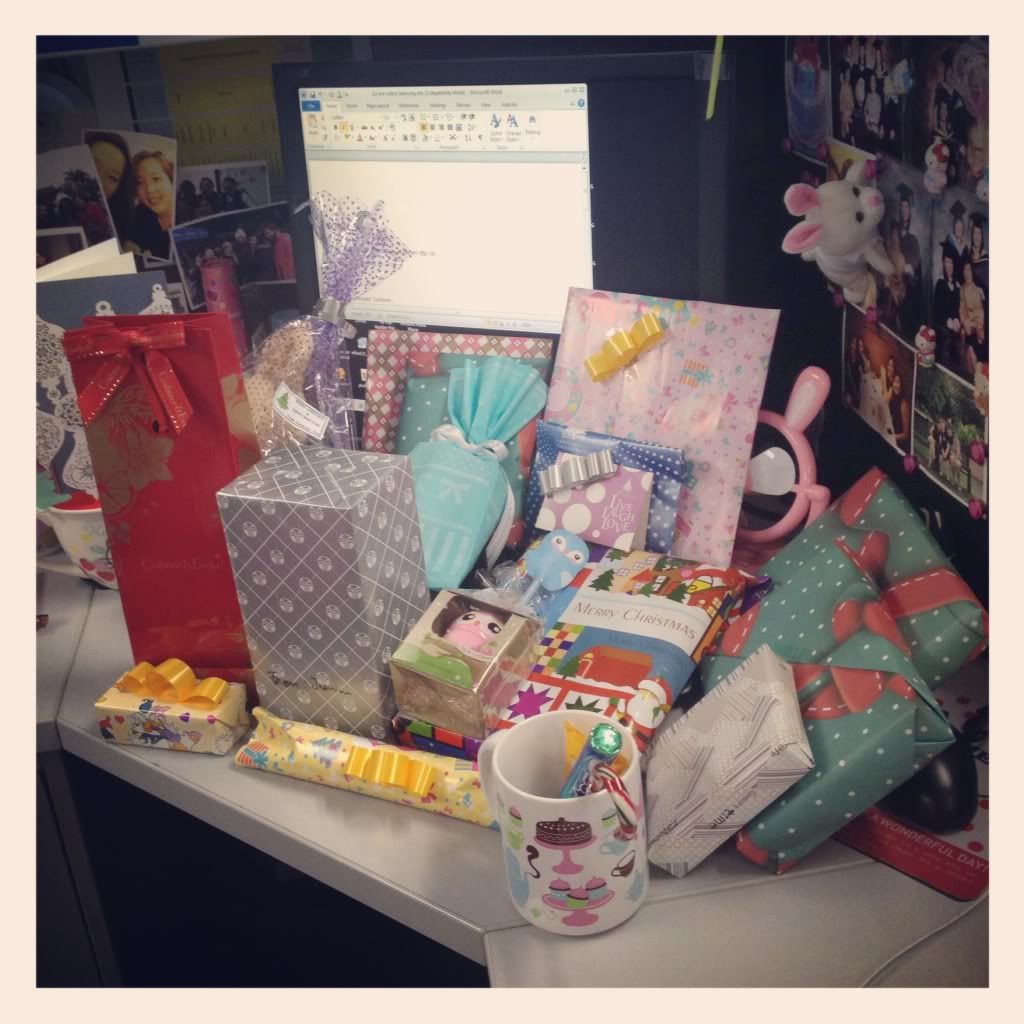 Christmas pressies from my colleagues! Amazing bunch of colleagues I tell ya!
Some of the pressies from the colleagues unwrapped! Work has been wonderful with my wonderful colleagues that is why I have been away here!
Some other Christmas Goodies from bestie, girls and my family...
Lastly, goodies from
lunaface
!
So tell me, these goodies are way more interesting that what I have hauled yes? I am blessed to have wonderful friends in both reality and virtual reality, wonderful colleagues and even YOU who is still reading this journal!
I promise to write more in 2013!