lunaface and myself were randomly chatting on msn last night when the topic of toners arised..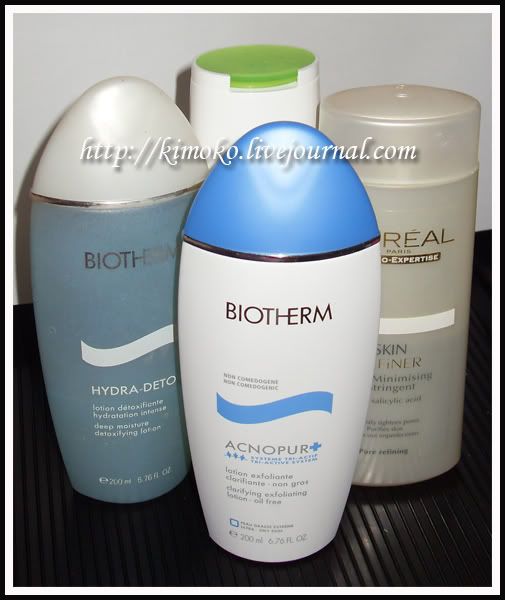 How do you use a toner?

When I first started using toners eons ago, the only method I knew was to pour it onto a cotton pad and wipe it across my face. This method also helps remove traces of makeup that is still left on my face after cleansing. But I soon realized that by using a cotton pad, the cotton pad soaks up more product than you can utilize it.

When the SKII Miracle Water advert was first aired, I noticed the actresses smacked the Miracle Water directly onto their face and I tried that with my toner immediately. I definitely prefer this method to the former but on days I feel that my face still have traces of makeup, I'll go back to the primitive method of using a cotton pad.

But recently having hooked onto facial sprays, I found out yet another method that I've been using ever since.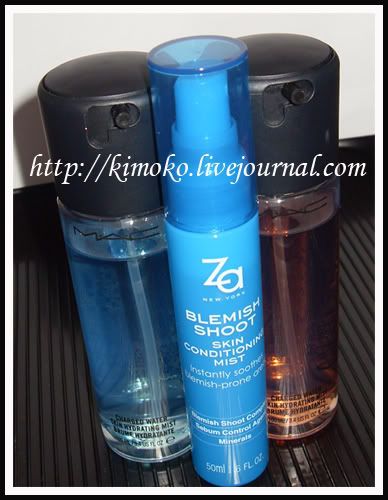 Yup, I've been substituting my plain o'toner with these 3 facial sprays recently. Right after I've cleanse my face, I'll spray at least 4 sprays around my face, smacking my wet face with my palms to increase the absorption rate and continue with my serum and day / night moisturizer.

My skin care seems to be absorbed pretty well with this method that I've noticed visible difference in my skin texture. I tried it with my toner (by removing the pump, cleaned it and place it into my bottle of toner) and it worked as well as these sprays too! But I have to ensure that my makeup is very well removed for the day, else, its back to the primitive method of cotton pads again.

Once I have completed these facial sprays, I'm gonna fill them up with my toner and start spritzing away!
*alternatively, I could get an empty spray bottle from a beauty supply store, fill it up with my toner and start spritzing away too!

Do you use a toner? If so, do you use any other methods rather than using a cotton pad?

*its not scientifically proven that the spritzing method does help to increase the absorption rate of your skin care. its something I found out that works on me.