Sorry for being MIA, I had a really busy week and have only returned to the office today.
Anyway, you girls know how much I adore
The Face Shop Raspberry Roots Sleeping Mask
yes? Sleeping masks are formulated for busy people like me who's been so so busy recently that even a sheet mask will take up too much of my time.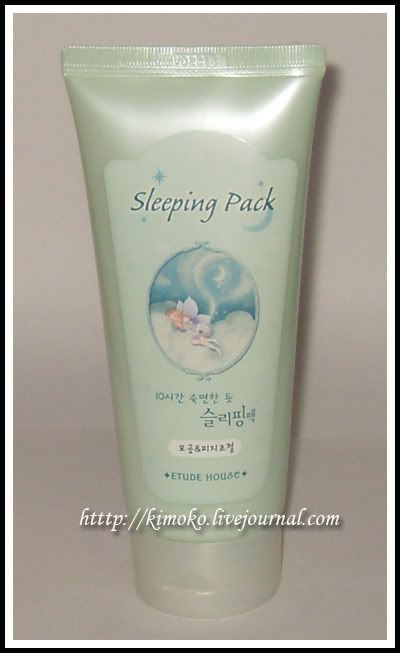 Well, quite some time ago, I CP-ed this from Korea
(it was a couple of months ago, just before the opening of Etude House in Singapore)
. I heard Etude House had a pore tightening sleeping pack and I had to get it! It was really cheap in Korea. Even in Singapore, the price of this is cheaper than The Face Shop Raspberry Roots Sleeping Mask. There are 3 sleeping packs in Etude House. This green tube is pore tightening while the pink tube is for moisture & elasticity and the white tube is for brightening. Anyone else tried the other 2?
Yes yes, I bought this damn long ago but have only managed to try it recently because I've been so busy but I wanted to pamper my skin. I told myself that I'll open this tube only after completing my 50ml tube of the Raspberry Roots because I had 2 full retail size of it! But I caved in and opened the tube! I wanted to try something new to pamper my skin while I get my beauty rest. I only had an average of about 3 hours of rest each night for the entire week!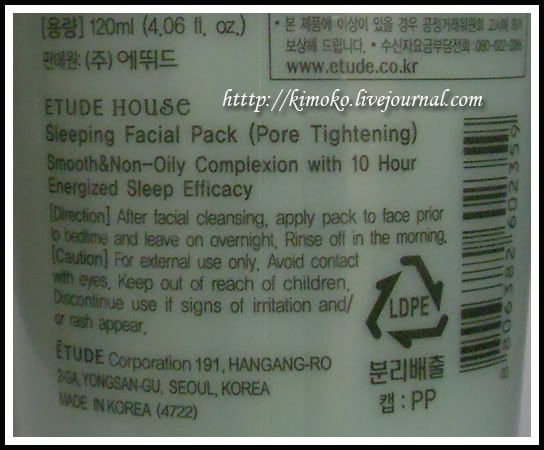 The green tube is for oily skin with enlarged pores which is my skin type!
So far, I'm loving this! Upon application, there is a very slight tingly sensation
(because it contains alcohol, read the ingredient list below)
but faded away after a couple of seconds. What I like about it is that it dries to a smooth, matte finish! Unlike The Face Shop Raspberry Roots Sleeping Mask that leaves a
slight
film residue initially, this milky white opaque substance dries into a clear, matte finish on your face! Its a bad habit but I like running my hands on my face after application. LOL
It does have a fragrance too. Though its unlike the Raspberry Roots which is super yummy, this has a fainty flora cosmetic scent that is not overpowering. I find it pretty calming which is perfect to send me to lala-land upon application.
I have used it for coming 2 weeks now and I do notice a slight difference in my pores. I really love it!
Fans of the Raspberry Roots Sleeping Mask, if you would like to try another sleeping pack that has similar properties for a cheaper price, and have no issues with alcohol like myself, do give this a try!
I'm gonna get myself another tube as soon as I'm half done! Though that would mean I have 4 retail sizes of sleeping masks! No one can get enough of sleeping masks / packs yes?
Sleeping masks / packs are an essential in my skin care regime now! Is it in yours too?
Oh, does anyone know if Tony Moly has a pore tightening sleeping pack / mask? I know they do have sleeping packs and Kim Hyung Joong who endorses that brand uses a sleeping pack too. I do not want a whitening sleeping pack but a pore tightening and/or for oily skin.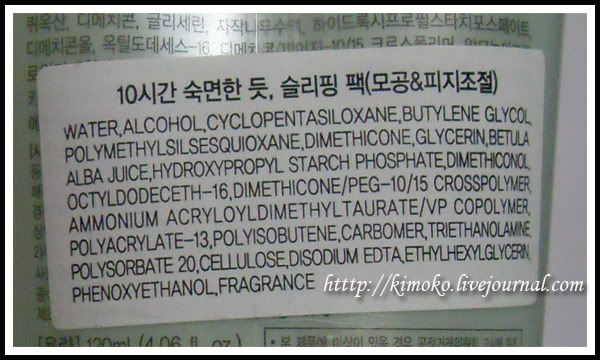 Alcohol is the 2nd ingredient, thus I could feel it on my skin but fortunately I have no issues with alcohol so my skin's really loving this sleeping pack!
November is my busy month so this sleeping pack will be my new found sleeping companion for the busy month ahead!
If you would like to try it but do not wish to pay Singapore's price, get this from
Ling
! Quote "
Kimoko - Queen of BB
" to get samples with any purchase on her blogshop! I'm beginning to really fall in love with Korean products especially Etude House. Its affordable and my skin seems to love it!