I was about to give myself a pat on the back for not hauling in May and June so that I will not have a collective haul entry for May & June 2012 BUT I somehow still managed to haul just 2 weeks before the end of June and from
2 Warehouse Sales that I went last weekend
.
There was a Kanebo Sale from 11-13 June at their office at Raffles Place that carries brands like Lunasol, Impress, Coffret D'or, and Kate. I am not a huge fan of the brand and I was kinda over Kate but a dear friend, Elaine or who goes by Elainnio on Twitter and Instagram whom I have gotten to know recently offered to CP for me since she was working nearby and was going to the sale anyway.
Elaine and myself started 'chatting' on Twitter and Instagram when I found out she is 1 of the many silent readers I have on this journal. We obviously have a common interest - Beauty, which subsequently got us Whatsapp-ing each other since the day she became my personal shopper at the Kanebo sale!
Friendships online are just so amazing I tell you. Gone are the days of mIRC, ICQ, random chatrooms and even MSN. Social Media has truly changed the way we make new friends! I have met so many lovely people through my journal, twitter and even instagram today!
Well, long story short. Elaine helped CP a couple of stuff from the Kanebo Sale including an Illamasqua order that she has tempted me to try the blushes. There was one palette that I wanted from Lunasol which was not on sale but she said she has it and do not use it now so she offered to pass it onto me as a swap. THAT sparked the idea of us doing a swap and since I found out she lives pretty near me, I decided to drive over to pass her some goodies and to collect my CP babies. It took me quite some time to have finally met her yesterday because I was rather ill a couple of weeks ago and subseqently work got me tied up again. But I am glad to have met her!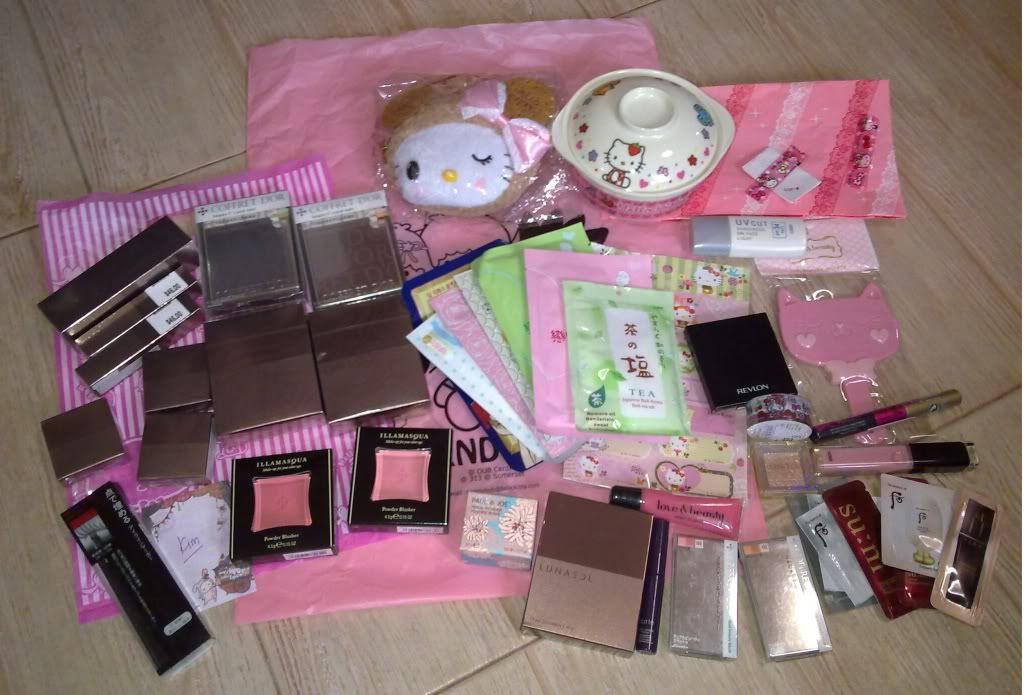 Look at the goodies I collected from her!
Let's start off with the stuff she helped CP..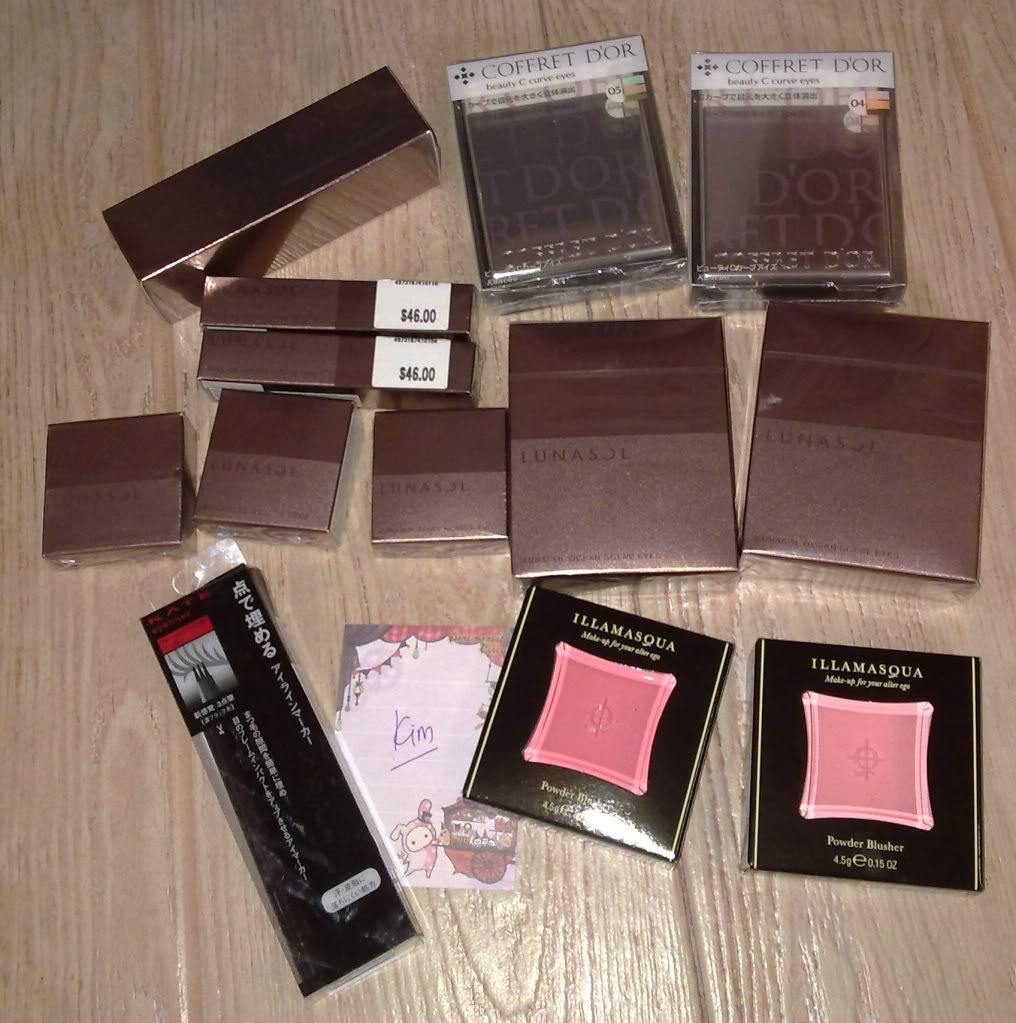 11 items from the Kanebo Sale which she bought them over 2 days
(yup, she went to the sale twice and I got tempted twice!)
and 2 Ilamasqua Blushes from a order that she found a 15% coupon code that works.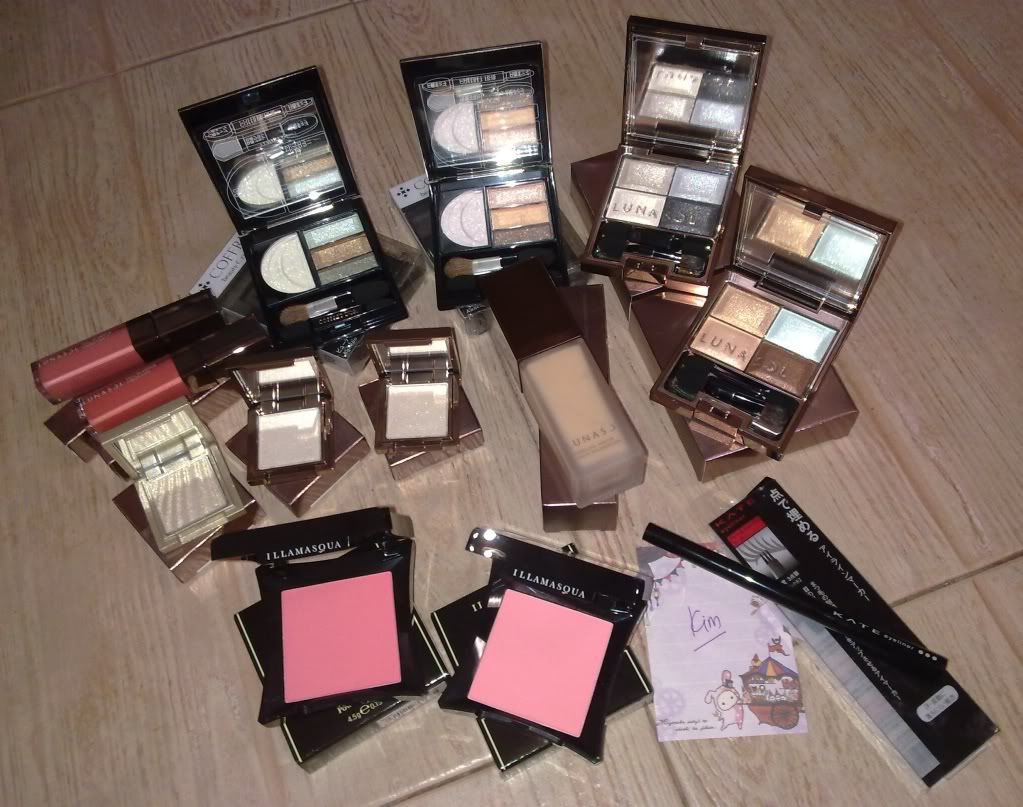 My new babies in their full glory!
Lunasol Full Glamour Liquid Lips in 01 Light Pink and 05 Coral Pink
- These were not in my list originally but Elaine was raving to me about them and how she owns the entire collection. She was 1 or 2 short of the entire collection and managed to complete it from the sale which they were going for S$18 each. From the picture above, you would have been able to notice that there is a price tag on them that is printed S$46. They were on sale for LESS than 50% and so I caved in and bought 2 to try.
Coffret D'Or Beauty C Curve Eyes in 04 and 05
- 04 is a warm neutral and 05 is a cool green palette which was S$15 each at the sale. Is that a steal or what? I don't know how much it retails for but it is definitely more than S$35.
Lunasol Ocean Scene Eyes in 02 and 04
- Lovely shades which I was not willing to splurge on the retail price of over S$70 a palette but is beaming at the price of S$35 each at the sale!
Lunasol Auroized Nuane Eyes in Auroized Yellow EX03 Eyeshadow Single
- This I heard is Limited Edition with the other 2 singles. Though for the price of S$16 for each single might seem a litte pricey but they are really pretty! You can never have enough highlighting shades!
Lunasol Shiny Nuance Eyes in EX01 Sheer Gold White & EX02 Sheer Gold Beige
- Really bling highlight shades! S$16 each. I blame Elaine for tempting me for the singles. LOL! She kept telling me how bling and pretty they were that I allowed her to get them on my behalf.
Lunasol Modeling Water Liquid Foundation in OC02
- This was also something Elaine got me into getting. She told me there was a foundation on sale and I was hoping it was the Gel foundation that I heard good raves about and have been wanting to try but it is really pricey! She told me she got this on Day 1, try it and quite like it. For S$25 that comes in a frosted glass bottle with a pump, I said yes to get it when she went to the sale
again
on the 2nd day. I am such a weakling. HAHA.
Kate Liner FR BK-1
- She told me that the Kate products were really cheap and gave her a list of the stuff I wanted including this eyeliner. FORTUNATELY, the others I wanted which were the newer eyeshadow palettes were not available and so she only got this eyeliner which was only S$5! It is a 3 prong eyeliner that is meant to tightline the upper inner lash line. I have always wanted to try this but the price was not really justifiable and I am glad it is only S$5 at the sale!
Illamasqua Powder Blusher in Tremble and Hussy
- I have heard so much raves about Illamasqua blushes but have never really wanted to get them till Elaine told me she found a 15% discount code that works and with the free international shipping, each blush came up to only S$28.73, I caved in and bought 2 pretty popular shades.
And so, with the power of Whatsapp, I spent a total of S$271.46 for the above 13 items, all thanks to the lovely Elaine! It could have been an even massive haul since I resisted on the other stuff she recommended. I must say it is really worth it considering most of the items were at least 40-50% off its retail price. I really saved alot though I would have been able to save that S$271.46 if Elaine did not offer to help me CP. But nonetheless, Thank you Babe!
And so, this is my collective haul for the Month of June. I am still proud of myself for not hauling in the Month of May. I hope I can continue to keep up not hauling since I am honestly running outta space in my storage cabinets. No, make that, I
have officially ran outta space in my 18 drawer cabinets! I need another cabinet and need it soon!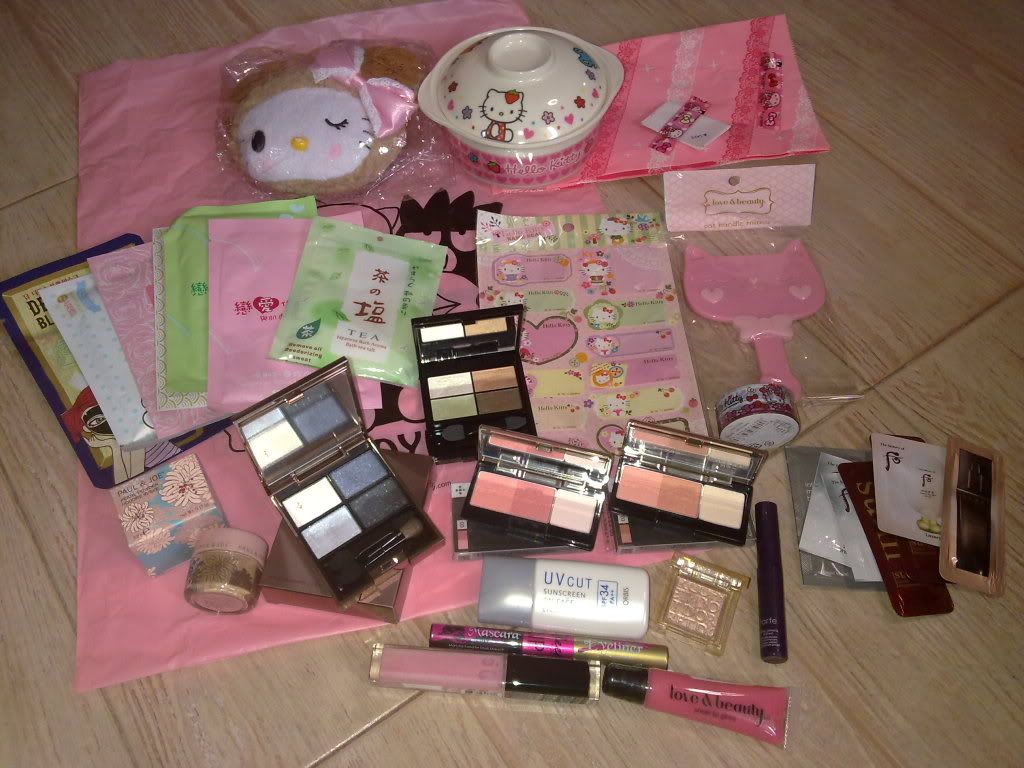 And what was originally a small swap got me a bagful of goodies above! This lovely babe packed me a bag of goodies for our swap and including some extra goodies she bought for me! When I met her and passed her the stuff from my end, she went,
"wow! So much stuff!"
They were pretty random stuff that I bought for her. Majority are my favourite beauty products like the OMG Perfect Gel I bought from Japalang Warehouse Sale last weekend, my HG Maybelline Dream Matte Powder, my favourite blending eye brush from ELF, 2 of my favourite Elizabeth Arden Mascaras, my favourite candy from Daiso, my favourite Mandi Lulur body scrub from Indonesia, my favourite instant Vanilla Latte from Indonesia, my favourite Bioderma makeup cleansing water, It's Skin 10 Effector, my favourite Olay Daily Cleansing Cloths, some Elizabeth Arden beauty products like bronzer, makeup palette, mineral powder and some other beauty products that I really forgot what I have given her. Oh, I remember inluding cutesy Hello Kitty items that I know she adores. She loves cutesy stuff! She kept saying I have given her way too many stuff, so much love that she feels that what she has given me is not comparable but when I got home and open her packages, I was in AWE!
Look at the stuff she has given me. Aren't they amazing! I was only expecting the Lunasol Star Shower Eyes in 03 Dazzling Night but she has given me a ton of other goodies including a Coffret D'Or eyeshadow single in 05 which is a lovey sparkling gold shade, 2 Coffret D'Or Dual Beauty Blush in 02 and 03
(I have always wanted to get this but they are a little pricey)
, a Revlon eyeshadow quad in 04 Khaki Suede which seems to be a Japanese exclusive quad as the label on the back of the palette is in Japanese, a Calvin Klein lipgloss in milky pink, Sleek Mascara Eyeliner Duo, Tarte Lights Camera Lashes Mascara
(heard raves about this!)
, Orbis UV Cut Sunscreen which is her favourite sunscreen and other goodies including a Hello Kitty bowl with a lid for my Cherry Tomatoes! I have been posting pictures of my addiction to Cherry Tomatoes and I have been snacking on Cherry Tomatoes in the office and home every single day. I like them blanched so I usually soak them in hot water for a couple of minutes and snack on them throughout the day. This bowl is so suitable for them! I am so gonna bring it to the office tomorrow!
I am sure that this first swap is not the last swap! I have met really really lovely people through my journal and I am really Thankful for it! I am always been showered with gifts by these lovely girlies and I am so loved!