Back in August,
Under-Twenty20
sent me a package which consists of the
Real Techniques Core Collection and Blush Brush
which I was extremely excited as I have always wanted to try
Real Technique Brushes
especially after all its raves in the blogging world and YouTube!
I will cut to the chase and spare you the details on the raves of Real Techniques and get into my personal raves about these amazing brushes!
For S$32, you get a set of 4 brushes in a 2-in-1 case & stand which I am absolutely loving! Read on to find out more!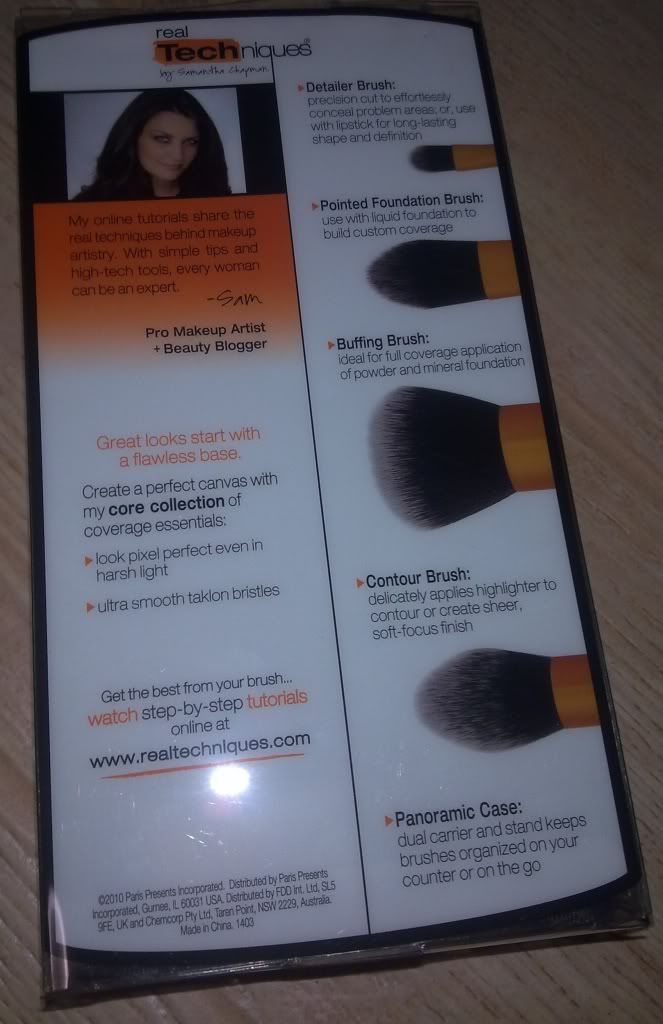 The 4 brushes in the Core Collection Set comes with a Detailer Brush (perfect for concealing! Especially around the lip area! Read on to find out more!), Pointed Foundation Brush (to alow your foundation to reach the sides of your nose flawlessly), Buffing Brush (which I love it as a powder brush!) and a contour brush (for contouring of course!).
As the
Core Collection
lacks a blush brush, this
Blush Brush
at S$20 is the perfect sibling to the set!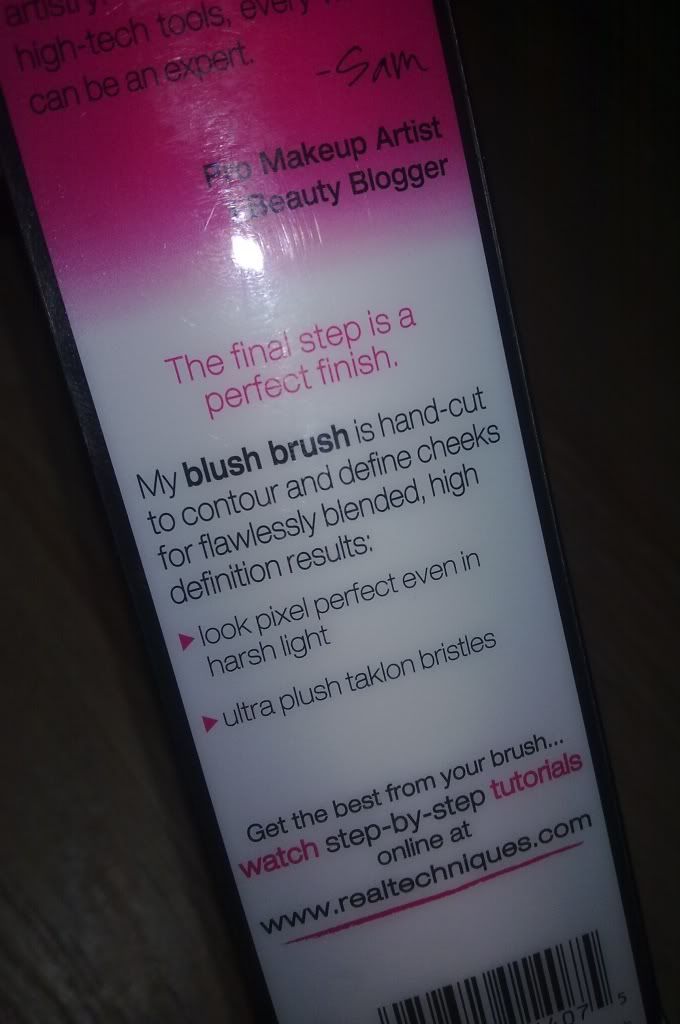 Brushes are pretty essential (to me at least) to allow my makeup to be applied flawlessly.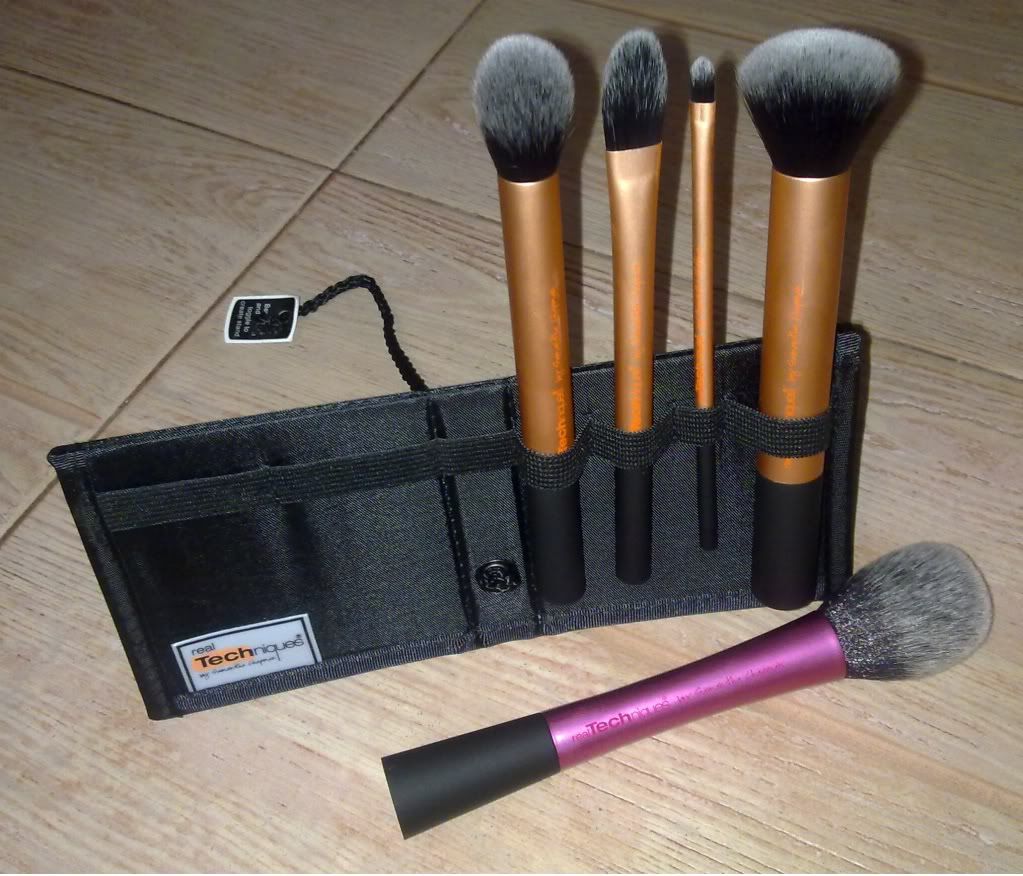 I love love love the 2-in-1 case / stand of the
Core Collection
as it allows you to not only store the brushes but also act as a brush stand!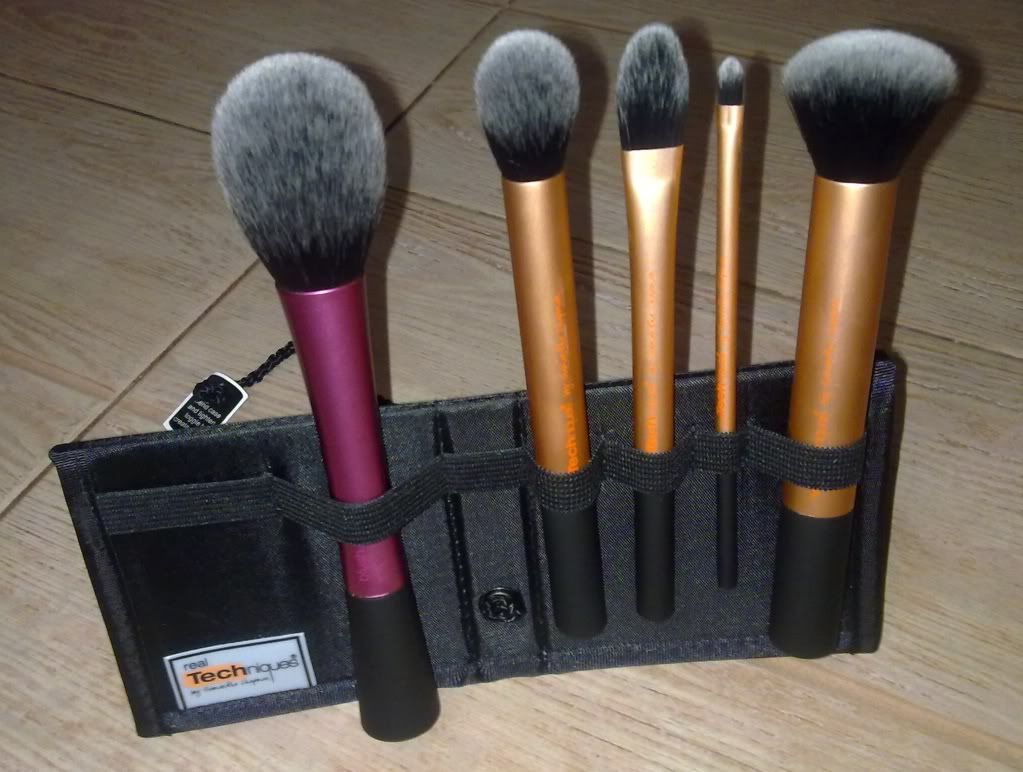 There are 2 other elastic bands to allow you to fit other brushes too and the blush brush that is sold separately fits perfectly into the other elastic band!
How does the case convert into a brush stand? Simple! By bending the case horizontally into half and using the plastic knob to secure the bent case, it is instantly converted into a brush stand!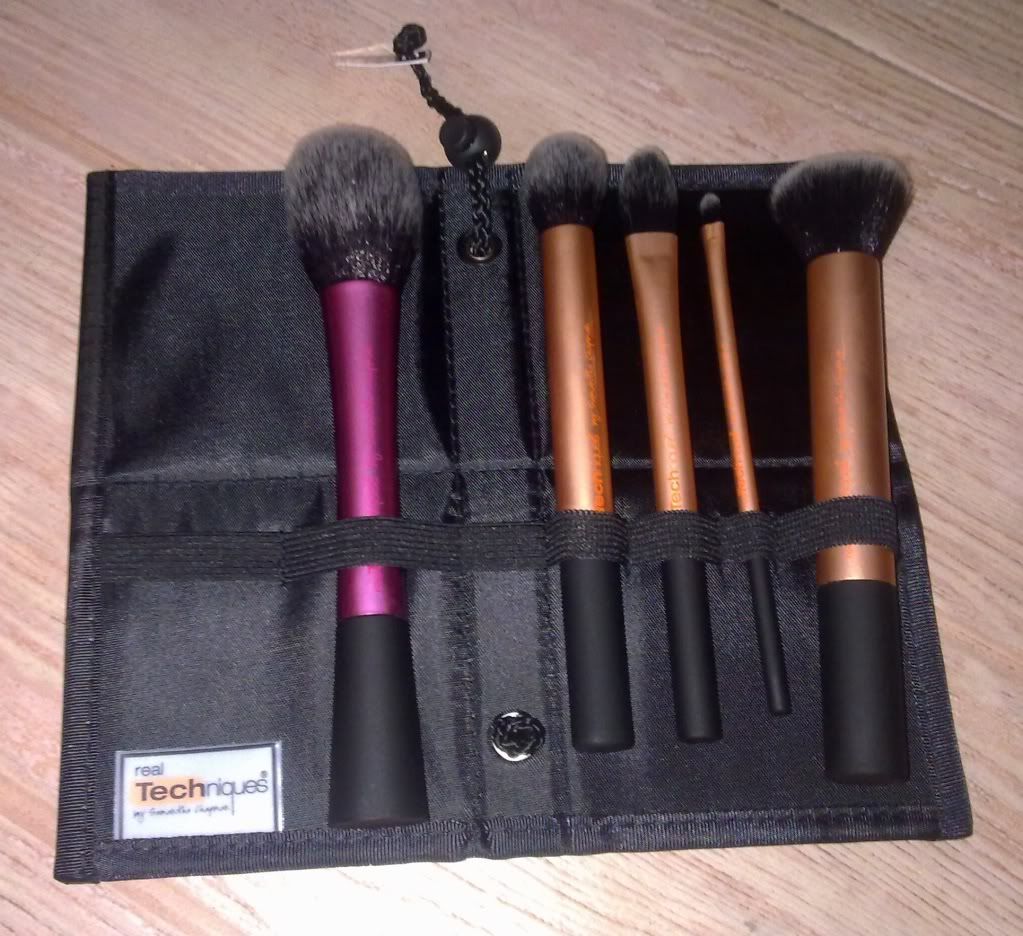 Now now, with the blush brush added into the additional elastic band, would the case be able to be closed securely?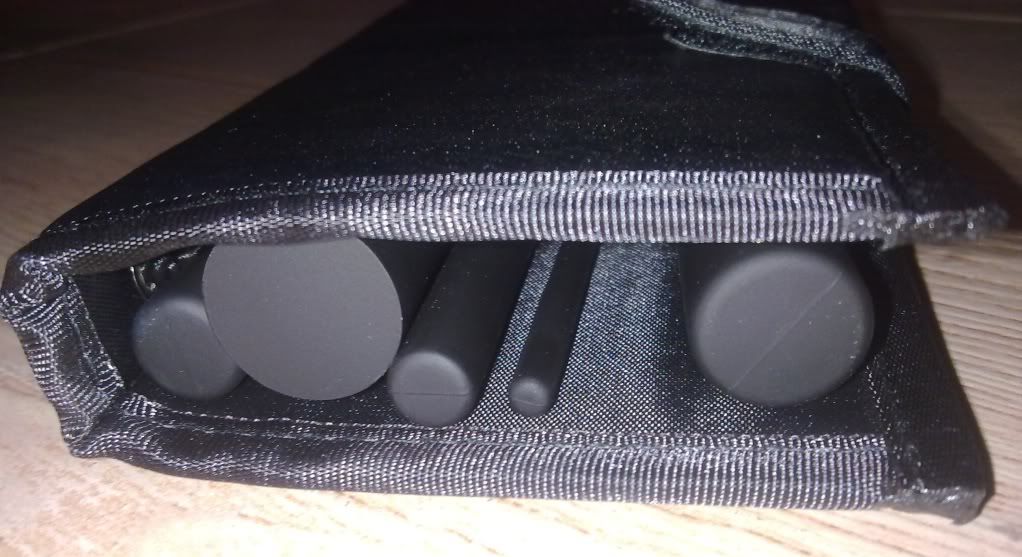 It sure can!
Honestly, these brushes lives up to the claim of being oh-so-soft, dense and does the job REALLY well! Even on the first wash, there were no dyes from the bristles, nor were there signs of shedding.
I love it so much that it is now my perfect travelling companion!
In Mid-August, I was in Bangkok with
lunaface
and
midnight_plue
where the 4 of us
(including
midnight_plue's SO)
shared a two bedroom suite and I packed my trusty travelling companion along...
In the living area, there was a huge mirror with a shoe cabinet where we converted it into our little Beauty Bar for the next 4 days of our stay. Look at the amount of beauty products that we had combined! 3 ladies, an entire beauty bar filled with all our favourite products! Did you manage to spot the
Real Techniques Brush Set
?
Here's our beauty bar the very next morning after we're done beautifying ourselves for an entire day of shopping and fun! Can you spot the brush set now?
I absoutely love it because the brushes can be at easy reach without them coming in direct contact of any surface! The girls love it too! Especially how soft the brushes are and the amazing case/stand!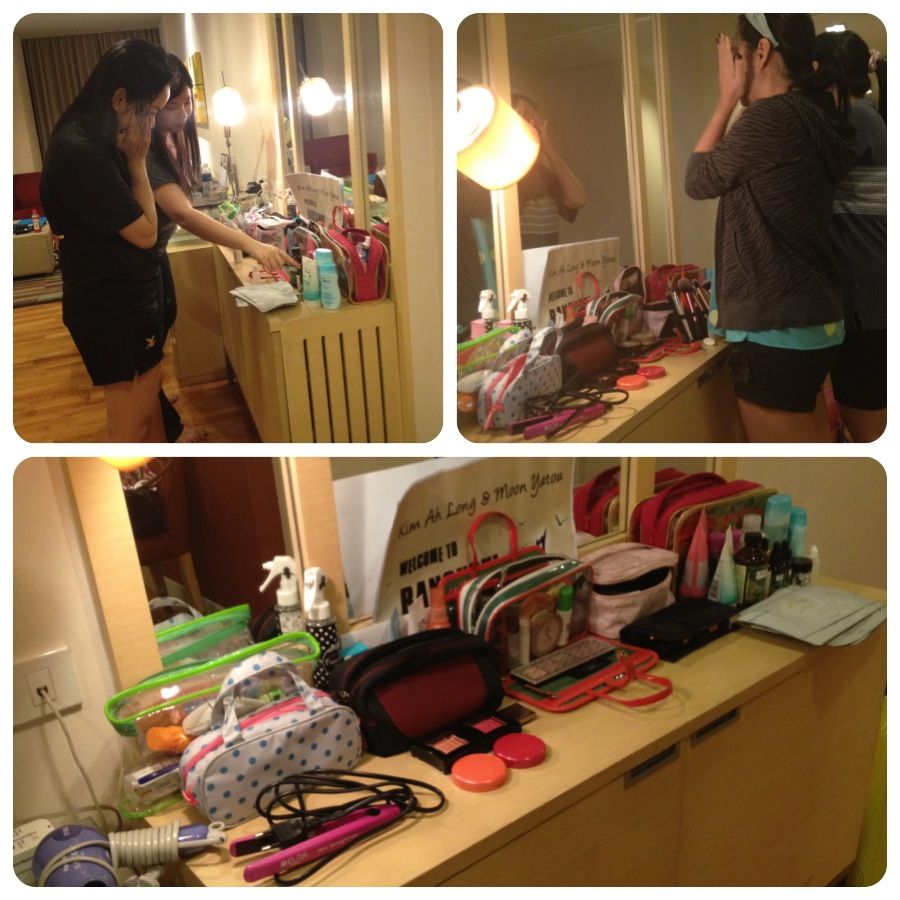 I am missing our little beauty bar just by looking at these pictures! I will probably have another post on the Bangkok trip with the girls soon and to tell you about the story of the
little banner
that
midnight_plue
printed to welcome
lunaface
and myself as we arrived Bangkok on different flights as we flew in from Singapore whie they
midnight_plue
and her SO flew in from Kuala Lumpur.
The next tim I brought my perfect travelling companion out was to the office at the end of August as it was my company's D&D and instead of heading home during lunch to doll up, I brought my dress, shoes and makeup to doll up in the office!
I converted our conference room into a little 'backstage' makeup area and you can see my trusty
Real Techniques Brush Set
with my other eye brushes to allow me to have a complete makeover in the conference room.
I wore a black lace dress from ASOS and went for a simple neutral smokey eyes with a bright bold red lips and the Detailer Brush was the perfect tool to help achieve that clean crisp perfect red lips as it helped to perfectly conceal the edges of my lips.
I tried a gazillion red lip combination the night before the D&D and found the perfect combination with the Chanel Rouge Allure in 09 Lover top with Elizabeth Arden Sparkling Ruby High Shine Lip Gloss. This was the first time I ever tried a Red Lip and though I might not have Rock the Red but I kinda like the effect. I went for a little more dramatic eye look with a pair of falsies which helped enlarge my puny eyes with the same lip combi. With the help of the detailer brush which allowed me to conceal the edges of my lips precisely and I think this is the trick to try rocking a red lip.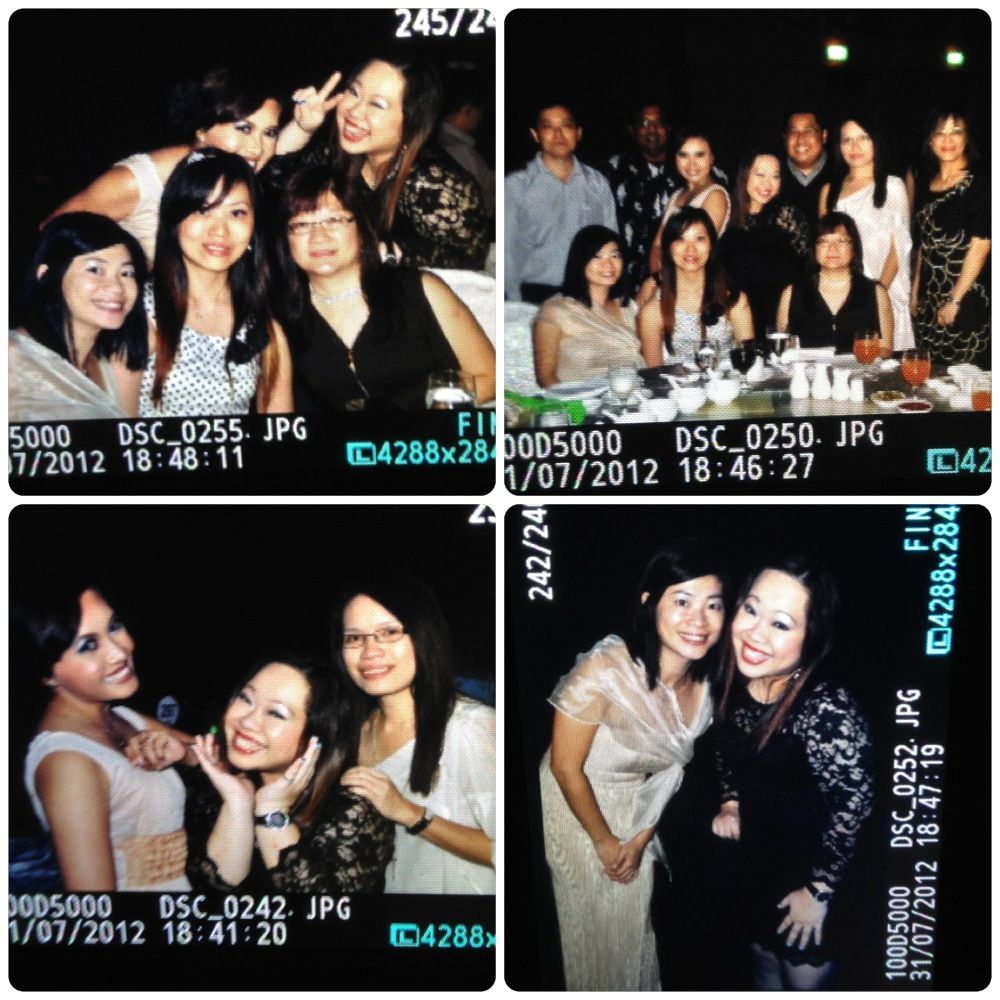 And this were pictures taken during the D&D. My entire face makeup was done with the help of the
Real Techniques Brush Set
! Though the makeup was not visible but my clean, perfect Red Lips rocked the entire evening!
I absolutely love love love the
Real Techniques Brushes
and its 2-in-1 case stand that it will definitely be my travelling companion moving forward!
And I have to Thank
Under-Twenty20
for the opportunity to try these highly raved brushes!